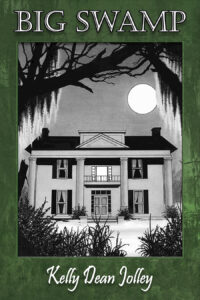 Big Swamp
by
Kelly Den Jolley
on August 2nd, 2022
Genres:
Detective Noir
,
Romance
Pages:
298
Source:
Meryton Press
Buy on Amazon
Goodreads
Ford Merrick is a softhearted detective in a sleepy southern town, Opelika, Alabama—a "one-eyed, blinking sort of place." A provoking visit from beautiful Rachel Gunner complicates his work and his life. This stunning woman asks Ford to tail her uncle and discover what he is up to. Taking the case, Ford quickly finds himself swamped in mysteries: Who is Rachel's uncle, and what is his secret business? Then there's the mystery of an earlier death at Noble Hall where Rachel and her uncle now live. But the greatest mystery may be Rachel Gunner herself. Mired, Ford struggles to find his way, unearths tragedies old and new, and exposes his heart to a hard test.
Greetings you guys! Welcome to our stop on the Blog Tour for Meryton Press' latest edition. For those of you familiar with Meryton Press, do not expect the usual Austenesque (I had to look that up as well, don't worry) novel. Oh no, they've decided to branch out into a new genre. For their first non-Austenesque book, they went with a Romance/Detective Noir set in Opelika, Alabama.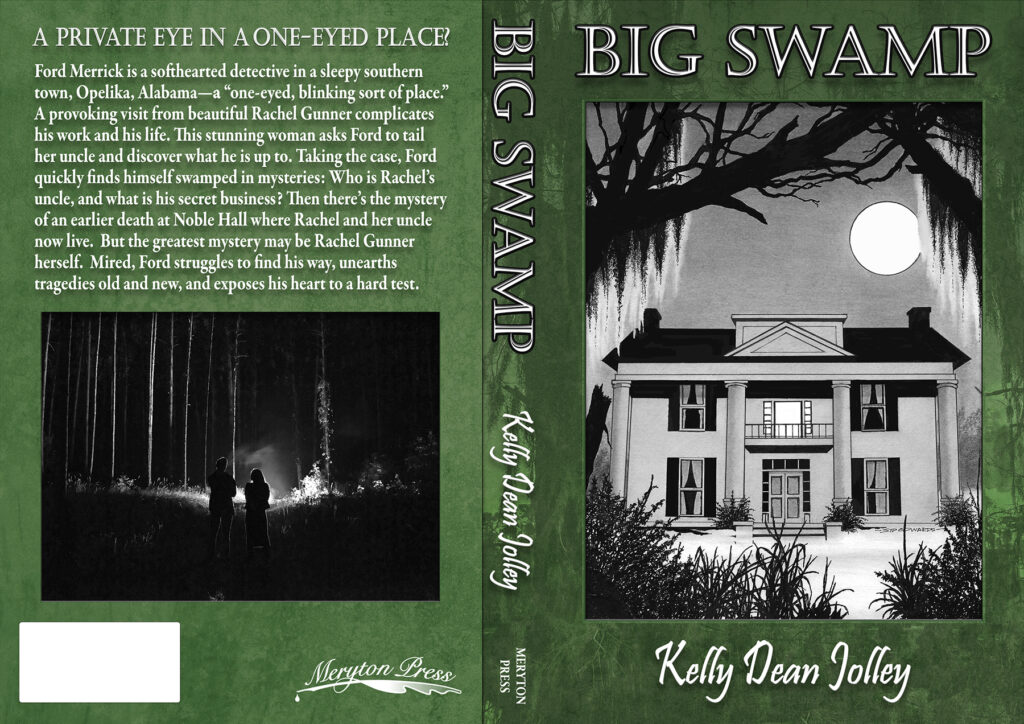 To tell us a bit more about his latest novel and to share an excerpt, here is Kelly Dean Jolley himself!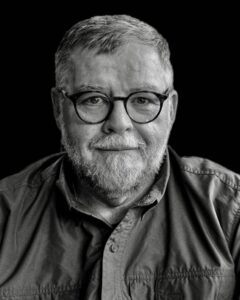 Thanks for having me!
Big Swamp mixes noir and comedy.  It's about the two central characters, Ford Merrick, the detective, and Rachel Gunner, his client.  But it's also about detective books and about the American South, its many subtropical eccentricities.
In this excerpt, Ford, the detective, finds himself suspicious of Wade Pimberly, and goes to pay him a visit.  Ford's not exactly sure what he suspects Pimberly of, but he's certain something's off.  He shows up at Pimberly's, only to be greeted by a small, snarling dog and two large brown doors.  It's not Wade Pimberly that opens one to greet Ford.
The doors are large, dark brown. A shiny gold "W" is attached to one, a "P" to the other. Squaring up to them—the dog still behind me and still making unexecuted threats against my ankles—I poke the doorbell. A muted ring sounds deep inside the house.

The ring quiets the dog. It stops threatening and begins to scratch itself, its decorative collar and tags making a tinkling sound. A moment later, the W door opens, and a woman stands in the doorway, a tall, iced tea in her hand. She's wearing a surprisingly narrow, red polka-dot halter and, beneath it, a surprisingly narrow pair of red polka-dot shorts, narrowed more by the legs being rolled up. She's also wearing mirrored sunglasses. Her hair is black, as though night fell on her forehead.

She looks at me, and for a moment, I fall prey to the illusion that the sunglass lenses are her eyes.                                  She's thin and deeply tanned, long-legged and long-armed, and she strikes me as a nearly nude praying mantis.

The dog runs between her legs and into the house, and the woman makes a surprised noise:                     "Whoops!"

"Hi, I'm here to see Wade Pimberly. This is his house, isn't it?"

She nods and shrugs simultaneously, and I don't know what that means. After a moment, she pushes the sunglasses down her nose, revealing a very large pair of forest-green eyes.

"We're out back. Who's calling?" she asks but does not wait for an answer. Instead, she turns and slinks into the house, taking off her sunglasses and putting them on a table near the door.

I'm supposed to follow, I suppose, and so I do. Her long, thin legs are subtly well shaped, and her red heels make them seem longer still. We walk through the house quickly. So as not to glance at her bottom—as if I were following it and not her—I glance around the house.

The decor's a self-satirizing phantasmagoria of atrocious taste.

Shag carpet—I didn't know anyone made that anymore, much less bought it—chokes the floor. It's white, white, and I have the strange conviction that I am trekking across coconut cotton candy. Pictures on black velvet adorn the walls along with various slogan plaques. Live, Laugh, Love. Eat, Pray, Love—that kind of thing. Lots of love.
About the Author
Kelly Dean Jolley is the Goodwin Philpott Endowed Chair of Religion and Professor of Philosophy at Auburn University.  He lives in Auburn with his wife, Shanna, two dogs, two cats, too many books, and a collection of manual typewriters.  Beyond his academic publications, he has also published a book of poetry, Stony Lonesome.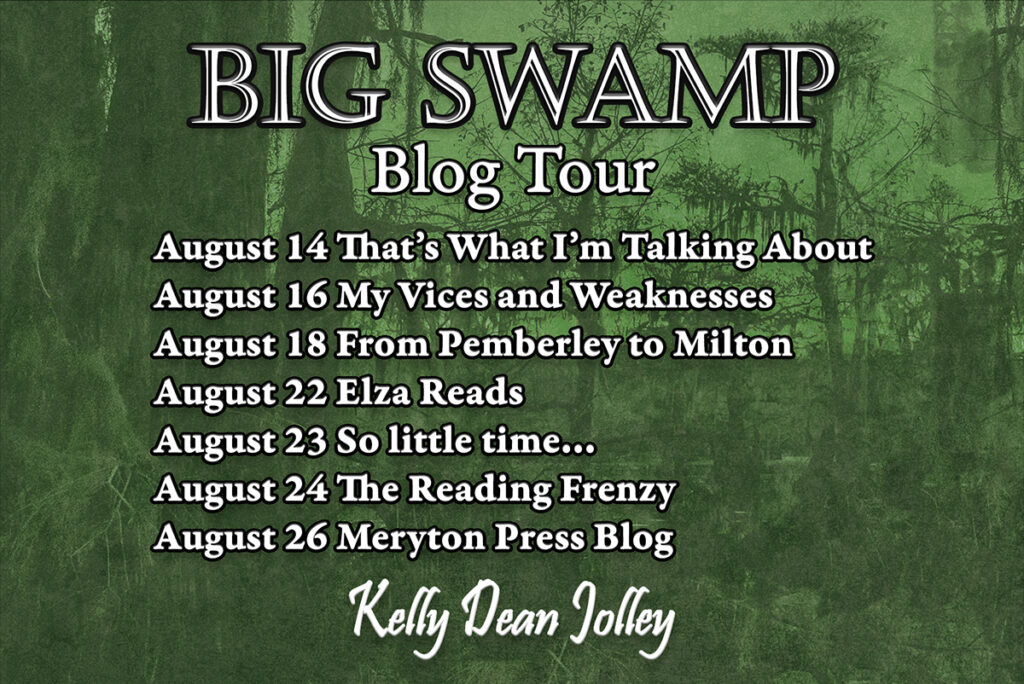 Giveaway
Meryton Press is giving away six eBook copies of Big Swamp by Kelly Dean Jolley. The giveaway is international. The giveaway ends August 29th at 12:00 AM Central Time.
a Rafflecopter giveaway

A big thank you to Janet Taylor from Meryton Press for inviting us on this blog tour. We wish the tour and the release of this book all the best of luck!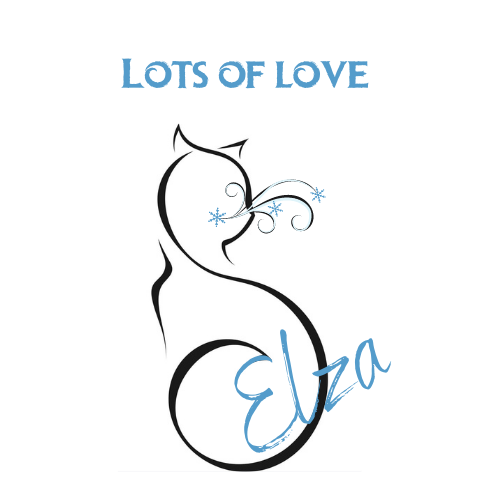 Related Posts