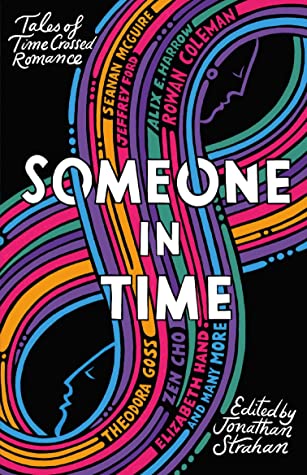 Someone in Time: Tales of Time-Crossed Romance
by
Jonathan Strahan (edited)
on May 10th, 2022
Genres:
Romance
,
Sci-Fi
,
Time Travel
Pages:
420
Format:
ARC
Source:
Lola's Blog Tours
Goodreads
Even time travel can't unravel love

Time-travel is a way for writers to play with history and imagine different futures – for better, or worse.

When romance is thrown into the mix, time-travel becomes a passionate tool, or heart-breaking weapon. A time agent in the 22nd century puts their whole mission at risk when they fall in love with the wrong person. No matter which part of history a man visits, he cannot not escape his ex. A woman is desperately in love with the time-space continuum, but it doesn't love her back. As time passes and falls apart, a time-traveller must say goodbye to their soulmate.

With stories from best-selling and award-winning authors such as Seanan McGuire, Alix E. Harrow and Nina Allan, this anthology gives a taste for the rich treasure trove of stories we can imagine with love, loss and reunion across time and space.

Edited by Jonathan Strahan and including stories by: Alix E. Harrow, Zen Cho, Seanan McGuire, Sarah Gailey, Jeffrey Ford, Nina Allan, Elizabeth Hand, Lavanya Lakshminarayan, Catherynne M. Valente, Sam J. Miller, Rowan Coleman, Margo Lanagan, Sameem Siddiqui, Theodora Goss, Carrie Vaughn, Ellen Klages
Links:
– Goodreads
– Bookbub
– Amazon
– Audible
– B&N
– Kobo
– Waterstones
– Bookshop
– Rebellion Publishing
Greetings you guys! This is my post during the blog tour for Someone in Time. Someone in Time is a science fiction time travel romance anthology.
This blog tour is organized by Lola's Blog Tours and runs from 17 till 30 May. You can see the tour schedule by clicking on Lola's blog image below.

We haven't started reading this collection of short stories yet, but we are very excited to start with a few of them. We are scheduled for a review on the 16th of June and then we can tell you a bit more about one of my Mommy's favorite tropes – Time Travelling! Just to entice us and you, here's an excerpt from the introduction by Jonathan Strahan.
TIME TRAVEL. AS The Encyclopedia of Science Fiction rightly says, it's a great narrative device. It allows a storyteller to pick a point of view and move it backwards or forwards in time, forking alternate histories, asking and answering 'what ifs', and just exploring endless possibilities. It's not surprising it's irresistible to writers and to readers. Which may be why we seemingly have an infinite-seeming supply of time travel stories and endless ways to travel through time.

Up until the 1900s the favored method was by dream or a nightmare, as in Dickens's A Christmas Carol or Poe's 'A Tale of the Ragged Mountains', but as the 20th century dawned the means of travel became more mechanical, more 'scientific'. Wells's time machine moved its narrator through time in a 'machine', as did an increasing number of the time travel stories that followed. Most famously,
perhaps, in the early 1960s the BBC put a man in a blue box, gave it a technical-sounding name, and pushed him off through time and space.

There have been more—perhaps too many more—till you get to the point now where we have superheroes travelling through time by running really fast and spaceships warping or folding or
something to do stuff and travel in time. Very sciencey. Very timey-wimey.

So, there are a lot of ways to travel through time, and a lot of famous time travel stories. Some of them are hard science fiction, some of them are fantasy, some of them are horror, and some of them are, well, romances.

Someone in Time has its origins in two stories, neither of which appear here for reasons of length, but both of which I'd recommend to you. About four years ago I edited Passing Strange, a long story by Ellen Klages about two women living in San Francisco, one a famous pulp artist of the time and one not. They were both very much in love, but being queer in the 1940s was a fraught and difficult thing, and being together was even more difficult, if not almost impossible, and certainly dangerous. The story moved through time, from present day San Francisco and back to the '40s, giving us an overview of how their relationship developed and evolved, how the world responded to it in different times, and whom it affected. It was, and is, quite marvelous.

And then a year or so later another, not completely different story came across my desk. Ian McDonald's Time Was is the story of two men during World War II who fall in love but, following a military experiment gone awry, are left falling through time. They leave messages for one another in books, meet up years apart in strange ways, and are ever lost.

Both of these stories left a nagging feeling in me. There were more stories to be told, more romances to be allowed to unfold. And the more I thought about it, the more great stories and movies came to mind that sat in exactly this space. The film adaptation of Richard Matheson's classic Bid Time Return, Somewhere in Time, had something of the right feel, and inspired this book's title. So too Nicholas Meyer's Time After Time, the perennial classic Groundhog Day, and books like Robert Nathan's Jennie, Ken Grimwood's Replay, and Diana Gabaldon's Outlander. So, I did what I tend to do in these circumstances. I reached out to writers around the world and asked them for their time travel romances, their stories of love lost and found as time slips away. And I was not disappointed.

Someone in Time features sixteen stories, fourteen original to this book and two that are long-standing
favorites of mine. Ellen Klages's 'Time Gypsy' was published in a landmark book of queer science fiction, Bending the Landscape, back in 1999 and was nominated for the Hugo and Nebula Awards and long-listed for the Tiptree, so I knew it belonged here. Elizabeth Hand's 'Kronia' is something else again, a short tale that takes a romance and shatters it through time around the events of 9/11. These two wonderful tales are joined by stories of scientists falling forward and backward in time, using both elaborate machines and something not a lot unlike the dreaming of those classic tales of the 19th century to visit alternate versions of the past, to touch people who would otherwise be out of reach, and to join them together. Some of the stories are funny, some are sad and poignant, some are tales of fresh love and some of love forever lost, but they all are rather wonderful.

No editor should single out favorites, and I won't do that here, but I was honestly delighted as the stories came through, one by one, over a series of months through our pandemic year of 2020, and was able to fall back in time to ancient England to see a heart broken, and then could fly far forward in time to see love blossom anew. Romance itself is something that's open to interpretation. There are straightforward matters of the heart and there are literary and scientific romances of many kinds. What you will mostly find here, sometimes unexpectedly and delightfully, is a mix—matters of the heart blending with matters of the world, as they do.

For the most part, though, I think you will find, as I did, stories that delight. I hope you enjoy them as much as I have.

Jonathan Strahan
Perth, Western Australia
May 2021
Very true words. Time Travelling will never get old (no pun intended) and if you throw in a bit of romance, it's a bestseller in the making.
Thanks for inviting us to take part in this blog tour, Lola! We can't wait to start reading and to review this book in a month's time.
What do you think? Is Time Travelling a probe you  enjoy? Ha, aren't we the bestest ever to bring this collection under your attention! For a chance to win a copy of this book, continue reading.
Giveaway
There is a tour wide giveaway for the blog tour of Someone in Time. 5 winners win a paperback copy of Someone in Time. And 5 winners win an ecopy of Someone in Time. Open International.
For a chance to win, enter the rafflecopter below:
Related Posts