The Chamomile Conspiracy
by
Louise Marvin
Series:
Seasons of the Witch #1
on September 30th, 2022
Genres:
Cozy Mystery
Pages:
311
Format:
ARC
Buy on Amazon
Goodreads
Green witch Pax Thatcher leads a busy life. Between working two jobs, applying to grad school, and helping out at the old herb shop that belongs to her friend and mentor, Miss Millie, Pax doesn't have much time for practicing spells. She's lucky she can keep her enormous plant collection alive.

Fortunately, she can talk to her plants, and they talk back.

But when Pax arrives for a visit to her seaside hometown of Honesty Harbor, Maine, and discovers Miss Millie is missing, she drops everything to find her. When she does, it's just in time to hear Miss Millie's dying words:

Poison. Find them.

Unable to believe anyone would want to murder the kind old woman, Pax vows to fulfill Miss Millie's last request. But how can a boring little witch who doesn't even own a cauldron solve a murder? Ask the only witness—a potted plant—what happened.

But the more she listens to her leafy allies, the more questions she has. And when others begin to view her as the prime suspect, Pax must hurry to weed out the killer before someone else gets whacked.
Greetings you guys! Welcome to our spotlight  for a brand new, first in a series, featuring a gorgeous white cat. Of course I could not let this opportunity pass me by. Gorgeous, fluffy white kittens need to stick together and show each other love.
Now doesn't this book just sound like the most fun in years? Witches, magic, lovely gardens, cats and of course a murder to be solved. What's not to love and stir your curiosity better than a witches cauldron?
If this sounds right up your alley cat, you are in luck today as there's a Rafflecopter Giveaway for the length of this tour:
About the Author

Louise Marvin's mother wrote Star Trek fanfiction in the 1980s, so it was only natural that Louise follows in her footsteps. FanFiction played a big part in Louise's development and coincidence as a writer, inspiring her to try her hand at original fiction. THE CHAMOMILE CONSPIRACY is her first book. Louise lives in New England with an elderly cat and an extensive LEGO Star Wars collection and works at a medical cannabis facility.

Author Links

http://www.louisemarvin.com (Coming Soon)

https://twitter.com/LouiseMarvin42
To learn more about this book and to read a review or two, please visit a few more tour participants. I'm sure they are all eager to welcome you to their sites!
TOUR PARTICIPANTS
October 3 – The Book Decoder – REVIEW  
October 4 – Books a Plenty Book Reviews – REVIEW, CHARACTER INTERVIEW
October 4 – I'm All About Books – SPOTLIGHT
October 5 – Hearts & Scribbles – SPOTLIGHT
October 5 – Elza Reads – SPOTLIGHT
October 6 – Sneaky the Library Cat's Blog – CHARACTER INTERVIEW 
October 6 – Sapphyria's Book Reviews – SPOTLIGHT
October 7 – Mochas, Mysteries and Meows – CHARACTER GUEST POST
October 8 – Readeropolis – SPOTLIGHT
October 8 – #BRVL Book Review Virginia Lee Blog – SPOTLIGHT
October 9 – Cozy Up With Kathy – REVIEW, AUTHOR INTERVIEW
October 10 – FUONLYKNEW – RECIPE
October 10 – Maureen's Musings – SPOTLIGHT
October 11 – Baroness Book Trove – CHARACTER INTERVIEW
October 11 – Escape With Dollycas Into A Good Book – GUEST POST
October 12 – Angel's Guilty Pleasures – CHARACTER INTERVIEW
October 12 – StoreyBook Reviews – GUEST POST
October 13 – Celticlady's Reviews – SPOTLIGHT
October 14 – Literary Gold – AUTHOR INTERVIEW
October 15 – MJB Reviewers – SPOTLIGHT
October 16 – Lady Hawkeye – CHARACTER GUEST POST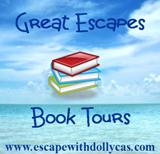 Thank you to Dollycas for inviting us to be part of this fun tour!

Related Posts