Close your Eyes
by
Chris Tomasini
on May 2022
Genres:
Fiction
Pages:
256
Format:
ARC
Source:
Netgalley
,
Reedsy Discovery
Buy on Amazon
Goodreads
Set in early 1400s Europe, Close Your Eyes is a sincere, yet light-hearted and lustful, ode to love. As Samuel, the court jester, struggles to describe why his friends, Agnieszka the cook, and Tycho the story-teller, fled the King of Gora's service, he learns that love was the beating heart behind everything that happened in the castle. He learns as well that more ghosts than he knew of walked the midnight halls, and that the spirit of Jeanne d'Arc haunted his friend, and once slid into bed with Tycho, daring him to leave - to take to the cold roads of Europe, where he had once wandered orphaned and alone, and find his destiny there.

In the Kingdom of Gora, in early 1400s Europe, the King of Gora has assembled a collection of entertainers, scholars, cooks, and others, to care for and educate his young children, the Prince and Princess. Tycho, the children's storyteller, and Samuel, the court jester, are happy in Gora, yet it becomes apparent that the children's cook, Agnieszka, was lured to the castle under false pretenses, and will not be allowed to return to her home city, and her husband and her family.
When the deception is revealed, Agnieszka's friends must decide what to do - assist in her escape and risk death? Or stay quiet, and let their friend remain bound to the castle, far from those she loves?

Close Your Eyes is a meditation on love, and destiny.
"Love it would seem, requires a crusade – a crusade fought with kindness and generosity, and acclaimed by the joyous bells of a thousand city squares: bells which ring out across blue horizons, telling a continent to close its eyes, to dream beautifully and to wake with hope."
Every now and then, you will come across a book that just makes you feel like sighing with joy and happiness and an eagerness to tell the whole world about it. Close your Eyes by Chris Tomasini is one of those. It reminds you of the pleasure of reading a fairytale, while being thankful that you are an adult and finally understand the deeper meanings behind our beloved fairytales.
This isn't your typical "Once Upon a Time" fairytale. Rather think Canterbury Tales or A Knights Tale with a court jester as our story teller. Samuel wanted to tell the story of his dearest friend, Tycho and being an illiterate, it took him four years to obtain the mysteries of the written word and to finally tell the story of a brilliant storyteller who left the blueprints of our story in scrolls of an infrequently kept journal.
What magical tales sprang from these scrolls! Kings and Queens, princess and princesses, knights in shining armor and loyal to death servants – all on a quest for love in its various forms. The story is narrated with wit and wisdom and reads like a collection of fairytales with fact and fiction, made-up-tales and reality, blending together in a perfect happily-ever-after tale. Once again, do not expect your typical "and they lived happily ever after" ending, as we as adults know – you can only live happily ever after on a day to day basis.
Deep sadness and unhappiness are part of every tale, but what makes this tale worthy of the title of a fairytale, is that hope springs from every ending and by the wonderful life lessons hidden between the pages. Isn't hope, love and wisdom the basis of every fairytale?
It's rather difficult to believe that this book is basically a debut novel for Chris Tomasini. The writing style is superb with the most beautiful prose and symbolism woven into the tale. I do hope that Chris will continue to write, the world can do with more tales like these.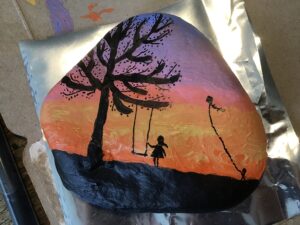 Thank you to Reedsy Discovery and Netgalley for providing me the opportunity to read and review this wonderful fairytale.
I was presented with a gorgeous painted rock by the author that I appreciate immensely, but it still hasn't influenced my opinions of this marvelous tale. The 5 stars are all awarded as well deserved.
Related Posts