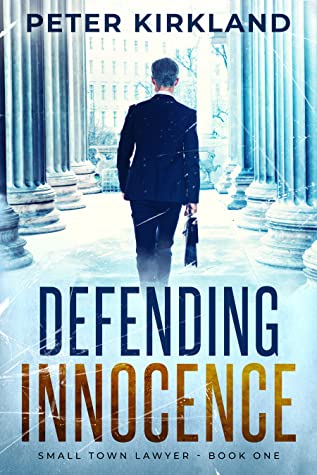 Defending Innocence
by
Peter Kirkland
Series:
Small Town Lawyer #1
on May 26th 2021
Genres:
Legal Thriller
Pages:
265
Format:
ARC
Source:
AXP Books
Buy on Amazon
Goodreads
An innocent client harbors dark secrets…

Defense attorney Leland Monroe lost it all: his big-city job, his reputation and, worst of all, his loving wife. Now he's back in his hometown to hit restart and repair the relationship with his troubled son. But the past is always present in a small town.

Leland returns to find his high school sweetheart hasn't had the easiest of lives—especially now that her son faces a death sentence for murdering his father. Yet what appears to be an open and shut case is anything but. As Leland digs deeper to uncover a truth even his client is determined to keep buried, a tangled web of corruption weaves its way throughout his once tranquil hometown.

Leland soon realizes it's not just his innocent young client's life that's at stake—powerful forces surface to threaten the precious few loved ones he has left.
I haven't read a good legal thriller in ages and Peter Kirkland's debut novel, Defending Innocence, did not disappoint. Welcome to the not-so-black-and-white-world of the legal thriller, Peter! I'm not a lawyer by a long shot, but I believe we might have a new anti-hero on the bar here.
The story opens with Leland Munroe moving back to his hometown. Leland is used to a big-city life in Charleston, being a hot-shot prosecutor. When things go terribly wrong, Leland and his teenage son, Noah, is forced to start a new life that doesn't reflect much of their previous lives. *
In the small coastal town, Leland aspires to start his own law-firm and moving away from prosecuting. He joins an old High School friend, Roy Hearts' law firm until he can built up his own clientele. Roy Hearts and the rest of the football team are still as much in each others pockets as only a High School click can be. **
It didn't take Leland long to realize that he is not the only person in town down on his luck. His High School sweetheart, Mazie, didn't have the easiest life after getting getting involved with the wrong guy. After said wrong guy's body washes up a couple of days after our story unfolds, Mazie's son, Jackson, is the first and only suspect. Due to his legal background and being the only person Mazie trusts in town, Leland gets appointed as the public defender. With no retainer, no fancy car or country club membership. ***
And this is where the actions starts. Joining forces with another High School friend, Ruiz, a female Private Investigator, they quickly realize that all is not what it seems in the hometown. Is it ever? Small towns are known for the gossip, the groupies, the social differences and for the secrets. Ruiz and Mazie are already part of the underdogs, will Leland end up eating lunch in the diner, or at the country club? That all depends on what he does with the red herrings he pulls out of the water.
The story developed well with strong characters who definitely set the tone for more books to come. I think the courtroom scenes were well presented and that is a big bonus for me as a reader.
"Folks don't decide anything based on reason. They decide what they want to, or jurors believe what they want to, and then they come up with an excuse for it after the fact."
For the first in a series and a debut novel, this was a good read and worth looking forward to the rest of the series.
* We do get a glimpse of what went wrong in Charleston and the death of Leland's wife, Elise. But I would like to read more about the events that lead to Leland and Noah moving back to his hometown.
** I have no idea if all these guys were on the football team. I think there's a story lurking there as well.
*** There are a lot of red herrings in Defending Innocence. Let's go fishing a bit more here.
About Peter Kirkland: Peter Kirkland grew up in Beaufort, South Carolina. As a kid, Peter loved history and learning about his area. One year in school, he was given a project to research a few South Carolina law cases and the precedents they set and their effect on people's lives. This research project lit the flame for his passion for law and creating a more equal justice system since. Soon after this, Peter began reading legal thrillers voraciously and enjoyed the legal maneuvering and justice found within. As an adult he has continued researching the law and understanding the system and its effects on individuals. A few years ago, he decided to try writing his own legal thriller.

Now a full-time writer, he uses his research, passion for justice, and real case studies to bring together courtroom dramas with deep, rich characters, and gripping twists and turns. New to the industry, Peter would love to hear from readers and other authors and invites you to connect with him through:
Facebook – @AuthorPeterKirkland
Goodreads – www.goodreads.com/peterkirkland
Related Posts