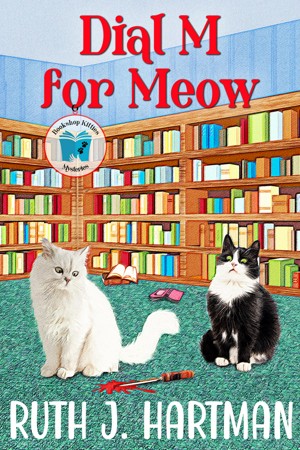 Dial M for Meow
by
Ruth J. Hartman
Series:
Bookshop Kitties Mysteries #1
on January 10th, 2023
Genres:
Cozy Mystery
Pages:
263
Format:
ARC
Source:
Great Escapes Tours
Buy on Amazon
Goodreads
When children's book author, Christy Bailey, receives a call from her aunt Betty to help out at her bookshop, she drops everything to go. Christy packs up her two cats—Milton and Pearl, the stars of her children's mystery books—and leaves busy Philadelphia for tiny Green Meadow, Indiana. The timing of the call is perfect, as Christy's letch of an ex-boyfriend has just cleaned out her savings, leaving Christy with a pile of unpaid bills and a desire to start over. And what better place to do that than a charming small town in Middle America?

But when Christy reaches her aunt's bookshop, instead of small town hospitality she finds a dead body! Even worse, her aunt is passed out in the corner, hands covered in blood. The dead woman is an old frenemy of her Aunt Betty, and while Christy knows her aunt is innocent, the local detective isn't so sure. With Milton and Pearl prowling for clues, Christy is determined to find the real killer and clear her aunt's name... before her story ends in tragedy!
Greetings you guys! Welcome to our stop on the blog tour for Dial M for Meow. A brand new cozy mystery series with two sleuthing cats as our protagonist.
Meet Milton, a stark black and white tuxedo cat who is always ready for a night out on the town. And Pearl, a pure white fluffy ball of fur with a tail that will give a Vegas showgirl a run for her money. Meet Christy, Milton and Pearl's human. Christy is a successful Children's Book author and her success is of course due to the fact that all her books are based around Milton and Pearl's fictitious mystery solving skills.
After a breakup that left Christy and her bank account down in the dumbs, Christy packs up and together with the two cats they move to Green Meadow, Indiana. Aunt Betty runs the local book shop and she's getting a bit old to run everything by herself and her lovely niece, Christy is her ideal candidate for a shop manager. The two celebrity cats can also do no harm for business.
When the three new residents to Green Meadow stumble upon a dead body before they could even unpack, this feline reader couldn't wait to read further to see if the two fictitious sleuths will be able to solve a murder in real life as well.
This is a cozy mystery, so of course the murderer gets caught in the end and yes, my two new favorite feline characters plays a huge part in saving the day. We loved meeting Milton and Pearl and think their sleuthing skills are superb. Christy might still need to be a bit more subtle in future, but I'm sure she will learn from her cats.
Thank you to Lori @ Great Escape Tours for inviting us on this blog tour! We loved reading and reviewing this one. If you would like a change to win a copy of  Dial M For Meow, please enter the Rafflecopter below.
About the Author
Ruth J. Hartman spends her days herding cats and her nights spinning mysterious tales. She, her husband, and their cats love to spend time curled up in their recliners watching old Cary Grant movies. Well, the cats sit in the people's recliners. Not that the cats couldn't get their own furniture. They just choose to shed on someone else's.

Ruth, a left-handed, cat-herding, farmhouse-dwelling writer uses her sense of humor as she writes tales of lovable, klutzy women who seem to find trouble without even trying.

Ruth's husband and best friend, Garry, reads her manuscripts, rolls his eyes at her weird story ideas, and loves her despite her insistence all of her books have at least one cat in them. See updates about her cozy mysteries at Ruthjhartman.com.

Author Links

Facebook https://www.facebook.com/ruth.j.hartman

Website https://www.ruthjhartman.com

Twitter https://twitter.com/ruthjhartman

GoodReads https://www.goodreads.com/author/show/3312900.Ruth_J_Hartman
To join one of Lori's Great Escape Blog Tours, just click on the image below.
Lots of Love,
Related Posts