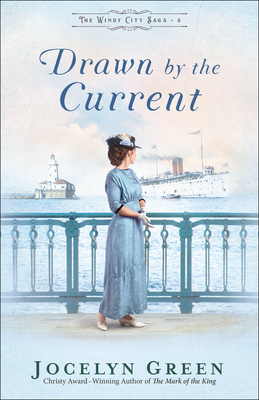 Drawn by the Current
by
Jocelyn Green
Series:
The Windy City Saga #3
on February 1st , 2022
Genres:
Historical Fiction
Pages:
384
Format:
ARC
Source:
Netgalley
Buy on Amazon
Goodreads
A birthday excursion turns deadly when the SS Eastland capsizes with Olive Pierce and her best friend Claire on board. Hundreds perish during the accident, and it's only when Olive herself barely escapes that she discovers her friend is among the victims.

In the aftermath of the tragedy, Olive returns to her work at an insurance agency and is soon caught up in the countless investigations related to the accident. But with so many missing, there are few open-and-shut cases, and she tries to balance her grief with the hard work of finding the truth. Is she just overwhelmed, or is someone trying to impede her investigations? When clues surface that impact those closest to her, how deep will she dig?

Newspaper photographer Erik Magnussen begins helping Olive with her cases, and they develop a fast friendship. Just when Olive begins to unravel the secrets, more setbacks arise. It will take everything she's got to find the truth and stay ahead of those who want to sabotage her progress.
Drawn by the Current is the third instalment in the Windy City Saga and our first introduction with Jocelyn Green. How did we miss this author and this series all this time? What a wonderful and thought provoking book this was. The fact that it was a brand new history lesson, is just an added bonus.
"Surviving trauma wasn't the end of the story, it was only the beginning"
The background for Drawn by the Current, is the tragic events that happened with the SS Eastland on 24 July 1915 in the Chicago River. The Eastland and four other Great Lakes passenger steamers – Theodore Roosevelt, Petoskey, Racine and Rochester – were chartered to take employees from Western Electric Company's Hawthorne Works in Cicero, Illinois to a picnic. This was a really big excursion and young and old were dressed in their Sunday Best.
Our main character in this book, Olive Pierce, is an investigator at an insurance company who underwritten a large number of the workers of Western Electric Company. She convinces her best friend Claire Sterling, to accompany her on the outing. The ship was packed to full capacity with 2572 passengers. It was a cool and damp morning and most passengers went below deck to stay warm before departure. When the ship suddenly lurched sharply to port and then rolled completely on her side, hundreds of people were trapped and crushed by heavy furniture. 844 passengers and 4 crew members died in the tragedy.
"Death wasn't supposed to come all at once for good people on a ship still tied to the dock in the Chicago River on a summer's day"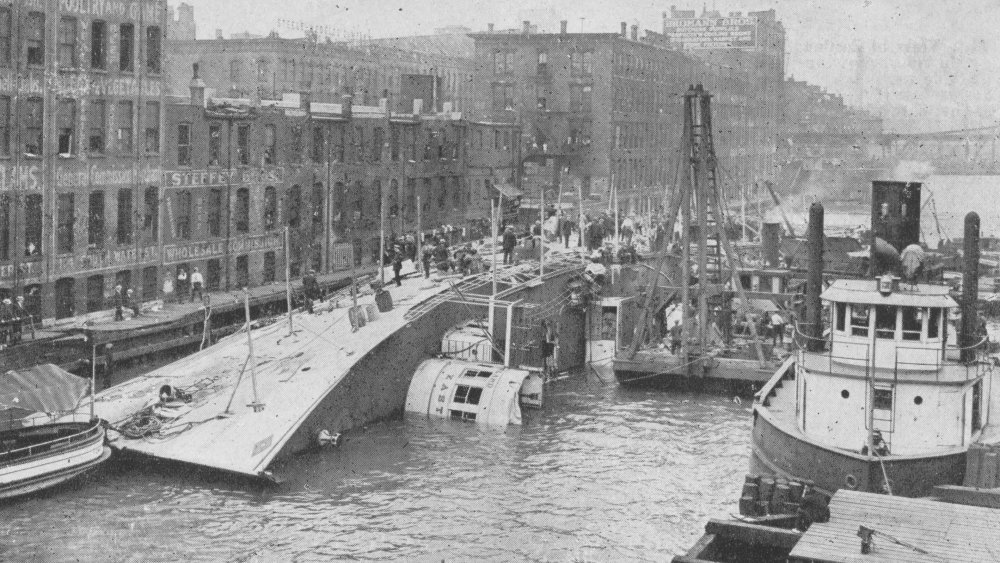 How is it possible that we've never heard of this event? Weaving the sad and tragic events of 24 July 1915 with the lives and deaths of many of the survivors (though mostly fictional) of the SS Eastland, made this a story never to forget. Many of the passengers on Eastland were Czech immigrants from Cicero; of the Czech passengers, 220 perished in the disaster. The fictional, but highly compassionate manner in which Jocelyn Green paid homage to all people affected by the SS Eastland, was highly enduring and I would love to believe there were really people like Olive who worked way beyond their job descriptions to help all those affected.
Like I've said, we haven't read the first two books in the saga, but it was easy to follow the background stories of Olive's family and also where Claire fits into the picture. Claire's story is tragic in a completely different way than the large scale disaster, but combining it with the events of 24 July, worked wonderfully. New characters introduced in this instalment brings some romance, hope and even a bit of comic relief. Gosh, I would have fallen in love with Erik Magnussen myself!
Though disguised in a deep blue suit and striped tie, he was square-jawed, blond-haired, stern-faced Norseman from the land of Thor, with a physique built from swinging hammers or battle-axes, or rowing dragon-headed longships, or whatever it was Vikings did.
The strong Christian undertones that surfaced throughout the novel, served as a reminder that our faith in God should be foremost to our faith in man or even ourselves. Actions have consequences, no matter how pure the attentions, but forgiveness and repentance are always worth the price to pay.
Thank you to Bethany House Publishers and Netgalley for providing us with a copy of Drawn by the Current.
Related Posts