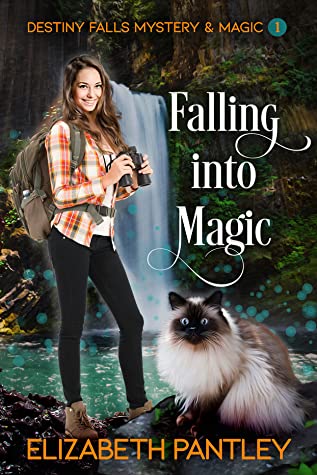 Falling into Magic
by
Elizabeth Pantley
Series:
Destiny Falls Mystery & Magic #1
on November 15th, 2020
Genres:
Cozy Mystery
Pages:
299
Format:
ARC
Source:
Author's Copy
Buy on Amazon
Goodreads
An accidental journey through a magic mirror. A portal to an enchanted land. A mysterious family she never knew she had. Hayden's life is upended with the wonder of Destiny Falls. But it is tainted by the danger that brought her here and that threatens her newfound family. Can Hayden and her sassy sidekick remove the threat, so that she can begin her magical new life in this captivating world?

…When Hayden was a child, she lost her cat. Adults told her the cat ran away, but she knew the truth. The mirror had taken her. She knew because the mirror gave her a glimpse of an alternate world and had nearly pulled her in, so she was certain the cat had suffered that fate.

Twenty years later, Hayden discovers the secret of the mirror when she is thrust into it. She learns of an enchanted world she never knew existed, and a family she never knew she had.

But danger brought her here, and it followed her. Now, Hayden is on a mission to remove the threat, so that she can begin her magical, meaningful new life in this enchanted world.
Content:
Age appropriate: from young adult +
Language: squeaky clean.
Adult content: wishful thinking with two sexy hunks.
Violence: you won't need therapy.
Magic: tons.

Greetings Humans! For those of you who do not know me yet, my name is Elza. I am a fluffy white kitten who will present you with a review for Falling into Magic. My Mommy has written a couple of reviews, but ever since this book fell into her lap, I begged her to do the review from my point of view.
I do a lot of reading with my Mommy and I can tell you, she reads as wide as the sea is deep. Falling into Magic is the type of book you take to the beach and just enjoy it for what it is – funny, fluffy, far-fetched and fabulous. Although my Mommy doesn't always read the fffff books, she always enjoys a good Disney or Hallmark movie or mini-series. 
Finally! An author who manages to pin the Disney/Hallmark magic down on paper. Yes, yes, I do know that the author dedication normally comes at the end of the review, but I am a cat and I shall do as I please. Miss Elizabeth Bennet, wait – that's someone else. Mrs. Elizabeth Pantley had me at hello:
Dedication 
"This book is dedicated to all the cats and dogs who support and protect their owners, in exchange for only love and care."
All books should start like that. It's almost as powerful as Once Upon A Time. No, I am not only talking about the most magical opening line in literature history, I am also talking about the hit TV Series
and more specifically, the magical town of
If you thought Storybrooke had magical powers, wait till you spot Destiny Falls on the map of enchanted realms. "Destiny Falls was a community, perhaps a town, maybe a world. It was unique and magnificent. And it was very, very well hidden." 
Nothing-special-about-her Hayden, lives in Seattle with her Himalayan long haired cat, Sassy, her grandma and great grandmother. While on her way back from a grooming parlor with Sassy safely tucked in her carrier, a man shoved them both in a construction hole and blackness enfolded them. When Hayden saw the light of day again, she was in a beautiful palace, a princess with a sparkling, twirling gown and a her gorgeous cat turned into a Fairy Godmother. 
Okay, I'm exaggerating here. But not really as much as you would imagine. When Hayden woke up (in a magical mansion) she was greeted by her brother who she didn't even knew she had. The only Axel she knew in "our" world, was this guy  
I tell you, they breed them better in Destiny Falls. Hayden quickly realizes that she is part of a very important family, the Caldwells. Better known as the chosen ones. No, they are not vampires or the last remaining family after the apocalypse. This is a fairytale, stay with the plot and theme, please. Thus – they were the town's royalty (see, like a princess).
Hayden soon meets the rest of family who are all picture perfect. But as we know, no fairytale can be complete without a villain, an evil stepmother/grandmother, a fairy godmother and a talking animal or two.  Okay, maybe there isn't a fairy godmother, but there is a fairy housekeeper and the talking animal is non other than Sassy! Who now goes by the name Latifa and she is so the true queen of this story with one sassy personality. Jazz hands to you girlfriend!
My Mommy says I need to stop with the spoiler alerts now, so if you want to know what actually happens from here on, you better read the book. It won't disappoint. It's very Disney'ish (to quote the author), and Disney always delivers.
Although Destiny Falls is not Elizabeth Pantley's first book to be published, it is her first attempt at fiction. One will never say that. Hayden is a first person narrator and her quirks and comments on herself and her own thoughts, are delightfully refreshing for this type of narration. Elizabeth's writing style is strong and the plot flows smoothly and effortlessly. Most memorable, is the character sketches. Granted, it is mainly from Hayden's point of view, but if a picture says a thousand words, then this author can do the reverse with 10 to 20 words.
As always, my Mommy has highlighted a couple of great quotes:
"We all have things that go wrong in our lives it's part of being human. And then we have choices to make. We can go down the rabbit hole of anger and sadness, or we can pick ourselves up by our bootstraps and get on with life. It is our life, after all, and we can make it as good as we choose."
"Caldwell women do not sneak. We do not avoid confrontation. We do not run from problems. We keep our emotions in check. We get stronger. We get focused. We get to work."
We want to be like the Caldwell women. Something tells me, Hayden is going to develop into one amazing Caldwell woman as the rest of the series unfolds. With such a sassy cat by her side, can you expect anything less?
Thanks for this lovely review copy, Elizabeth! Both me and my Mommy enjoyed this tremendously and we wish you all the best and top of the best sellers with this one.
about the author
Parenting educator Elizabeth Pantley is president of Better Beginnings, Inc., a family resource and education company. Elizabeth frequently speaks to parents at schools, hospitals, and parent groups around the world. Her presentations are received with enthusiasm, and praised as realistic, warm and helpful.

She is a regular radio show guest and frequently quoted as a parenting expert in newspapers and magazines such as Parents, Parenting, American Baby, Woman's Day, Good Housekeeping, and Redbook and on hundreds of parent-directed Web sites. She publishes a newsletter, Parent Tips, which is distributed in schools nationwide.

Elizabeth is the author of 13 popular parenting books, available in 24 languages.

Elizabeth and her husband, Robert, live in the state of Washington along with their four children and "Grama."
More reviews on Falling into Magic: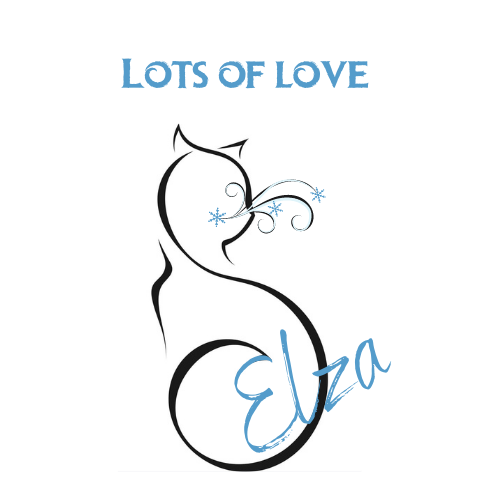 Related Posts