Greetings you guys! Can you believe that it's September already and I haven't done a Friday Fives this whole year. Jeeeez….. Fridays are usually crazy and my Mommy is always trying to leave school as fast as possible to get home and start the weekend. It doesn't always work out that way though. Now we first need to remember what Friday Fives are all about….
Connect Five is really very easy, just pick 5 books that are connected in some or other way. Theme, cover, genre, author – you name it. It's hosted by Kathryn @ The Book Date.
Talking about school – as the school's librarian, my Mommy loves recommending books to the kids and to see just how much they love reading. But every now and then, the kids will actually recommend a book or two for her to read as well. Sometimes she does read it and sometimes she pretends she has…. Other times, they land on her TBR and we hope to get to them soon. Here are five of the latter ones.
Fable (Fable #1) by Adrienne Young – For seventeen-year-old Fable, the daughter of the most powerful trader in the Narrows, the sea is the only home she has ever known. It's been four years since the night she watched her mother drown during an unforgiving storm. The next day her father abandoned her on a legendary island filled with thieves and little food. To survive she must keep to herself, learn to trust no one, and rely on the unique skills her mother taught her. The only thing that keeps her going is the goal of getting off the island, finding her father, and demanding her rightful place beside him and his crew. To do so Fable enlists the help of a young trader named West to get her off the island and across the Narrows to her father.

But her father's rivalries and the dangers of his trading enterprise have only multiplied since she last saw him, and Fable soon finds that West isn't who he seems. Together, they will have to survive more than the treacherous storms that haunt the Narrows if they're going to stay alive.

Welcome to a world made dangerous by the sea and by those who wish to profit from it. Where a young girl must find her place and her family while trying to survive in a world built for men. Fable takes you on a spectacular journey filled with romance, intrigue, and adventure.

The House on Hummingbird Island – 'We're going to a fine place,' Idie told Homer to console him, 'with gullies and monkeys and hummingbirds.'

Idie Grace is twelve when she inherits a grand old house on a Caribbean island, and is sent away from grey old England to a place where hummingbirds hover and monkeys clamber from tree to tree.

As a lady of property Idie can do as she pleases, so she fills the house with exotic animals, keeps her beloved horse in the hallway, and carries a grumpy, talking cockatoo called Homer on her shoulder. But the island house holds as many secrets as it does animals, and the truth behind Idie's inheritance is the biggest secret of all . . .

Perfect for fans of Eva Ibbotson and Katherine Rundell

Gangsta Granny by David Walliams – Another hilarious and moving novel from David Walliams, number one bestseller and fastest growing children's author in the country. A story of prejudice and acceptance, funny lists and silly words, this new book has all the hallmarks of David's previous bestsellers.

Our hero Ben is bored beyond belief after he is made to stay at his grandma's house. She's the boringest grandma ever: all she wants to do is to play Scrabble, and eat cabbage soup. But there are two things Ben doesn't know about his grandma.
1) She was once an international jewel thief.
2) All her life, she has been plotting to steal the Crown Jewels, and now she needs Ben's help…

The Lord of the Rings by J.R.R. Tolkien – All three parts of the epic masterpiece The Lord of the Rings – The Fellowship of the Ring, The Two Towers & The Return of the King – available as one download, featuring the definitive edition of the text, hyperlinked footnotes and page references, and 3 maps including a detailed map of Middle-earth.

Sauron, the Dark Lord, has gathered to him all the Rings of Power – the means by which he intends to rule Middle-earth. All he lacks in his plans for dominion is the One Ring – the ring that rules them all – which has fallen into the hands of the hobbit, Bilbo Baggins.

In a sleepy village in the Shire, young Frodo Baggins finds himself faced with an immense task, as the Ring is entrusted to his care. He must leave his home and make a perilous journey across the realms of Middle-earth to the Crack of Doom, deep inside the territories of the Dark Lord. There he must destroy the Ring forever and foil the Dark Lord in his evil purpose.

Since it was first published in 1954, 'The Lord of the Rings' has been a book people have treasured. Steeped in unrivalled magic and otherworldliness, its sweeping fantasy has touched the hearts of young and old alike.

Anything and everything written by Michael Morpurgo 

Private Peaceful
Dear Olly
Cool!
Toro! Toro!
The Butterfly Lion
The Amazing Story Of Adolphus Tips
Born To Run
Kaspar Prince Of Cats
Why The Whales Came
Kensuke's Kingdom
War Horse
The Wreck Of The Zanzibar
Escape From Shangri-La
Mr Nobody's Eyes
King Of The Cloud Forests
Long Way Home
Yes, I know it's unbelievable to think a school librarian hasn't read The Lord of the Rings yet. And regarding the Michael Morpurgo. We have read a few and loved it. Would love to read them all!
Friendly Fill-Ins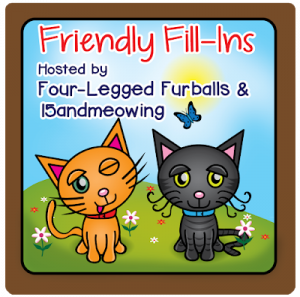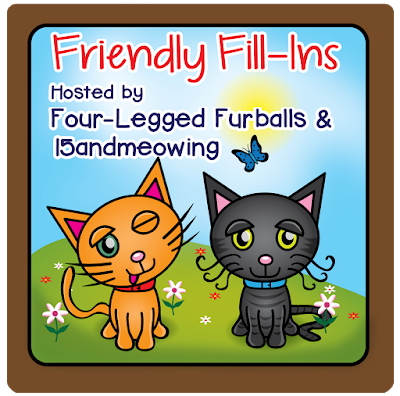 Another weekly meme we didn't take part in for months now, is actually my FAVORITE meme of all. Friendly Fill-Ins.
It's a lovely way to link up with fellow bloggers and a few feline friends. Friendly Fill-Ins is hosted by 15 and Meowing and Four-Legged Furballs. They come up with a couple of sentences, and then you have to fill in the blanks.
This week's questions and answers are below. Our answers are in bold and italics.
1. A pleasant memory that I have from grade school is
being the favorite feline at school. I only went to school for one day, but that was enough
.
2. My plans this month include surviving the mutt and getting up to date with our ARC's.
3. Please don't ask me to choose between naps and eating.
4. In 20 feline years, I see myself as regal as the late Queen Elizabeth II. May she rest in peace. 
What are your plans for the weekend? Is reading somewhere on your schedule? Let us know what's on your nightstand this weekend!
Have a wonderful weekend.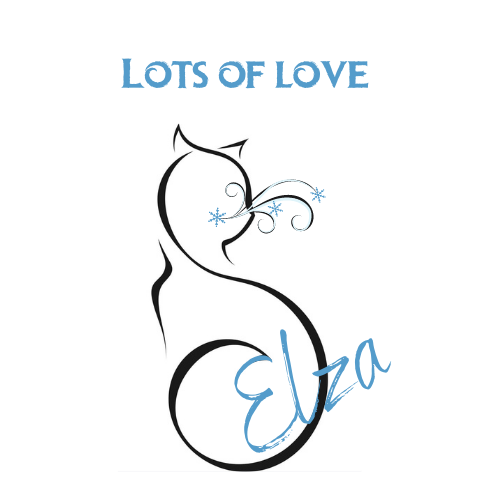 Related Posts