Is it too early to start our post with ho ho ho? Maybe just a tad. But it's not too early for the Ho-ho-ho Readathon that officially kicked off yesterday.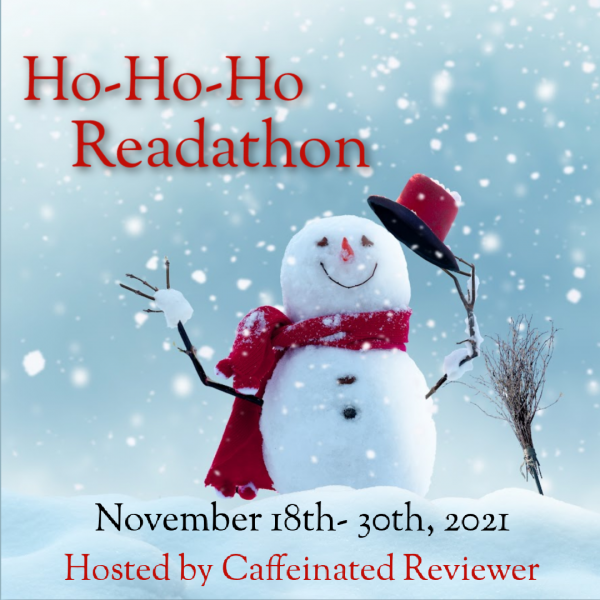 Of course we are going to take part and having some fun with Friday Fives is the ideal opportunity. Connect Five is hosted by The Book Date and the idea is to connect 5 books in some or other fun way. Theme, covers, authors, genres – you name in.
Although we love the Christmas season, we don't normally get into the Christmas Spirit before school hasn't closed. With two more weeks to go, I think my Mommy needs some Christmas cheers and and a few good laughs. So why not combine the two? She's made a whole list of Christmassy books to read for the next 12 days and the following 5 are all good for a laugh too.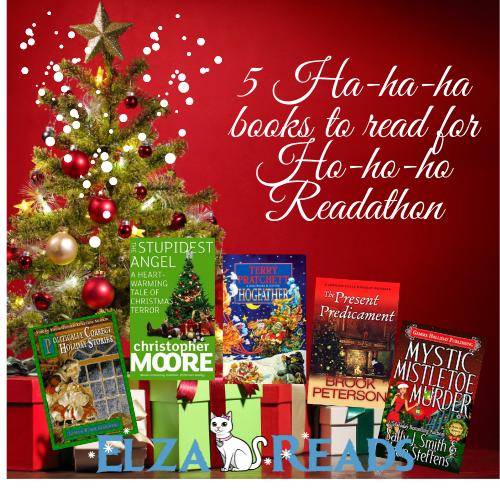 Politically Correct Holiday Stories by James Finn Garner – Whether your favorite holiday story is A Christmas Carol, The Story of Hanukkah, or 'Twas the Night Before Christmas, you'll find it transformed to reflect current sensibilities in Politically Correct Holiday Stories. Injecting our popular holiday fables with a modern perspective is no easy task, but someone had to do it — and who better than the proven master of cultural sensitivity? James Finn Garner joyfully frees these holiday tales from sexism, ageism, religious imperialism, and every other sorry vestige of our flawed, low-consciousness past. So gather the family (whether traditional, dysfunctional, co-dependent, or otherwise) around the hearth, and read aloud these tales as they should have been told the first time.
The Stupidest Angel: A Heartwarming tale of Christmas Terror by Christopher Moore – 'Twas the night (okay, more like the week) before Christmas, and all through the tiny community of Pine Cove, California, people are busy buying, wrapping, packing, and generally getting into the holiday spirit.
But not everybody is feeling the joy. Little Joshua Barker is in desperate need of a holiday miracle. No, he's not on his deathbed; no, his dog hasn't run away from home. But Josh is sure that he saw Santa take a shovel to the head, and now the seven-year-old has only one prayer: Please, Santa, come back from the dead.
But hold on! There's an angel waiting in the wings. (Wings, get it?) It's none other than the Archangel Raziel come to Earth seeking a small child with a wish that needs granting. Unfortunately, our angel's not sporting the brightest halo in the bunch, and before you can say "Kris Kringle," he's botched his sacred mission and sent the residents of Pine Cove headlong into Christmas chaos, culminating in the most hilarious and horrifying holiday party the town has ever seen.
Move over, Charles Dickens—it's Christopher Moore time.
Hogfather by Terry Pratchett – It's the night before Hogswatch. And its too quiet.
Where is the big jolly fat man? Why is Death creeping down chimneys and trying to say Ho Ho Ho? The darkest night of the year is getting a lot darker…
Susan the gothic governess has got to sort it out by morning, otherwise there won't be a morning. Ever again…The 20th Discworld novel is a festive feast of darkness and Death (but with jolly robins and tinsel too).
As they say: 'You'd better watch out…'
The Present Predicament by Brook Peterson – It's Christmastime and Jericho House's halls are decked to such an extent it resembles a mansion in the North Pole, not the mountains of Nevada.  There's only one problem, Elliot the tuxedo cat keeps climbing the behemoth Christmas tree in the parlour and breaking priceless, antique ornaments. When Grandma Lily and Chloe decide the solution is to divert him with lots of presents around the tree, it sets off a domino effect of predicaments, culminating in the complete loss of Grandma's Christmas spirit. Will Chloe be able to revive Grandma's holiday cheer despite being somewhat of a grinch herself? And what about handsome Police Chief Garner?  Will he come to Chloe's aid?
Mystic Mistletoe Murder by Sally J. Smith & Jean Steffens – 'Tis the season at The Mansion on Mystic Isle, and Melanie Hamilton, resident tattoo artist at the resort renown for its supernatural atmosphere, can feel the holiday spirit everywhere in the Louisiana bayou. The festive mood runs deeper than just the tinsel, mistletoe, and twinkling lights, as the milk of human kindness is flowing with gift giving, good cheer, and donations. But when Papa Noël turns up as dead as the Ghost of Christmas Past, and all the bounty from a recent charity drive is stolen, Melanie turns to Jack Stockton, the resort's handsome general manager, to help her find the killer and get it all back.
Who wanted Papa Noël dead and why? Was it the bag of loot they were after, and Papa just got in the way? Or was it a more personal attack on the jolly man in the red suit? Not only does Mel find herself in a fight to prove one of her co-workers innocent, but she's also in a race against a ticking clock to save the life of a sick child. Before long, she closes in on the killer—or maybe it's the killer closing in on Mel!
Don't tell me all of these don't sound like the most fun you can have for a readathon! Who else is taking part in the 2021 Ho-ho-ho Readathon? Remember to add your links and to visit the Christmas elves!
Happy weekend you all!
Related Posts