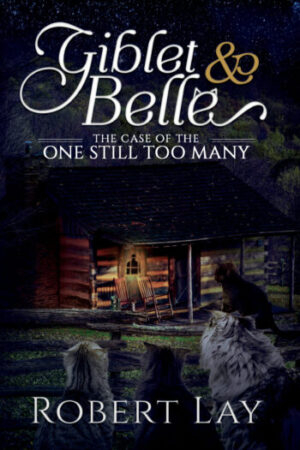 The Case of the One Still Too Many
by
Robert Lay
Series:
Giblet & Belle #2
on September 13th, 2022
Genres:
Cozy Mystery
Pages:
248
Format:
ARC
Source:
Reedsy Discovery
Buy on Amazon
Goodreads
Giblet & Belle are back, and this time the crime is personal...

The family is taking a working vacation to the beautiful little mountain town of Busby, West Virginia. But this town holds dark secrets that some will kill to keep. Soon Belle, Giblet, and the rest of the animals are up to their whiskers in murder, moonshine, and a decade-old secret that involves one of their own.

However, Belle and her mentor, Mittens, are no ordinary cats; they are highly trained Protectors, an ancient secret society helping humanity for thousands of years, always working from the shadows, with only a handful of humans who know about them. Will Giblet & Belle sort out the clues in time to prevent another murder and bring justice?
"Wherever there are humans and cats, there are Protectors.
Protectors, the ancient secret order of cats that have watched over and defended humans and their settlements for thousands of years, mostly without people realizing.
In One Still Too Many, Giblet & Belle are back, and this time the crime is personal…"
Giblet, Belle and Mittens are back from their adventures in The Case of the Missing Ring and in the latest instalment of the Protectors, the human family and the clowder is taking a working vacation to the mountain town, Busby, in West Virginia.
Oh sorry, I forgot that there are humans reading here and not all of you know what Protectors are. Protectors is an ancient society of cats, working behind the scenes, always in the shadows (where cats tend to wander), protecting mankind. Yes, I know we sometimes come across as aloof and as if you humans don't really matter to us at all. A little secret from the inside – we do care. We'll give our lives to protect you.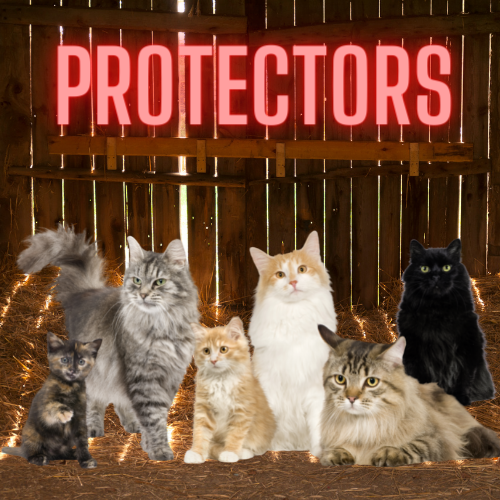 Of course the clowder need to protect their own as well and shortly after the human family announced that the whole household will be going to West Virginia, Joel, an elderly Russian Blue Cat, starts acting rather strange. Cats are normally on high alert, but with Joel's strange behavior, their senses went into overdrive. None of the clowder knew much about Joel's past, all they knew is that he was originally somewhere from West Virginia and he has always been very closemouthed about his time before he found this home.
The mysterious circumstances regarding the death of Joel's first human, ten people's years before, sets the backdrop for the story. We meet a few more enduring characters, especially Porter, a Scottish barking furry dog with a nose for remembering.
We haven't read the first book in this series, but Giblet & Belle, the case of the One Still Too Many can easily be read as standalone. The story developed at a comfortable pace and the going back and forth in time were well spaced and kept the reader intrigued.
As a cat myself and the spoiled brat of a human who loves all things cattish, I can recommend this book to all cat lovers out there. The author, Robert Lay, can definitely speak cat and we felines out there are ever so grateful for human authors who can do such a magnificent job in portraying the secret lives of cats to their fellow humans.
Thank you to Reedsy Discovery for providing us with the opportunity to read and review this book. If you are interested in ready any of Reedsy Discovery's ARC, you can click here.
Lots of Love,
Related Posts