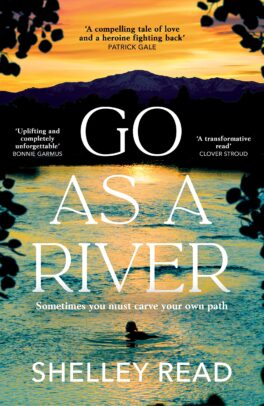 Go As A River
by
Shelley Read
Published by
Transworld Digital
on March 7th, 2023
Genres:
Historical Fiction
Pages:
299
Format:
Paperback
Source:
Book Club
Buy on Amazon
Goodreads
On a cool autumn day in 1948, Victoria Nash delivers late-season peaches from her family's farm set amid the wild beauty of Colorado. As she heads into her village, a dishevelled stranger stops to ask her the way. How she chooses to answer will unknowingly alter the course of both their young lives.

So begins the mesmerising story of split-second choices and courageous acts that propel Victoria away from the only home she has ever known and towards a reckoning with loss, hope and her own untapped strength.

Gathering all the pieces of her small and extraordinary existence, spinning through the eddies of desire, heartbreak and betrayal, she will arrive at a single rocky decision that will change her life for ever.

GO AS A RIVER is a heart-wrenching coming-of-age story and a drama of enthralling power. Combining unforgettable characters and a breathtaking natural setting, it is a sweeping story of survival and becoming, of the deepest mysteries of love, truth and fate.
"What I have learned most about becoming, is that it takes time."
I sometimes struggle to decide which synopsis to use in my reviews – Goodreads or Amazon. For this book, I choose the Goodreads one. It doesn't tell you much about what happens in the story or give a clear plot outline. And I think that's how this book needs to be read.
But for the plot chasers out there, here's the Amazon synopsis as well:
When a moment changes everything, how do you live the rest of your life?

It is 1940s, Colorado. Young Victoria Nash is the sole surviving woman in a family of troubled men, and she runs the household on her family's peach farm.

Wilson Moon is a young drifter with a mysterious past, displaced from his tribal land, who wants to believe one place is just like another.

When Victoria and Wil meet on a street corner, their unexpected connection ignites as much passion as danger and as many revelations as secrets.

Tragedy strikes and Victoria flees into the beautiful but harsh wilderness of the nearby mountains. Struggling to survive in unforgiving conditions, with no clear notion of what her future will be, she is forced to make a decision that will change the course of her life forever .

Go as a River is a sweeping, unforgettable story of finding home, family, resilience – and love – where you least expect it.
With reminiscence to Where the Crawdads sing, this book is bound to become a huge favorite in the reading community. Perhaps not as much for the plot and story outline, but for the writing. Oh my gosh, this writing. I've savored every sentence, every paragraph, every chapter. This is a brand-new book and it's dog-eared (don't kill me) and I'm so glad I did that. I loved reading a few of those sentences and paragraphs again and just store it somewhere deep in my soul where it will take root and become part of my own word orchard.
I've never read anything else by Shelley Read, but I think I will have to list her as a favorite author. Wow, the brilliance with which she's woven nature and human behavior while addressing controversial social issues and family tragedies all in a tapestry of one women's life, is remarkable. Luckily for us, Go as a River is a debut novel and we can hopefully expect more treasures like this in future.
You might have noticed that I didn't list this book under Book Reviews, but under Wednesday Wisdom. I love sharing memorable quotes from books and love sharing it with you. Here's a few of my favorites.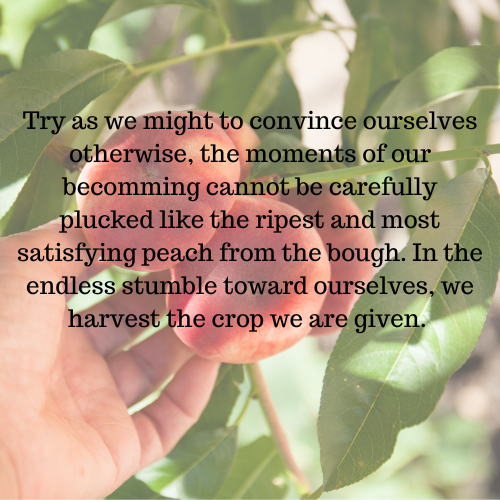 And this passage. If I was still a teenager, I might have cut it out and stick it on the mirror. Although the teenage me would definitely not have been able to grasp this yet.
Zelda was right that I, like my orchard, had been resilient in new soil, uprooted by circumstance yet able to get on with things anyway. But I had also faltered and fallen, lost my resolve, and curled into fear more times than I could count. Strength, I had learned, was like this littered forest floor, built of small triumphs and infinite blunders, sunny hours followed by sudden storms that tore it all down. We are one and all alike if for no other reason than the excruciating and beautiful way we grow piece by unpredictable piece, falling, pushing from the debris, rising again and hoping for the best. 
If you've read and loved Go as a River as much as I have, please let me know! If not, please go and read it and let me know then!
Related Posts