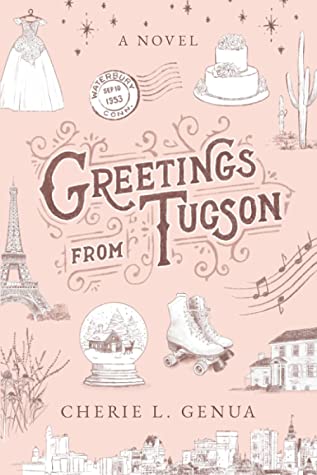 Greetings from Tucson
by
Cherie L. Genua
on September 14th 2021
Genres:
Memoir
Pages:
338
Format:
ARC
Source:
Travelling Pages Tours
Buy on Amazon
Goodreads
Introducing Greetings from Tucson: A feel-good fiction novel by first-time author, Cherie L. Genua
A coming-of-age story with true love at its core, Greetings from Tucson tells the heartwarming and uplifting story of four sisters' lives through the lens of handwritten letters. These long lost letters, found decades after they were penned, at one time formed a lifeline that held the sisters together when their worlds were otherwise falling apart...
In June of 1945, tragedy struck and sisters Cookie, Frankie, Dottie, and Connie were torn from everything they knew—their parents, their home, and, most importantly, each other. Forced to live thousands of miles apart, they feared their bond would be broken. The four sisters began writing letters to share every detail of their young lives, celebrating milestones and mourning heartbreaks from afar.

Through these letters, they strengthened their relationship when the odds were so stacked against them. That is, until one sister's secret from the past changed everything. Would she break the fragile bond they worked so hard to nurture after their split so many years ago?

Inspired by a true story.
Sisters separated by tragedy, strengthened by letters.
Every family has a story. A story that can be told through so many different perspectives and from numerous points of view. He said/She said/They said, will never be more profound than in family sagas. Greetings from Tucson: A collection of  letters between sisters, however, is as true as you can get.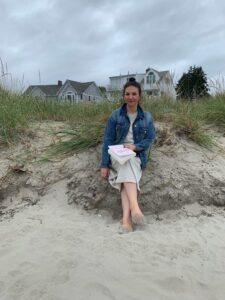 From the author (Cherie L. Genua): Greetings from Tucson is inspired by my grandmother's early life after both her parents' tragic deaths in the 1940s. Soon after my grandmother passed away in 2012, I discovered a shoebox filled with pastel-colored envelopes stuffed with handwritten notes. There were countless letters stacked up inside that were sent to my grandmother from her sisters—she kept them for decades tucked away in her closet. I will never forget their smell—rosewater mixed with the stale smell of vintage paper. These letters from the 1940s and beyond pieced together the stunning—and tragic—story of her early life and taught me that a sisters' bond could never be broken, no matter how hard life became. A story that taught me sisters could be soulmates, too.
This was a quick and easy read and I am sure that Cherie's beloved Grandmother would be very proud of what her granddaughter achieved with her first publication. Thank you so much for being our guest for this post, Cherie!
Memories—particularly letters—have been on my mind a lot lately. We are in the midst of packing up all the contents of our home and getting ready for our next adventure, which is exciting of course, but also feels a bit nostalgic at times. I have a few boxes of notes and photos from middle school and high school that always bring me joy when I look through them. They typically remain tucked away until times like this, when I'm packing and getting ready for my next move. Silly notes from friends during algebra or photos captured on disposable cameras from the Y2K years. (Remember those times, when you had to wait until you got your pictures developed to see if there were any good ones at all?! Ah, the good old days.) Endless photos of puka shell necklaces, rose-tinted round sunglasses, bootcut jeans, and bangs..oh, the bangs!

Looking through these old boxes of memories brought me right back to that day when I discovered a box of letters in my grandmother's closet after her death in 2012. I still remember the scent of the letters—they somehow still had a rosewater scent to them. And they were stiff to the touch, written on paper so brittle that made me fear they would crumble right in my hands. When I started poking through these letters, it made me realize how fragile life is, especially the memories we keep year over year, decade over decade.

All of my grandmother's treasured items, like these handwritten letters from her sisters, the jewelry she collected over the years, and a stack of silk and embroidered floral handkerchiefs simply sat on the shelves in boxes, collecting dust—maybe never to be cherished by someone again. A family member will sift through them, perhaps take a few things to keep, but otherwise they'll get donated or tossed out.

Even the letters themselves: as special as I know they were to my grandmother, there were many parts of them that didn't make sense to me. I didn't know all the names mentioned (other family members or friends) or the places they talked about or the sisterly language between them they all knew and recognized so well. Just as if someone stumbled upon the box of my notes from 20 years ago, they wouldn't be immediately taken back to my high school days where my friends and I piled into the car without a care in the world, or the afternoons where we would have brief interactions with our crushes and then talk about it for days on end or the "hot spots" we visited regularly after school.

Those notes were special to me, just as my grandmother's notes were cherished by her—she kept them for over 40 years after all. They were relics that told the story of my grandmother and her sisters' lives, from when they were young girls all the way until they were getting married, having children, going through hardships, grieving family members, retiring, and so much more.

These letters bloomed in my mind for years before writing Greetings from Tucson. My imagination ran wild with the types of stories they would write onto a blank piece of paper. I imagined how wonderful it would feel for my grandmother to go to the mailbox and have a letter postmarked from Tucson, Arizona waiting for her. If it were me, I'd barely be able to wait until I got inside to open it and take it all in! So I encourage you: if you do come across your old letters or your loved ones' letters, take a few minutes and read them. Breathe deeply and take in the scent of these cherished memories. Try to put yourself in the recipient's shoes while reading the letter for the first time. It may bring you back to simpler days, before emails were sent and deleted, calls were made and forgotten, or texts were sent so often they became running letters with no beginning and no end…
About the Author
After facing a life-changing breast cancer diagnosis at the age of 34, Cherie co-authored the non-fiction book "Wisdom From Five Cancer Travelers: Lessons Learned" with others affected by the disease. She was declared "no evidence of disease" in 2019 and made it a mission to write and publish her first fiction novel, "Greetings from Tucson," inspired by her grandmother's story. Cherie lives in Connecticut with her husband, Matt, and their Portuguese Water Dog, Poppy. She holds a B.A. in English from Southern Connecticut State University and an M.B.A. from the University of Massachusetts Amherst.
Giveaway
We have a unique giveaway for this book since the book is set in both Connecticut and Tucson, Arizona, the author thought it would be cool to do a state-centered food prize of the winner's choice from Goldbelly.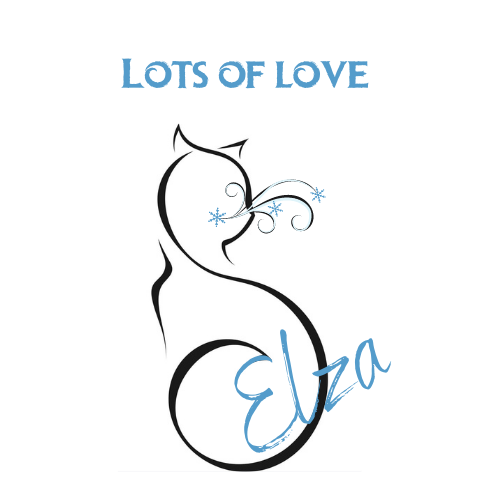 Related Posts