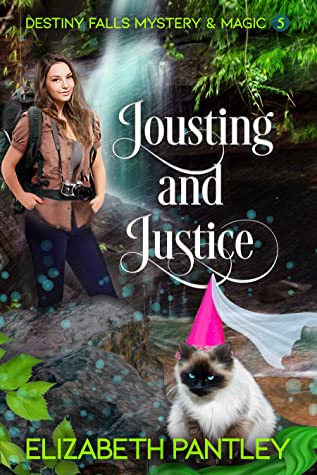 Jousting and Justice
by
Elizabeth Pantley
Series:
Destiny Falls Mystery & Magic #5
Published by
Better Beginnings Inc
on February 15, 2022
Genres:
Cozy Mystery
,
Fantasy
Pages:
310
Format:
ARC
Source:
Author's Copy
Buy on Amazon
Goodreads
An invitation to a medieval festival. A ferry ride to a mysterious island. A scheming, inept witch. An office break-in, an unidentified body, and a string of suspects. Can Hayden, her brave, sassy cat, Latifa, and the people of Destiny Falls solve the mystery and enjoy the festival?

~ Jousting and Justice follows the series format of combining two stories that blend into one. A murder mystery and the island mystery.

The Island Mystery: Hayden and all her friends get an invitation to a medieval festival - but it's on "the forbidden island." It's too enticing to pass up. Of course, strange things will happen once they get there! . . . You'll also learn the truth about the witch's sister in this book!

The Murder Mystery: A dead body shows up in the most shocking place. First, they need to figure out who this dead guy is. Then, who killed him and why. There are so many twists and turns on the way to the answers! But we know that Hayden, Latifa, and their family and friends will figure it out and justice will be served.

Hayden's many adventures in Destiny Falls will keep you guessing with each book in this intriguing series.
Hear ye, hear ye! Our Fluffy, Fabulous, Far-Fetched, but oh so Fun series is back with the Fifth instalment. If you ask my expert opinion – it's the best one yet. If you haven't read this fabulous series, you absolutely need to click on the image below to get a quick recap of the first 4 books.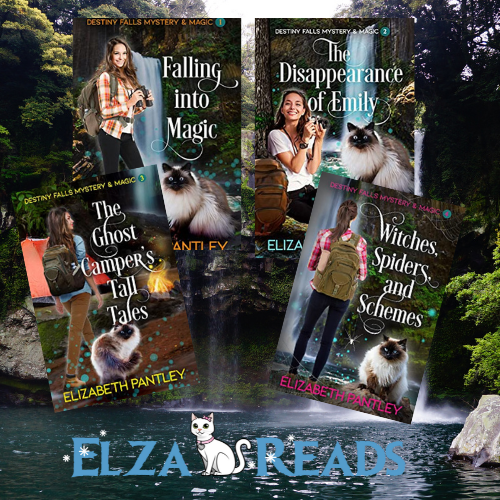 You've just downloaded or ordered the first 4 book, right? You are going to love it!
Jousting and Justice starts with Latifa's Knight in Shining Armor ringing the doorbell. A mysterious envelope was left on the doorstep and it was addressed to The Caldwell Family (of which the cats are obviously members too).
Come One, Come All

Citizens of Destiny Falls ye are invited to a Grande Event

The very First Medieval Festival

Located on the Forbidden Island

Please Join in the Feasting, Entertainment, and Merrymaking
You can just imagine all the squeals and meows happening all over Destiny Falls. A Renaissance Fair! Now doesn't that sound like the most fun ever. In a small town, events like that is a very big deal. Every human, feline, witch and gollum is planning their costumes and practicing their skills. Through all the hassle and dazzle, a few hidden talents, skills, secrets and one dead body is revealed.
Poor Hayden is once again the fortunate one to discover the body, in her office of all places, and Latifa was hiding under the bed due to the shock. I do the same when I'm scared or upset. Luckily we both have such loving families to take care of us and cook us delicious and comforting meals. Bear is still cooking and baking up a storm and his creations are nothing but magical. (No one but Latifa seems to ever gain an ounce, magic indeed)
Dead bodies lead to new discoveries and new adventures that Hayden and Axel are but too eager to explore and just like Latifa, we buckle-up and go along for the ride. Destiny Falls still resembles Hallmarkville and to quote Hayden:
"It's exactly like that! But it's not a romantic comedy. It's exactly like a Hallmark Mystery Channel movie."
But for once the murder mystery takes a backseat to the upcoming Medieval Fair. All might not be as fair as expected though. I believe the phrase the forbidden island, should have given the gang a clue. But in this world of talking kittens and double rainbows, of course they only see the sunshine and sparkles. I really, really ended up in the wrong universe. How, oh how do I get to Destiny Falls??
Never mind all the misdirection and misinterpretations, the Medieval Fair was the highlight of this book. What fun we had dancing and jousting with the inhabitants of the island. It was the silliest fun we've had in a long time. A few big secrets are revealed and nope – we did not see that! But it's perfect.
Of course there are still more to come in this series and we are ever so excited to realize that there are much, much more than we can even dream to imagine. Thank you dearest Elizabeth for once again entertaining us for hours and for leaving me purring and Mommy smiling with pure happiness and contentment.
About the Author

Parenting educator Elizabeth Pantley is president of Better Beginnings, Inc., a family resource and education company. Elizabeth frequently speaks to parents at schools, hospitals, and parent groups around the world. Her presentations are received with enthusiasm, and praised as realistic, warm and helpful.

She is a regular radio show guest and frequently quoted as a parenting expert in newspapers and magazines such as Parents, Parenting, American Baby, Woman's Day, Good Housekeeping, and Redbook and on hundreds of parent-directed Web sites. She publishes a newsletter, Parent Tips, which is distributed in schools nationwide.

Elizabeth is the author of 13 popular parenting books, available in 24 languages.

Elizabeth and her husband, Robert, live in the state of Washington along with their four children and "Grama."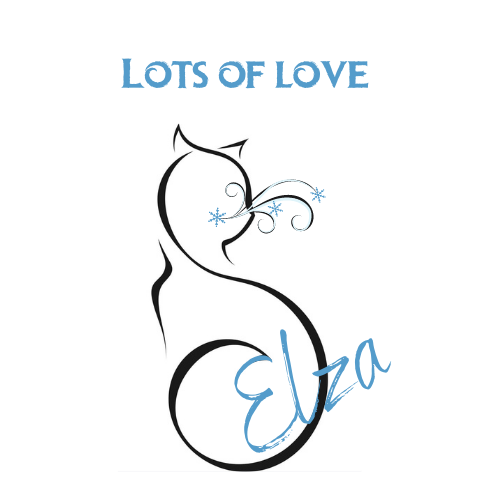 Related Posts