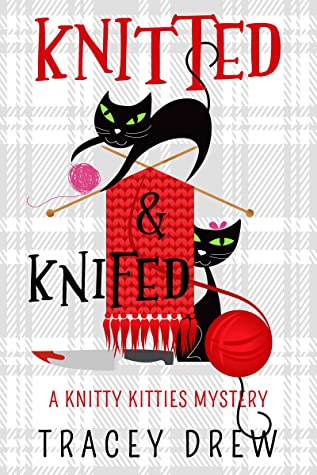 Knitted & Knifed
by
Tracey Drew
Series:
Knitty Kitty Mystery #1
on February 5th, 2021
Genres:
Cozy Mystery
Pages:
226
Format:
ARC
Source:
Author's Copy
Buy on Amazon
Goodreads
Wanted: Cat mum to manage a yarn store, corral two curious cats, all the while being tangled up in murderous mayhem and mystery.

A smart woman would dump her cheating ex, move from the city, and give herself a chance for a well-deserved do-over. A smarter woman—smarter than me, anyway—wouldn't jump out of that same frying pan and return to Cape Discovery, a seaside village where her family is the nuttiest of all the nut-ball residents.

I'm a former high school counsellor, middle-child peacemaker, and current curator of lots of squishy/fuzzy goodness at my granddad's little yarn store. Temporary assistant. Until I decide what to do with the rest my life. There's only one knotty problem to untangle first. The knife sticking out of the most unpopular man in town, and the police detective trying to pin the murder on the donkey—otherwise known as my younger brother. With a pair mischievous cats determined to be underfoot and a craft group of Serial Knitters and Happy Hookers wanting the inside scoop, a girl could lose her mind. And if the killer has their way, maybe even my life...

Tessa Wakefield has her hands full juggling a cozy craft store, her crazy family, and two men who'd rather poke out their eyes than describe themselves as cute. Which they totally are. Cute, charismatic, and occasionally on her mind when she's not stumbling over dead bodies and using her newfound sleuthing skills to track down murderers. Lucky she's an excellent multi-tasker because digging beneath Cape Discovery's surface can unearth secrets that kill.
Greetings Humans! Yes, this review will come from my adorable and witty kitten perspective once again. My Mommy is just here to press the buttons and to get my tail in a knot. She sure knows how to do that, because sometimes our likes and dislikes are a bit mixed-up. This was such a hysterically funny book with some great characters, especially Pearl and Kit, so why on earth does she only give it a 3 start rating? 
Let's first jump down the tree again before we start climbing it again. The Goodreads blurb doesn't really say that much about what actually happens in this book. 
Tessa Wakefield returns to Cape Discovery, New Zealand, to help her grandfather, Harry, run his family business, a yarn shop, after her grandmother, Nana Dee-Dee, passes and so she can get her life back on track after a difficult breakup. Little does she know she's about to embark on the life of solving murder mystery's because her brother ends up being a murder suspect of a man no one really liked. Throw in two

handsome

 brooding felines and two

brooding

 handsome men into the mix, and you have a perfect cozy murder mystery cake, or in this case, knitted blanket. 
To me, this was one of those stories that are quite similar to landing in a basket filled with fluffy, soft balls of yarn. Yes, you are definitely going to get yourself tangled up, but getting out is just as much fun as getting in. And what's the harm when you can do that giggling at the quirky and fun writing style of Tracey Drew? 
"The Vicar had a voice worthy of a world-renowned hypnotist, and five minutes in, I was ready to quit my potato chip addiction and cluck like a chicken."
I honestly think my Mommy's less than perfect score can be blamed on the following three setbacks in her otherwise flawless demeanor:
She's not used to the cozy mystery genre and are more into the serious murder stuff. Karin Slaughter, Tana French, Gillian Flynn, Agatha Christie, etc. You know, the type of books that give you nightmares and make you grab the knitting needles to lessen the stress it brings along. She sure will benefit by joining The Happy Hookers or Serial Knitters.
She's played one too many games of Cluedo and constantly tried to teach Tessa the art of elimination. Make sure all your boxes are ticked before you claim it was Colonel Mustard in the drawing room with a candle stick.  It's not your murder mystery to solve, Mommy. Step away. .
She should have requested a copy of the prequal novella. There's lots of characters in Knitted and Knifed and we still don't really know much about Tessa's ex and the Cape Discovery community. Not to mention more about Pearl and Kit! I would really like to get to know them better.
I wonder if it's too late to request this? I will ask Lola very nicely if it might be possible. Although Knitted and Knifed didn't really fly all as high with my Mommy as it did for me, we will gladly read more of this series.
Tracey Drew lives Down Under with her husband—who's given up complaining about her yarn addiction–and two madcap tabby cats called Kevin and Alfie. The feline brothers constantly battle with her while she's trying to write her books by demanding lap-time, but they also provide constant inspiration for her fun & quirky cozy mysteries.
Thank you Lola for trusting us with an ARC of this delightful book. All views are either my own, or my Mommy's and no cats where harmed in writing this. The scratch on my Mommy's hand is pure accidental.
I will leave you with a fun excerpt from Knitted and Knifed, hope it will inspire you to buy it as soon as possible.
Around us, people had begun to notice Officer Austin's marked police vehicle parked outside the store. A few bolder locals wandered over to ask what was going on. I kept my gaze locked onto my phone screen, feigning sudden interest in social media posts of funny cat memes and updates on the mundane things people did on a beautiful summer's morning.
One of Sean's talents was people skills, which he successfully employed to evade any direct questions about what was going on inside. As the youngest, he'd learned from his older siblings how to circumvent Mum and Dad's rules and the consequences of breaking them: with charm and misdirection.
However, by the time two more police cars cruised down Cape Street toward us, even Sean's cheeky banter couldn't keep the curious onlookers at bay. Quite a few people now milled around outside the store, and the lead vehicle had to double-park next to a ute and order its driver to move along. As uniformed officers poured onto the sidewalk and immediately began issuing instructions, I caught a glimpse of one man in the second car. He remained in place until the crowd had been ushered aside. 
Then, and only then, did he unfold his sizable bulk from the car. And by bulk, I mean six foot something of broad-shouldered, rugby-player-thighed, hands-that-could-crush-a-fistful-of-unshelled-walnuts big. He cut an imposing figure in his charcoal-colored suit, totally out of place in this small seaside town where tidy-casual was considered business attire. 
With precision-cut black hair, dark shades, and what might have been a sexy mouth if it wasn't curved downward in a scowl, he strode toward us, his long legs eating up the sidewalk. I didn't need to see behind those shades to know he was sizing up my brother and me because he immediately struck me as a size 'em up kind of guy.
He stopped in front of us, arms folded across his chest. "Good morning. I'm Detective Sergeant Mana."
His voice was as deep as a gravel pit and equally as abrasive. 
"Hey," Sean said.
I kept my lips zipped. Did he expect a polite greeting in return or an impressed gasp in recognition of his authority?
His gaze slowly swept from Sean's face to mine. "Tell me. Which one of you brought a cat to a crime scene?"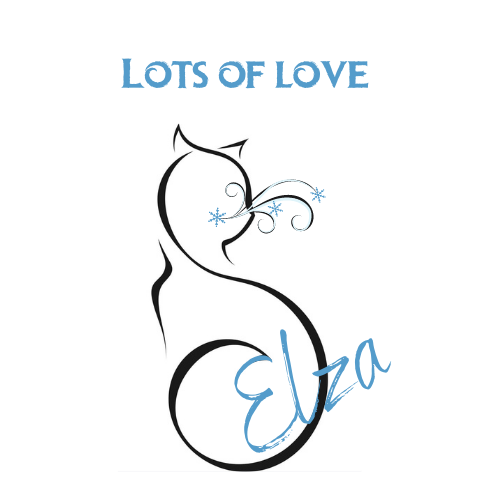 Related Posts