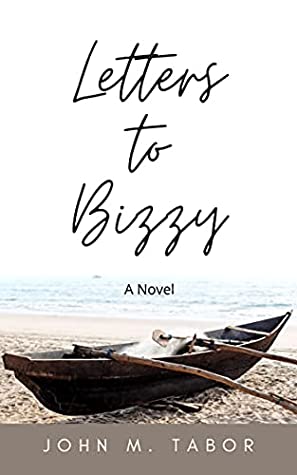 Letters to Bizzy
by
John M. Tabor
on July 13th 2021
Genres:
Fiction
,
Memoir
Pages:
176
Format:
ARC
Source:
Travelling Pages Tours
Buy on Amazon
Goodreads
Letters to Bizzy finds a man, John Tibbits, past his prime staring down the barrel of old age, having to come to grips with his mother's death and regrettable fact his dysfunctional youth has burdened him with a lifetime of unwelcome baggage. As he sorts through his mother's personal effects he discovers boxes of unopened letters written some 50 years earlier from a man, Robert Guthrie, to his daughter, Bizzy. They tell the story of a life lived on a barrier island off the coast of North Carolina, Bogue Banks. There is nothing sensational in the telling, average by most accounts. However, through the eyes of Robert Guthrie we come to see beauty in the tragic, humor in the absurd, and sensitivity from the susceptible. It is in fact an apologetic to the ordinary lives we live. Those of John Tibbits and Robert Guthrie are inexplicably intertwined; and, it is only until the end, do we learn how. For both it is a journey through their own private battles.
When Jenn at Travelling Pages Tours  send me a list of books open for reviews, Letters to Bizzy was the first book that caught my eye. For two reasons: 1. The cover and the font (rather unusual) and 2. The name Robert Guthrie. Also a rather unusual name. Except that it wasn't. I have actually worked with a Robert Guthrie about 15 years ago!
Not the same Robert Guthrie and not that there was anything wrong with my known Robert Guthrie, but gosh, I would have loved to have met John Tabor's Robert Guthrie. From the pages of this delightful, thought-provoking and compelling read, I believe John would have loved that too.
"Some of us will spend a life-time looking in our rearview mirror trying to put a name and face to the hurts which haunts our psyche."
It doesn't take the reader very long to realize that John had a somewhat troublesome relationship with his mother. I love his honesty and openness around this, without sounding like the disgruntled, bitter and one-sided son he so easily could have portrayed in his words.
"Instead of seeking a cure, searching for an escape from our desolate island of pain, we hold on to those memories. However dreadful, we embrace them as an explanation for who we are and how we got here. They become our defense, our excuse for why we haven't become something better; or at the very least, something different. "
I am sure that John could have written a whole book about his own life and his childhood, but he chose to rather take his grandfather's letters to bring as a novel that brings beauty in the tragic, humor in the absurd and sensitivity from the susceptible. 
Robert Guthrie is man who reminds me of Forest Gump. Not a simpleton in any way, but just the simple and logical way they look at life. There's nothing sensational about his life. In fact, it's rather average. Robert just had a unique way of looking at life and putting his findings on paper for his beloved daughter, Bizzy, to hopefully one day read. Never once did he falter in his tellings or became despondent due to the lack of communication. I believe he found pleasure and closure in simply putting pen to paper and thoughts to words. I wish to believe that he hoped his simple words and thoughts on life, will one day reach the target. It sure did!
I loved reading the letters and enjoyed Robert's easy writing style as well. I never would have thought it wasn't written by a "professional" author. Whatever that may be. It sure was good enough to catch the attention of a respectable literary agent. The fact that agent is also his grandson, honestly has nothing to do with it. In fact, I thank the heavens about that John is his grandson! I am sure there would have been a tiny spark less light in my life if I haven't read these letters over the last couple of days.
John obviously also shares a love for the sea with Robert and his familiarity with the North Carolina coastline and especially Bogue Banks, gives this story the authenticity only a lifelong resident can provide. But my absolute favorite about this novel/memoir, is the character sketches. I could so easily picture Miss Alice, Peggy and Thomas. Not to mention the characterization given to Robert's hat and Miss Alice's beloved Fred (not going to tell you who/what Fred is).
I do wish this novel well and my hope is that it will be picked up and enjoyed by thousands. If it adds a spark of light to only a hundred of those, Robert's letters were safely signed, sealed and delivered.
Thank you Jenn for inviting us on this blog tour and an even bigger thank you to John Tabor for sharing has grandfather's letters with us. We wish you well with your future writing and would gladly read your next and previous novels!
About the Author
Giveaway
Related Posts