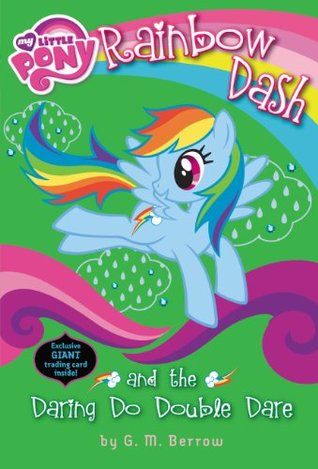 Rainbow Dash and the Daring Do Double Dare
by
G.M. Berrow
Series:
My Little Pony: Friendship is Magic #3
on January 7th, 2014
Genres:
Childrens
,
Fantasy
Pages:
176
Format:
Paperback
Source:
VCS
Buy on Amazon
Goodreads
Enjoy reading with all your My Little Pony friends!

Rainbow Dash is a huge fan of the Daring Do book series, but after the newest book comes out, she's not alone. Suddenly, every pony in Ponyville is reading the books! To prove she's the ultimate fan, Rainbow Dash decides to show her friends that she can be just as brave and daring as her hero. But Twilight Sparkle and Rainbow's other friends worry about how far she's willing to go. Just how daring should one pony be?

This magical My Little Pony adventure comes with bonus blue activity pages, packed with puzzles, games and more fun!

Perfect to read together or for newly confident readers, these are brand-new adventures full of magic and friendship. Check out the other books in this sparkly series:
Twilight Sparkle and the Crystal Heart Spell
Pinkie Pie and the Rockin' Pony Party
Rainbow Dash and the Daring Do Double Dare
Rarity and the Curious Case of Charity
Applejack and the Secret Diary Switcheroo
Discord and the Ponyville Players
Princess Celestia and the Royal Rescue
Princess Luna and the Winter Moon Festival
Lyra and the Secret Agent Ponies
Up until today, I think I might have been the only living soul on this planet who don't know My Little Pony. My Mommy eagerly told me about this toy line and media franchise that is developed by American Toy Company, Hasbro. My Mommy was but a little girl when these colorful little pony figurines with those gorgeous manes were first launched in 1981. These cuties with the trademark symbols on their flanks, grew into a household name and the animated series, My Little Pony: Friendship is Magic ensures that they still gallop and fly in the eyes of their biggest fans.
We don't have a lot of the My Little Pony books in the library, but the ones that we do have, are always in high demand. Mia Kamalski, one of our Gr 2 learners, is a big fan of Rainbow Dash and her pony pals. She wrote us a lovely little review on Rainbow Dash and the Daring Do Double Dare.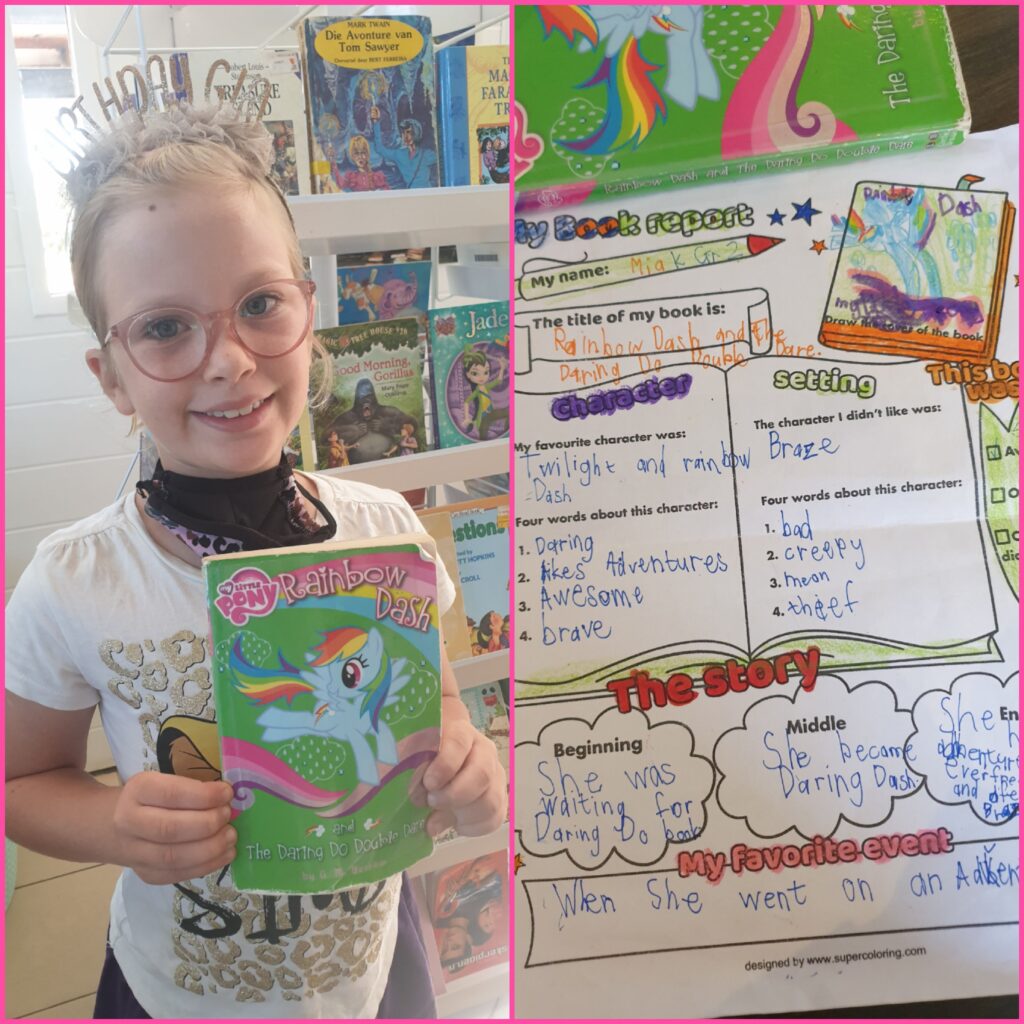 The story starts with the ponies being very naughty and staying up past their bedtime. This was for a very good reason, they were all eagerly awaiting the release of the epic adventure Daring Do and the Volcano of Destiny. Daring Do is a series of extremely popular books and it was all because of Daring Do. Nopony loved Daring Do as much as Rainbow Dash did.
There are so many different characters in this book who go on such amazing adventures. My favorite character has to be Rainbow Dash. She is daring, adventurous, brave and simply just awesome. I like Twilight a lot too. I didn't like Braze at all. Braze is bad, creepy, mean and a thief above all else.
Teacher Mareli says we can't give away too much of the story, but I really liked it when Rainbow Dash became Daring Dash and she could do whatever anypony dares her to do. You will have to read the story for yourself to see how that happens. It was a wonderful adventure!
This was an awesome 5 star book and I hope we can get more of this series in the library soon.
Thanks Mia! We are so very proud of you for doing this book review and we are so excited to see what wonderful books you are still going to read and share with us.
For more reviews by VCS students, please visit our page VCS Reviews.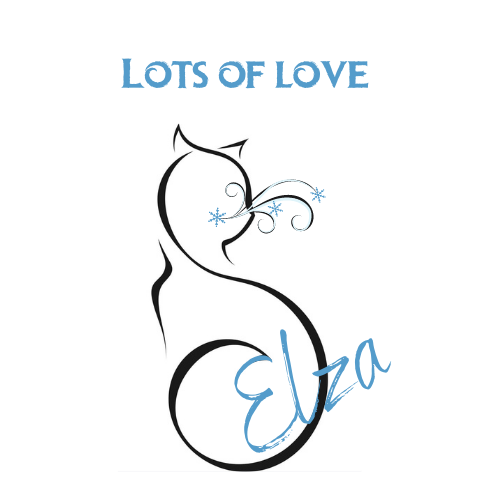 Related Posts