A Novel about the Little Dog who almost changed history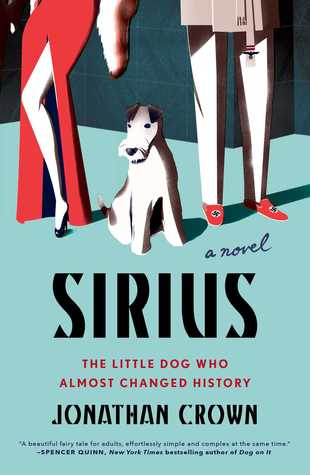 Title: Sirius
Author: Jonathan Crown
Published by: Scribner
Publication date: 04 October 2016
Genre: Literary Fiction
Pages: 247
ISBN: 9781501144998
Mareli's rating: 5 stars
Recommend to: Animal lovers (especially for dashing fox terriers), lovers of historical novels (WWII)
Description: Berlin, 1938: Sirius, a dashing fox terrier, lives a charmed life with the German Jewish Liliencrons. But, with the rise of Nazism, the Liliencrons decide to leave Berlin for Hollywood.
Sirius takes his destiny into his own hands with the kind of melancholic mirth exclusive to his breed. He becomes a celebrated film star and circus performer, friend to Rita Hayworth and Cary Grant. But, when a magic trick goes wrong, Sirius ends up back in war-torn Berlin. Never one to despair, he finds himself in the Führer's headquarters as Adolf Hitler's lap dog… and an informant for the resistance. Goodreads
What an absolute delightful book. Levi is a fox terrier and the last survivor of the Third Reich (a bit different from the one you know), the much-loved family pet for the German Jewish Liliencrons and the ever faithful companion to a tree. When all those bearing a Jewish name were threatened in 1938, the family changed Levi's name to Sirius. This sparks the beginning of a destiny written in the stars.
One night, Nazi troops storm Berlin and begin to search houses. Sirius alerts the family, and they manage to flee to Hollywood. In his new home, Carl Liliencron becomes a chauffeur and Sirius befriends everyone from Humphrey Bogart and Cary Grant to Rita Hayworth and Jack Warner.
He is renamed Hercules and becomes the biggest canine movie star in unrecorded history. Professor Liliencron renames himself as well and the family lives as comfortable as those who escaped and survived the war possibly could.
Only he who transforms himself survives.
The greatest canine Star is soon picked up by the Greatest Show on Earth and Sirius travels with the circus where he becomes an even bigger spectacle to behold. But as circus tricks do tend to go wrong every now and then, Levi/Sirius/Hercules soon finds himself back in Berlin where lo and behold, he is renamed once again. "Hansi! Where's my doggy?"
Little does Sirius know that he'll soon have to perform his most difficult acting role yet, when through a series of exceptional events as World War II unfolds, he winds up at the right hand of Hitler himself. Can Sirius overcome his greatest fear (
Führer) and help the German resistance and reunite with his family and his beloved tree? After all, destiny is written in the stars.
Sirius is one of those wonderful books you read with a constant smile stuck on your face. This is a must read for all animal lovers and it will definitely make it into a few Christmas stockings this year. Jonathan Crown's writing style is witty and he gives a clever, compassionate and great voice to one of the smallest heroes of WWII. It might be fictional, but I prefer to believe in heroes like Sirius. This story was dictated to Jonathan Crown by his own dog, Louis, who just so happen to be the grandson of the one and only Sirius. Louis told his family history to Mr Crown who simply just recorded it. If it was Louis' story, I might have had a few doubts, but seeing that it is a story told by his grandfather – it has to be the truth. Did your grandparents ever told you a tall tale? Of course not.
Special Thanks to Netgalley and Scribner for an advance reading copy of this delightful book.
Mareli
Related Posts