Hi there Guys! It's just me this month for Six Degrees of Separation. We are taking a long weekend and the fluffy ball of fur is at home with the rest of the fur-balls and a babysitter. So no unnecessary meows and purrs today, just straight talk and a quick post so I can get back to my reading, relaxing and drinking wine.
This monthly fun meme is hosted by Books are my Favorite and Best: On the first Saturday of every month, a book is chosen as a starting point and linked to six other books to form a chain. Books can be linked in obvious ways, for example: same authors, same era or genre, or books with similar themes or settings. Or you might choose to link them in more personal ways: books you read in the same holiday, books given to you by a particular friend or books that remind you of a particular time in your life. The choices are endless here! 
Our starting point this month is a book I haven't heard of, but it just landed on my TBR pile:
No One is Talking About This
by
Patricia Lockwood
Published by
Riverhead Books
on February 16th, 2021
Genres:
Contemporary
,
Fiction
Pages:
224
Goodreads
As this urgent, genre-defying book opens, a woman who has recently been elevated to prominence for her social media posts travels around the world to meet her adoring fans. She is overwhelmed by navigating the new language and etiquette of what she terms "the portal," where she grapples with an unshakable conviction that a vast chorus of voices is now dictating her thoughts. When existential threats—from climate change and economic precariousness to the rise of an unnamed dictator and an epidemic of loneliness—begin to loom, she posts her way deeper into the portal's void. An avalanche of images, details, and references accumulate to form a landscape that is post-sense, post-irony, post-everything. "Are we in hell?" the people of the portal ask themselves. "Are we all just going to keep doing this until we die?"

Suddenly, two texts from her mother pierce the fray: "Something has gone wrong," and "How soon can you get here?" As real life and its stakes collide with the increasingly absurd antics of the portal, the woman confronts a world that seems to contain both an abundance of proof that there is goodness, empathy, and justice in the universe, and a deluge of evidence to the contrary.

Fragmentary and omniscient, incisive and sincere, No One Is Talking About This is at once a love letter to the endless scroll and a profound, modern meditation on love, language, and human connection from a singular voice in American literature.
Without Elza, my creativity obviously takes a bit of a nose dive and I couldn't think of any clever link-ups today. The one thing that did stand out for me, is that the title is 6 words. Ha. That can work. One word for every link.
1st Degree – No : No Country for Old Men by Cormat McCarthy
2nd Degree – One : One of Us is Lying by Karen M. McManus
3rd Degree – Is : Eleanor Oliphant is Completely Fine by Gail Honeyman
4th Degree – Talking : Talking to Strangers: What We should know about the People We don't know by Malcolm Gladwell 
5th Degree – About : We Need to Talk About Kevin by Lionel Shriver
6th Degree – This : This must be the Place by Maggie O'Farrell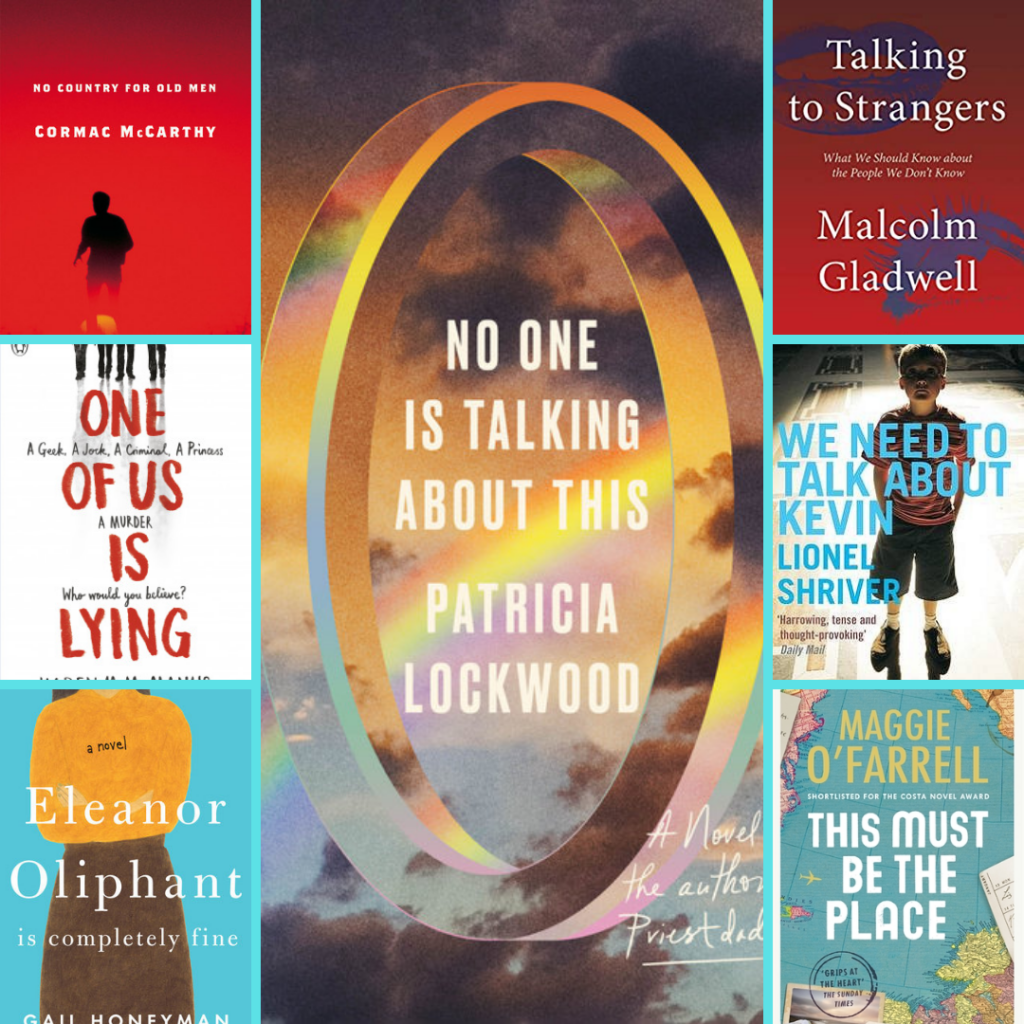 Where did your Six Degrees end up this month?
Have a wonderful February!
Related Posts