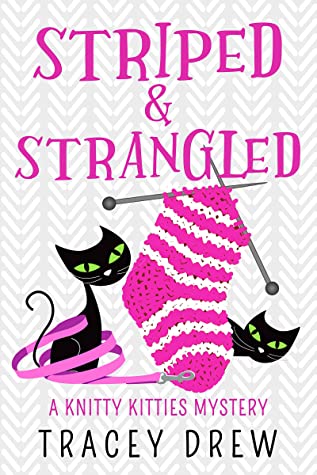 Striped and Strangled
by
Tracey Drew
Series:
Knitty Kitty Mystery #4
on August 5th 2021
Genres:
Cozy Mystery
Pages:
214
Format:
eBook
Source:
My Kindle
Buy on Amazon
Goodreads
When our town's resident fortune-teller fails to predict her own demise, courtesy of a dog leash wrapped around her throat, I once again find myself in a pickle. I mean, what's a girl to do when her crush becomes the prime suspect? Don my sleuthing cap and rally my Knitty Kitties to solve the mystery, of course! However, more and more suspects keep popping up like poisonous toadstools. And, spoiler: one of them seems determined to keep me from asking questions…permanently.

Tessa Wakefield has her hands full juggling a cozy craft store, her crazy family, and two men who'd rather poke out their eyes than describe themselves as cute. Which they totally are. Cute, charismatic, and occasionally on her mind when she's not stumbling over dead bodies and using her newfound sleuthing skills to track down murderers. Lucky she's an excellent multi-tasker because digging beneath Cape Discovery's surface can unearth secrets that kill.
Content: 
Age appropriate: from young adult +.
Language: as clean as a kitty that just washed itself.
Graphic content: Kit is still licking his hindquarters inappropriately
Our two brilliant feline sleuths and their wannabe human sleuth,  are back with the 4th instalment of one of my favorite feline series. Lovely to be back in Cape Discovery! We thoroughly enjoyed touching noses again with a few other regulars to this well loved series. The still pregnant Cora who starts to grow on Tessa like mold; Reggie, the demon goose; Birdie, our favorite animal whisperer and of course Maki, the white fluffball and Kit's canine BFF.
Not Maki. Not Kit. Not our photo. Thanks to Dog Forums
For this instalment to the series, it's poor Maki who caused all he murderous mayhem. Or rather, Maki's leash wrapped around the throat of his fortune-teller owner. No no, the hunky Oliver Novak did not sell the pub and joined the circus. Remember, Oliver isn't Maki's rightful owner. He is just the rightful dog walker. And now he is also a suspect in a murder investigation. Rightful or not, is for you to find out. Note: This is not a spoiler alert. It's simple Math. Dogwalker + leash = killer.
We also met up with a few pee-on-their-pants characters in Striped & Strangled. But I can't tell you who that is, because that will be a spoiler alert. Let's just stay a few of them stank worse than yesterday's tuna left out in the sun. My Mommy is still rather new to the Cozy Murder Mystery genre and she likes her murder mysteries to have unsavory characters. This installment to the Knitty Kitty Series had more than enough of those. And don't forget the red herrings! Another favorite dish on my Mommy's murderous plate. Plenty of those on the menu to distract the reader from the actual killer who my Mommy did not see coming. I actually did. I tried to tell her more than once who the killer was, but she said it just didn't make sense. Guess what? I was right!!! And I believe it made perfect sense. I didn't even need a crystal ball.
So what's happening next in the series, Nancy Tracey Drew? Is our love triangle a square now? Or is this just a fork in the road? With a red herring poking through?
Don't worry, we will still continue reading this fun-filled, laugh-out-loud, guess-if-you-can cozy series and try our best to convince others to do the same. You just keep on writing, please.
If you need more convincing to read this series, here's our reviews on the rest of the series:
About the Author          

 

                                                     

Tracey Drew lives Down Under with her husband—who's given up complaining about her yarn addiction–and two madcap tabby cats called Kevin and Alfie. The feline brothers constantly battle with her while she's trying to write her books by demanding lap-time, but they also provide constant inspiration for her fun & quirky cozy mysteries.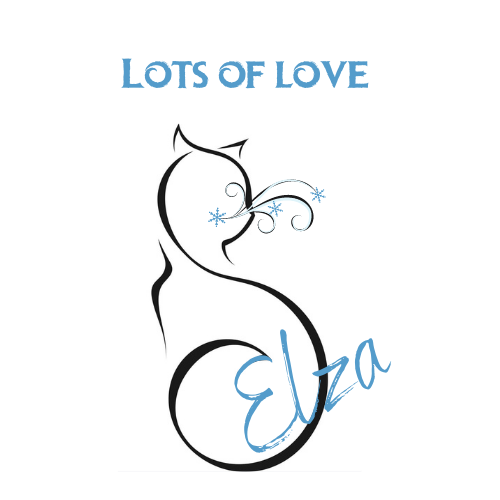 Related Posts