Sunrise with the Silver Surfers
by
Maddie Please
Published by
Boldwood Books
on January 12th, 2023
Genres:
Fiction
,
Romance
Pages:
353
Format:
ARC
Source:
Rachel's Random Resources
Buy on Amazon
Goodreads
Newly single at sixty, Elin Anderson decides it's finally time for an adventure of her own. With her marriage to tedious Tom now officially over, Elin plans to visit the family she hasn't seen in years. First stop: Australia!

But going home is harder than Elin thought. Everywhere she turns Elin sees brightness and colour, which only makes her own life seem even more drab and beige. How has she let herself fade away?

Determined to have some fun, Elin reluctantly agrees to join The Silver Surfers – a group of seniors who travel the coast, only caring about their next big adventure. Because life's too short to watch the ocean when you could be making waves…

There's only one catch – her road trip companion, Kit Pascoe. Kit is a man who doesn't know the meaning of the word fun and makes it clear to Elin that this adventure will be subject to his own strict rules.

But with every new day, Elin slowly begins to rediscover who she really is. And she's certain that rules are meant to be broken…aren't they?
Greetings you guys! Welcome to our stop on the blog tour for our favorite read for 2023 (so far) – Sunrise with the Silver Surfers by Maddie Please.
You can see the whole tour schedule here: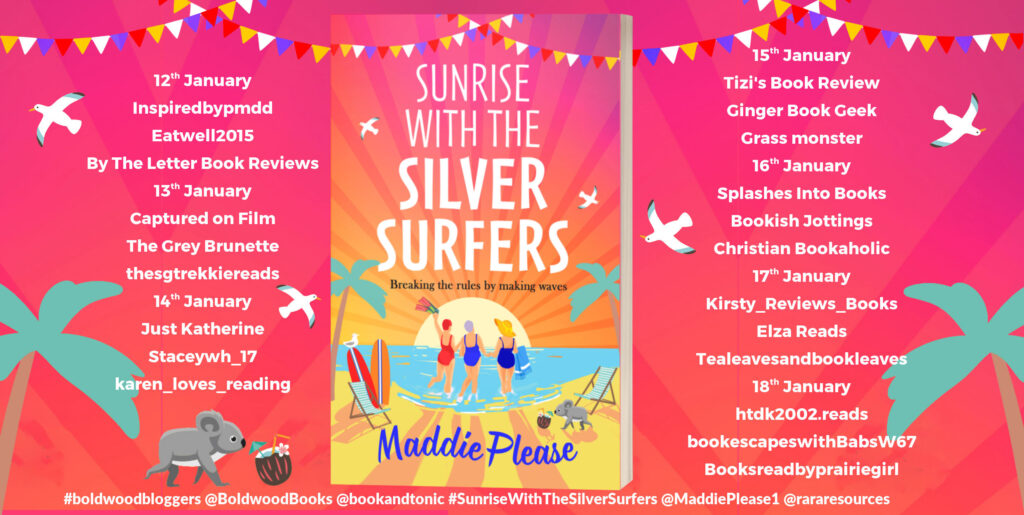 What an absolute joy of a book this was! Recently divorced and thus very much single, Elin is on her way to Australia, her country of birth, for a long overdue trip back home. Just shy of 60, Elin decides to tackle her trip with a few "firsts":
Fly Business Class
Drink as much champagne as being offered to you
Talk to the handsome stranger in the airport/on the flight/you meet at your homecoming party (this might or might not be the same person)
Don't answer your ex-husband's texts
Do get rid of the boring, English wardrobe and bring some color to your suitcase
Do let your hair down and put on your bathers
Travel across Australia in a campervan
From the first page, this book was nothing but fun. I loved Elin's voice, especially her inner-voice made me laugh out loud more than once. Through humor and a whole lot of reflection on her life in England, Elin discovers that the girl she left behind in Australia and the woman who returns 20 odd years later, can somehow still be the same person.
A journey back to yourself is never fun taking on alone. (Unless you are Cheryl Strayed) Reconnecting with her family in Australia and meeting a whole new bunch colorful characters and of course the Silver Surfers, brings out the girl who used to love having fun and who always smiled in the family photos.
As a South African, I thoroughly enjoyed the author's description of life in the Land Down Under. We really do have very similar cultures, weather and beautiful scenery. Especially the vast coastlines. I can understand why so many South Africans immigrate to Australia!
This was my first time reading anything by Maddie Please, but please can I read more books by her. She sure has a talent to combine, humor, quirky characters and serious ones, descriptive scenery with romance and an intriguing plot line. This will not be our last Maddie Please, that I'm sure of.
About the Author
Maddie Please is the #1 bestselling author of novels including The Old Ducks' Club and Sisters Behaving Badly. Having had a career as a dentist and now lives in rural Devon where she enjoys box sets, red wine and Christmas. She will be taking a new direction in her writing for Boldwood with joyous tales of older women.

Social Media Links:

Facebook https://www.facebook.com/maddieplease

Twitter https://twitter.com/MaddiePlease1

Instagram https://www.instagram.com/maddieplease1/

Newsletter Sign Up: https://bit.ly/MaddiePleaseNews

Bookbub profile: https://www.bookbub.com/authors/maddie-please
A big thank you to Rachel's Random Resources for having us on this blog tour. This is another first for us and we hope it won't be the last!
Lots of Love,
Related Posts