Greetings you guys! It's Tuesday and time for Top Ten Tuesday. Our Tuesdays are getting a bit few for the year. Not that you will hear me complaining. I am quite ready for this year to be done with.
Today's theme for TTT is Books to Read If You Love X (X can be a genre, specific book, author, movie/TV show, etc.). So many fun options to go for.
Let's take today's theme as literally as possible. All of us came across X somewhere in our school careers. Some of us loved him/her/it. Most of us hated him/her/it.
Just for today, I've decided to put my own prejudice aside and assist Algebra with his/her/its age-old dilemma of joining X and Y in an everlasting relationship, by listing 10 Books with a Mathematical setting. I do hope that my efforts will help him/her/it for once and for all to find his/her/its X.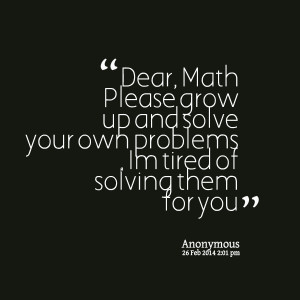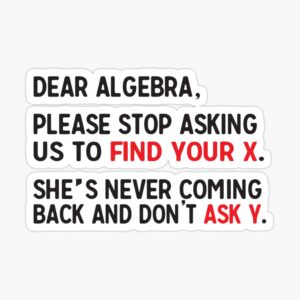 1. 
One Plus One by Jojo Moyes
This is my favorite Jojo Moyes novel ever. I don't know

Y

. It just is. Maybe this quote from the book has something to do with it: 
"The law of probability combined with the law of large numbers state that to break the odds, sometimes you have to repeat an event an increasing number of times in order to get you to the outcome you desire. The more you do, the closer you get. Or as I explain to Mom, basically sometimes you just have to keep going."
2. The Rosie Project and The Rosie Effect 

We must all concede to the statistical probability that there is someone for everyone. Hang in there Algebra – we'll find X.
3. The curious incident of the dog in the night-time
I don't think I have ever spoken to anyone who has read this book who didn't love it. This wonderful, real-mouth-full title, is one of those rare books that you can't describe – no matter how hard you think about it or try. Very similar to prime numbers.
"Prime numbers are what is left when you have taken all the patterns away. I think prime numbers are like life. They are very logical, but you could never work out the rules, even you spent all your time thinking about them."
4. The Millennium Series 

Algebra
, if there's one person who can help you solve your problems, it's Lisbeth Salander.
How
you are going to get hold of her, is your problem. But I can guarantee that she will find your
X
.
The rest of my list are books I haven't read yet myself, but I've spend hours sorting through all the books listed as maths-fiction and the following are a few that will make it on to either the TBR or READ shelf.
10. The Housekeeper and the Professor by Yoko Ogawa
Have you read any of the novels I've listed in my quest to help Algebra? Do you think we are ever going to solve that equation?
Happy Top Ten Tuesday and remember to share your TTT list with your fellow bloggers.
Related Posts