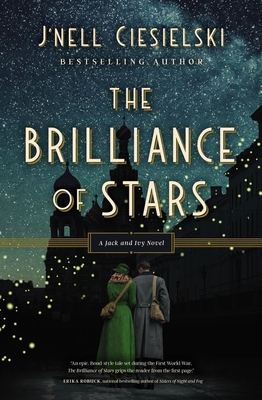 The Brilliance of Stars
by
J'nell Ciesielski
Series:
Jack & Ivy #1
Published by
Thomas Nelson
on November 1st, 2022
Genres:
Historical Fiction
Pages:
400
Format:
ARC
Source:
Author's Copy
,
Netgalley
Buy on Amazon
Goodreads
Amid the chaos of the Great War, two master assassins risk it all for love.

Washington DC, 1914. Ivy Olwen knows how to survive on the streets without two coins to rub together. But when she finds herself whisked into a secret society that seeks to maintain the balance of good and evil in the world, she can't believe there's more to life than just surviving. In the hallowed and historied halls of Talon, she learns European languages and ballroom dancing, as well as demolitions and sharpshooting—in short, everything a spy and assassin will need to survive in the field.

The first day Jack Vale meets Ivy, he knows she is not to be underestimated. The second day, he knows his heart will belong to no one else. Between sparring bouts and constellation gazing, Jack takes Ivy under his wing, and the two form a bond that soon turns to love.

While the rest of the world tumbles into war, the two embark on an official mission to take down a madman who has left a trail of blood and murder across Russia. Little do they know the unfathomable peril waiting in the wings of a chaotic Europe.

When Jack and Ivy are thrust into encounters each more terrifying than the last, Ivy must determine how far she will go to save the man she loves. Equal parts historical fiction and adventure novel, Ciesielski's epic tale of espionage and romance will leave readers both enchanted and thrilled.
What a surprise read this was! So not what I was expecting at all. But I do mean that in a good way. I've read J'nell Ciesielski's The Ice Swan last year and fell in love with her wonderful writing style and the intriguing love story woven with historical facts. I couldn't wait to start with her latest novel and was very much expecting the same. What I got, was exactly that, but with a few add-ons.
Welcome to a life of espionage, adventure, romance and intrigue. All under the cloak of a world preparing for war.
Phillip and Ivy, two orphans who are trying to survive on the streets of Washington, find themselves at the wrong place, at the wrong time, with the wrong people. Before thy know it, they are thrust into a secret organization who might not quite make the history pages.
"The agency upon which you have thrust yourselves is a beacon of light poised to roust out the bitter darkness seeping through the earth's cracks. Yet for our work to find success, our light must be cloaked in shadow."
To say very much more about the secret agency and all the adventures to follow, might be too much of a spoiler alert and we don't want to take any of the enjoyment away from the reader. What we can say, is that there are lots and lots of action and espionage.
What we can say a few more words about, is the love story between Jack and Ivy. I'm not the world's biggest romance reader, but if you mix it with historical events and intrigue and present it with a beautiful writing style, I'm in. Yes, it's typical boy meets girl and they swear ever lasting love, but somehow – it felt very real and as if these two might actually make it in a cold and love-forsaken world.
"Postcard palace or tent under the stars, it doesn't matter. Not as long as the entrance opens to you at the end of the day."
The other aspect of this book I really enjoyed, was how the author laced the historical accuracies with myths, legends and fairytales. In fact, I wish there were a few more paragraphs and tidbits.
I was once again blown away by J'nell Ciesielski's exquisite writing style and am looking forward to reading the next instalment of Ivy and Jack's story.
Thank you to J'nell and Netgalley for providing me with a copy of this book. Opinions expressed in this review are completely my own. And those of my cat. Who you all know by now.
About the Author
With a passion for heart-stopping adventure and sweeping love stories, J'nell Ciesielski weaves fresh takes into romances of times gone by. When not creating dashing heroes and daring heroines, she can be found dreaming of Scotland, indulging in chocolate of any kind, or watching black and white movies. Best selling author of The Socialite, she is a Florida native who now lives in Virginia with her husband, daughter and lazy beagle. Learn more at www.jnellciesielski.com
Related Posts