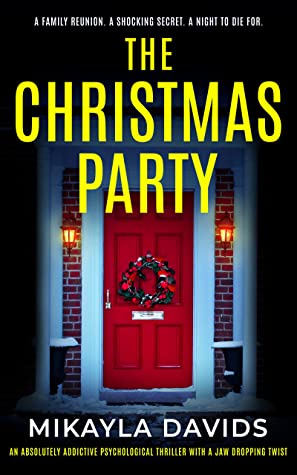 The Christmas Party
by
Mikayla Davids
on November 12th, 2022
Genres:
Thriller
Pages:
268
Format:
ARC
Source:
Lola's Blog Tours
Buy on Amazon
Goodreads
A family reunion. A shocking secret. A night to die for…

On a snowy December night, the Bailey family are gathered at an isolated hotel in the English countryside. They're reuniting for the first time since the accident that shattered their lives ten years ago.

It's a time for love and forgiveness. But more than one guest has an ulterior motive:

The perfect daughter
The alcoholic

The single mother
The liar

The handsome husband
The adulterer

The beautiful sister
The jealous sibling

The murderer…

As the clock strikes midnight, one member of the party is found dead at the foot of the grand marble staircase.

Everyone is a suspect. But which one of them is a killer?

This completely addictive psychological thriller is packed with chilling twists that will keep you up all night. Perfect for fans of The Hunting Party and The Chalet.
Greetings you guys! Welcome to our last review for 2022. And what a great read The Christmas Party was. If you are like us and prefer something different for a Christmas read than light and fluffy romance or life affirming books, then look no further.
Please don't get me wrong, we also love a light and fluffy holiday read and cozy mysteries quickly became our go-to read here on the blog, but a holiday thriller is the ultimate thrill for this kitten.
The Christmas Party opens with a prologue, a dead body and a scream. Nope, not a Christmas cheer, a blood curling scream.
After ten long years of separation after a family feud and resulting tragedy, Erin invites her two sisters and mother to her annual Christmas Party at the posh Burcott House Hotel.  It is the season for forgiving, forgetting and family gatherings after all. I did initially root for Erin and her apparently noble intention to make peace and to clear the air between her mother and sisters. But by the end of the book, I think it might have been better for all if the little gold envelopes got lost in the mail.
Told from different POV's throughout the book, it soon becomes clear that Erin is the reason for the family feud. But why? And is she really trying to make amends or just trying to show off her skill as the ultimate Real Housewife? Or even worse – is revenge the hidden party theme?
Don't let Erin's rather suspicious behavior fool you completely though. She might not be Cinderella here, but her mother and two sisters aren't quite fairytale characters either and there are more secrets to be revealed than just the decade old family feud.
This is one of those books that you can easily read between Christmas meal preps and the short chapters will be ideal for a quick bathroom break to escape your own family for a minute or two.
Thank you Lola for inviting us along for the blog tour of this thrilling read and for providing us with an ARC. If you are eager to get your hands on Christmas Party, you can enter the tour wide giveaway below. Two winners both win an e-copy of The Christmas Party by Mikayla Davids and get to name a character in the sequel to The Christmas Party (US Only).
About the Author
I'll let you into a little secret… Mikayla Davids isn't my real name, it's just the pen name I write under. I could be the person sitting opposite you on the train, furiously tapping away at a laptop, or the woman scribbling in a notebook on the table beside you in Starbucks. Everyone has their secrets. And this is mine.

But I will tell you I've lived and breathed fictional worlds all my life. I've been the child who spent hours in the library, the teenager who stayed up turning pages way into the night, the publishing editor who poured every working hour into helping authors achieve their dreams of being published. Now I'm the secret writer who's finally ready to share my own stories.

I write about family dramas, complicated relationships and everyday moments that can suddenly turn into nightmares.

I hope you've been gripped and entertained by my novels. I'd love to hear from you if so, you can contact me across any of my social media pages or sign up to my newsletter.

Author links:

– Website: https://mikayladavids.wixsite.com/mikayladavidsbooks

– Facebook: https://www.facebook.com/people/Mikayla-Davids-Books/100087612423864/ 

– Twitter: https://twitter.com/MikaylaDBooks 

– Instagram: https://www.instagram.com/mikayladavidsbooks/ 

– Amazon: https://www.amazon.com/Mikayla-Davids/e/B0BLW7TVSV 

– Goodreads: https://www.goodreads.com/author/show/23035621.Mikayla_Davids


Related Posts