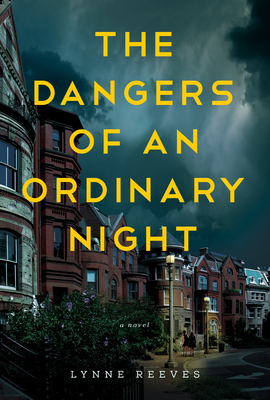 The Dangers of an Ordinary Night
by
Lynne Reeves
Published by
Crooked Lane Publishers
on November 9th, 2021
Genres:
Mystery
Pages:
282
Format:
ARC
Source:
Netgalley
Buy on Amazon
Goodreads
On a chilly fall evening at the prestigious Performing Arts High School of Boston, best friends Tali Carrington and June Danforth go missing after auditioning for a play. They're last seen in grainy, out-of-focus surveillance footage that shows them walking side-by-side. Two days later in a town south of Boston, Tali is found disoriented and traumatized by the ocean's edge, while June is pronounced dead at the scene.

Tali's mother, Nell, is so bent on protecting her daughter from further emotional harm that she enlists the help of Cynthia Rawlins, a renowned therapist for families. Meanwhile, Detective Fitz Jameson is assigned to the investigation and dives into the lives of high-performing students who may be harboring dark secrets.

As Nell, Cynthia, and Fitz confront their own contributions to the tragedies and scandals that beleaguer them, their lives turn out to be more deeply intertwined than they'd ever imagined. And they must decide what lengths they're willing to go to protect the people they love while also saving themselves.
For the purposes of this review, I am going to throw my "normal" book review template around here and start with the About the Author section.
(Information found on the author's website @ Lynne Reeves Griffin.com)
Lynne Reeves Griffin is a nationally recognized expert on relationships and family life. Writing as Lynne Reeves, her new novel of domestic suspense, The Dangers of an Ordinary Night will be published on November 9, 2021.

Lynne is the author of the acclaimed novels, Girl Sent Away (SixOneSeven Books, 2015),  Sea Escape (Simon & Schuster, 2010), and  Life Without Summer (St. Martin's Press, 2009). She has also written the nonfiction guides Let's Talk About It: Adolescent Mental Health (SixOneSeven Books, 2015) and Negotiation Generation: Take Back Your Parental Authority Without Punishment (Penguin, 2007).

Lynne has taught family studies at the undergraduate and graduate levels, and has acted as the visiting scholar of education at Ngee Ann Polytechnic in Singapore and consulted with schools in China about preventive mental health. She teaches writing at Grub Street Writers, and is a developmental editor for writers of fiction and nonfiction.

Lynne has acted as the prose writer-in-residence at the Chautauqua Institution, moderated panels at national conferences such as the Muse & The Marketplace Conference, the Boston Book Festival, and the 2020 Key West Literary Workshop.

Her short stories, essays, are articles have appeared in Solstice Literary Magazine; Chautauqua; The Drum Literary Magazine; Brain, Child; The Writer; School Library Journal; Parenting; Boston Globe; Writer Unboxed; Boston Herald; Psychology Today; Huffington Post, and more.

She lives outside Boston, Massachusetts with her family.
Don't you just love that term – Domestic Suspense? I know I don't use it enough and it's a tag that is actually very fitting to so many novels. None more than The Dangers of an Ordinary Night. I feel the same way about the title. Ever noticed that the biggest tragedies happen on ordinary days and nights? The times that we don't anticipate anything to happen or for life to shift on a dime.
If we look at Lynne's biography, it's quite obvious that she has seen her share of how unexpected tragedies can impact a family. Even more so if those tragedies are the result of addiction, abuse or neglect.
The Dangers of an Ordinary Night deals primarily with the impact of addiction on a marriage and family life. If that family consists of a teenager somewhere in the works, trouble is but a step away. As a teacher myself, it's heartbreaking to see the influence of a disruptive family life, on a child and none are more susceptible to lash out and make completely irrational decisions, than a teenager.
When you are young and especially if you are on top of the world like Tali and June, all the world is a stage (quite literally in this novel's case) and all will be fine when the curtain falls. When life doesn't quite work out that way, you end up with a well structured novel and suspense that leaves you guessing to the end.
The lead role in this book is of course Tali, in every possible way. Is she a tragic heroine or a villainous Lady Macbeth in the making? I'd prefer not to go with any of the two and rather chose the term, victim. There are so many Tali's out there who find an escape from there family chaos through various art forms and I salute those arts. But how much damage can the competitive world of theatre and drama add to an already troubled teen? Especially if you bring a frustrated wanna-be director and interfering Mothers to the party as well.
When tragedy struck, how easy is it to keep track with reality? Especially if that reality includes lights, cameras and action from TV reporters and newspapers.
When renowned therapist, Cynthia Rawlins and Detective Fitz Jameson enters stage left, everything becomes as real as you can get and secrets are bound to be revealed by all parties involved. Secrets that intertwine all role players in this cleverly crafted domestic suspense.
This is a slow burner with a steady buildup, but it's still an easy read if you are looking for a quick thriller.
Thank you to Netgalley and Crooked Lane Books for giving me the opportunity to read this novel.
Related Posts