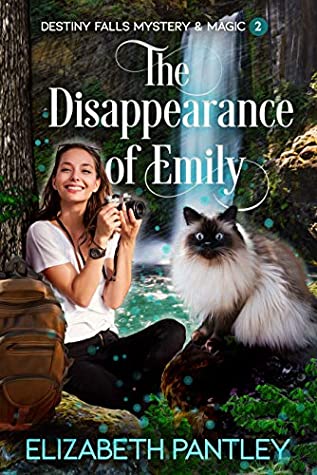 The Disappearance of Emily
by
Elizabeth Pantley
Series:
Destiny Falls Mystery & Magic #2
Published by
Amazon Digital Services
on March 15th, 2021
Genres:
Cozy Mystery
Pages:
230
Format:
ARC
Source:
Author's Copy
Buy on Amazon
Goodreads
A magic mirror. An enchanted world. A mysterious missing mother. A suspicious package. An unexplained death. A community of strange, quirky people. A sassy cat and a hilarious witch. Come visit Destiny Falls and escape to a great time.

Hayden's life was normal until she fell through a mirror and was thrust into an alternate, magical place. Destiny Falls is not on any map and is home to a family she never knew she had. The town is enchanted and charming, and the amazing mansion she lives in changes to meet the needs of the people who live there, including her! Every day she discovers a new enchantment.

But something is amiss. Hayden gets an ominous warning from a strange woman, who promises to tell her the town secrets and give her a package – if she'll meet her at the mysterious ferry that lacks a published destination. The ferry visit is cancelled, but the package is delivered. Once it arrives, someone turns up dead. Then the suspicious episodes start, too many to call them coincidences. She and her family are targeted and in danger.

Who or what is causing the chaos? All signs point to the mysterious disappearance of her mother - way back when Hayden was just two days old. Can she identify and eliminate the threat before another person in her life is stolen away? Can she learn more about the secrets kept for her lifetime? With the help of her sassy sidekick cat, and a host of new family and friends, Hayden finds herself surrounded with support as she solves the mystery of the death and learns secrets about herself.
Content: 
Age appropriate: from young adult +
Language: squeaky clean, lots of sass.
Violence: you won't need therapy.
Magic: It's a given
Reader advice: Do read the first one, first. You might feel as if you are trapped in a porthole otherwise. 
Greetings Humans! Yes, it's me, Elza. The world's most adorable, fluffy white kitten, bringing you a review on my favorite series in the whole wide world. I include Destiny Falls in that world. According to the Magical Globe, it's definitely located somewhere accessible.  
"I twirled the globe to find Destiny Falls. As of now, I had no idea where we were in the world, though hints pointed to the the United States."
How wonderful to pay a visit 

 Sorry, you don't pay a visit to the queen, you get summoned. Let's try again. How wonderful to be summoned by Queen Latifa to pay a visit to Destiny Falls once again. While lovely Hayden are still finding her feet on the magical stairs of the Caldwell Mansion and the streets of Destiny Falls, Latifa is roaming the castle as the queen she was destined to be. She and the Caldwell Matriarch's cat, Chanel, became great friends and they rule their loyal servants with a firm, but still loving hand. Oh, and I should tell you about litt……  
Sorry about that, my Mommy just grabbed the laptop from my paws and says that is a major spoiler alert and enough with all the cat talk. The story is about more than just the cats. I really don't see her point at all. But in order to make sure I get fed tonight, I'll talk a bit more about the humans and other magical creatures we come across in Destiny Falls too.  But here's a picture of my big brother, Stinkie when he was a fluffy, black kitten. Many moons ago. You may or may not use the information given to you. (hint hint)
Like I've said, Hayden is settling in nicely with her Guns & Roses brother and the rest of the family. A large chunk of the book, deals with this. We find out more about the town and its inhabitants and we get to pay more than one visit to that wonderful library. My Mommy quite literally purred harder than me. It might have taken a tad too long getting into the real action, but when it started, there was no stopping my Mommy from finishing the book. Resulting in a bit of sunburn.
Hayden really is a bit of a busybody and just like all other amateur sleuths, murder tends to follow her around. Once again, a dead body shows up on her doorstep and with the help of the two town hunks and a couple of cryptic clues, Hayden easily falls into the role of the local crime solver. No cats were harmed or even involved in solving the crime.
I'm quite sure that Hayden is going to grow old to be a real Miss Marple of Jessica Fletcher. The good thing about this, is that we will still get to share many a mystery with her. Her Grandmother even
asked her
. Sorry, my mistake again. Hayden's Grandmother don't ask, she commands. Hayden's Grandmother bestowed the perfect job on Emily to keep her nose out off, or rather into, everyone's business in Destiny Falls.
"With your skills and your tendency toward gossip, this should be a perfect fit for you."
I'm sure you can figure out exactly what job that will be. It involves a magical camera too.
Although The Disappearance of Emily doesn't quite live up to it's title, the ending does provide sufficient closure and leaves you wanting to know more. I for one can't wait for the third instalment of this series. Hayden's adventure will continue when a mysterious old man shows up to tell her a series of tall tales. Oooooh, I love a tall tale! Is his stories really fiction? Or do they provide more history of her family, the islands and the witch? And which witch?? And yes, that's a definite open question.
With the second instalment of The Destiny Falls Mystery & Magic series, the highly talented Elizabeth Pantley, firmly secures her series a place in the ever popular cozy mystery genre. It's a fun beach read series and if you will remember to enjoy it for what it still is – funny, fluffy far-fetched and fabulous – it won't disappoint.
Once again, thanks for this lovely review copy, Elizabeth! Both me and my Mommy enjoyed this one too and we wish you all the best and top of the best sellers!
Parenting educator Elizabeth Pantley is president of Better Beginnings, Inc., a family resource and education company. Elizabeth frequently speaks to parents at schools, hospitals, and parent groups around the world. Her presentations are received with enthusiasm, and praised as realistic, warm and helpful.

She is a regular radio show guest and frequently quoted as a parenting expert in newspapers and magazines such as Parents, Parenting, American Baby, Woman's Day, Good Housekeeping, and Redbook and on hundreds of parent-directed Web sites. She publishes a newsletter, Parent Tips, which is distributed in schools nationwide.

Elizabeth is the author of 13 popular parenting books, available in 24 languages.

Elizabeth and her husband, Robert, live in the state of Washington along with their four children and "Grama."
The Disappearance of Emily will be available on Amazon as from Monday, 15 March 2021. Make sure to get your copy!
If you've missed my review on the first book in the series, here it is: 
Falling into Magic
Related Posts