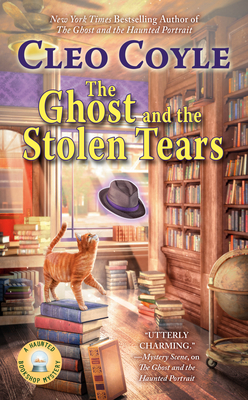 The Ghost and the Stolen Tears
by
Cleo Coyle
Series:
Haunted Bookshop Mystery #8
Published by
Berkley Books
on October 4th, 2022
Genres:
Cozy Mystery
Pages:
336
Format:
ARC
Source:
Great Escapes Tours
Buy on Amazon
Goodreads
With the help of her gumshoe ghost, bookshop owner Penelope Thornton-McClure sets out to clear an innocent woman of a shocking crime in this all-new entry in the "utterly charming" (Mystery Scene) Haunted Bookshop Mysteries from New York Times bestselling author Cleo Coyle.

Norma is a modern-day nomad. Living out of her van and teardrop trailer, she revels in self-reliance, solitude, and reading in the glorious peace of nature. Jovial, wise, and scrupulously honest, she's become an uplifting presence in the little town of Quindicott, Rhode Island, where bookseller Pen is thankful to have her part-time help. But it's Norma's other job, working as a housekeeper at the Finch Inn, that gets her into terrible trouble. Norma is accused of stealing jewels from a guest's room: the legendary Valentino Teardrops, an antique necklace and earring set, inherited by a young socialite. Pen doesn't believe Norma is guilty of the crime—though the evidence is distressingly strong. And when the spirited Norma vanishes before her arrest, Pen turns to another spirit…

Jack Shepard, PI, may have been gunned down decades ago, but his memory hasn't been ghosted. Back in the 1940s, those same Valentino Teardrops starred in a bizarre case of betrayal and murder. From the look of things, history is about to repeat. Now Jack is back on the job, and Pen is eternally grateful.
Hi there you guys! Welcome to our stop on the Blog Tour for The Ghost and the Stolen Tears by Cleo Coyle.
Oh what a fun read this was! Of course we picked this book just for the cover (a cat, a ghost and book shelves – what more does anyone want on a cover?), but we were pleasantly surprised with what we found between the covers as well.
We haven't read any of the previous books in this paranormal, Haunted Book Shop Mystery series and we are fascinated with the resident ghost. Okay perhaps not a resident ghost, but definitely a ghost who was so very cleverly crafted by the authors (more on them at the bottom of the page). As all ghosts do, Jack appears in our present day existence, but he is forever bound to the time he became a ghost. I loved his 1940's slang, dress code and manners. It truly give this book a lovely sense of authenticity.
Any meow – back to the story. Did you know that The Ghost and the Stolen Tears was inspired by a short story, "The Heavy Sugar" by Cornel Woolrich, published in 1947? How cool is that? We need to get our hands on that story as well.
Please don't let the title mislead you the same way it misled Jack. The Stolen Tears are not a damsel in distress seeking revenge. These are a set of vintage jewels known as the Valentino Teardrops. When these jewels are stolen from the guest room of a drama queen Social Influencer, our story is set in motion. Yes, the teardrops do come with a history and being a drama queen runs in the family of our Social Influencer.
When history starts repeating itself, the reader should start making him/herself comfortable – you are going to be reading way into the night. If you plan on reading this tonight for Halloween, good choice!
About the Author
CLEO COYLE is a pseudonym for Alice Alfonsi, writing in collaboration with her husband, Marc Cerasini. Both are New York Times bestselling authors of the long-running Coffeehouse Mysteries—now celebrating eighteen years in print. They are also authors of the nationally bestselling Haunted Bookshop Mysteries, previously written under the pseudonym Alice Kimberly. Alice has worked as a journalist in Washington, D.C., and New York, and has written popular fiction for adults and children. A former magazine editor, Marc has authored espionage thrillers and nonfiction for adults and children. Alice and Marc are also both bestselling media tie-in writers who have penned properties for Lucasfilm, NBC, Fox, Disney, Imagine, and MGM. They live and work in New York City, where they write independently and together.

Author Links

Webpage     Free Newsletter     Facebook     Twitter
BookBub     Goodreads    Instagram
Giveaway
Look at this gorgeous giveaway that is open for the duration of the tour.
I would love it if my Mommy could win that tote bag, she can carry me around in it!
Have you read The Ghost and the Stolen Tears? Any other books in this series?
Thank you to Lori at Great Escape Book Tours for inviting us on this blog tour.
Lots of Love,
Related Posts