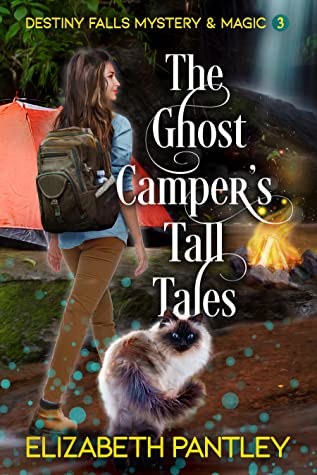 The Ghost Camper's Tall Tales
by
Elizabeth Pantley
Series:
Destiny Falls Mystery & Magic #3
Published by
Kindle Direct Publishing
on August 2nd, 2021
Genres:
Cozy Mystery
Pages:
299
Format:
ARC
Source:
Author's Copy
Buy on Amazon
Goodreads
A magic mirror. An enchanted world. A mysterious story-telling ghost. A hilarious, perpetually annoyed witch. A smart, sassy cat. A mystery of finding a dead body . . . of someone who was already dead. Visit Destiny Falls and escape to a great time.

A mysterious old man keeps popping up to tell Hayden a series of tall tales. Who is he? And is he actually glowing? Are his stories fiction, or is he telling her the history of her family, the enchanted islands, and the witch? And why did a dead body show up . . . of someone who was already dead? Can Hayden and her quirky sidekick, Latifa unscramble this mystery?

Hayden's adventures in the magical world of Destiny Falls continue in this gripping story that answers your questions about the mysterious world she entered through a mirror in book one, Falling into Magic. We learn more about her missing mother, whose story begins in book two, The Disappearance of Emily.
Content: 
Age appropriate: from young adult +.
Language: squeaky clean, lots of sass.
Violence: Your gag reflexes are still safe.
Greetings Humans, Cats, Kittens and Witches! I am back from my latest visit to Destiny Falls. You know that magical place where the rain will never fall 'till after sundown – unless you want it to and are perfectly dressed for it. By 8:00 the morning fog must disappear – unless it's needed to conceal a hidden horizon or hiding a dead person who is already dead. It's Destiny Falls, anything can happen! It beats Camelot or Disneyland by a ferry ride.
Hmmmmmm …. where to begin. Let's start at the very beginning, a very good place to start. (It's not only Latifa who enjoys the old movies and classic musicals. It's a cat thing). You all still remember what you've learned in book 1 and 2?
An accidental journey through a magic mirror. A portal to an enchanted land. A mysterious family she never knew she had. Hayden's life is upended with the wonder of Destiny Falls. But it is tainted by the danger that brought her here and that threatens her newfound family. Can Hayden and her sassy sidekick remove the threat, so that she can begin her magical new life in this captivating world?
Hayden's life was normal until she fell through a mirror and was thrust into an alternate, magical place. Destiny Falls is not on any map and is home to a family she never knew she had. The town is enchanted and charming, and the amazing mansion she lives in changes to meet the needs of the people who live there, including her! Every day she discovers a new enchantment.
But something is amiss. Hayden gets an ominous warning from a strange woman, who promises to tell her the town secrets and give her a package – if she'll meet her at the mysterious ferry that lacks a published destination. The ferry visit is cancelled, but the package is delivered. Once it arrives, someone turns up dead. Then the suspicious episodes start, too many to call them coincidences. She and her family are targeted and in danger.
Who or what is causing the chaos? All signs point to the mysterious disappearance of her mother – way back when Hayden was just two days old. Can she identify and eliminate the threat before another person in her life is stolen away? Can she learn more about the secrets kept for her lifetime? With the help of her sassy sidekick cat, and a host of new family and friends, Hayden finds herself surrounded with support as she solves the mystery of the death and learns secrets about herself.
In the Ghost Camper's Tall Tales
all our beloved characters are back and we basically continue where the story ended at The Disappearance of Emily. Of course there are a few twists in the cats tails with a new secret society, as well as the appearance of one or two people back from the dead. You can
interpret
 that sentence any way you want, you will be correct on all accounts. Except if you think zombies or vampires. Those creatures do not belong in fairytales. 
What does belong in fairytales are still safely snuggled in Destiny falls. Princes and princesses, kings and queens, magic wands (that camera can just as well be a wand),

delicious meals, ice-cream and pastries that doesn't fatten anyone. And of course talking creatures (voices in your head still count as talking). Oh yes, and witches.
Destiny Falls remains the perfect balance between magical realism and reality. It's still fluffy, fabulous and fun-loving, but in The Ghost Camper's Tall Tales there are definitely a few darker and more sinister elements. I think it fits perfect and paves the way for the story to develop even further. 
The more I read of this series, the more respect I have for Elizabeth Pantley. She is one fabulous author and we love reading how much fun she's having. That's a truly remarkable trade. You can read the smile on her face while she's typing away. Best part of all, is how well she knows the feline species. Did anybody else notice that the ghost camper never appeared near the cats?  Of course he won't! He needed Hayden to like him and not to be spooked by a couple of over dramatic cats.

We are so happy to know that this is still not the end of Hayden and Latifa's adventures in Destiny Falls. The more the story develops, the more we want to know.
Thank you Elizabeth for still trusting this fluffy white kitten with your masterpiece. I am honored beyond the flick of my tail and me and my Mommy are your greatest fans for sure!
Parenting educator Elizabeth Pantley is president of Better Beginnings, Inc., a family resource and education company. Elizabeth frequently speaks to parents at schools, hospitals, and parent groups around the world. Her presentations are received with enthusiasm, and praised as realistic, warm and helpful.

She is a regular radio show guest and frequently quoted as a parenting expert in newspapers and magazines such as Parents, Parenting, American Baby, Woman's Day, Good Housekeeping, and Redbook and on hundreds of parent-directed Web sites. She publishes a newsletter, Parent Tips, which is distributed in schools nationwide.

Elizabeth is the author of 13 popular parenting books, available in 24 languages.

Elizabeth and her husband, Robert, live in the state of Washington along with their four children and "Grama."
The Ghost Camper's Tall Tales are now available on Amazon. If you've missed the first two books in the series, you can read my reviews by clicking on the images below.
Related Posts