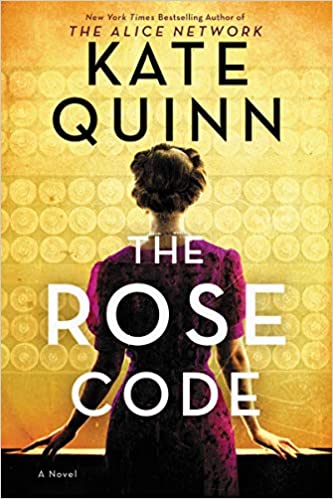 The Rose Code
by
Kate Quinn
on March 9th 2011
Genres:
Historical Fiction
Pages:
624
Format:
Paperback
Source:
Book Club
Buy on Amazon
Goodreads
1940. As England prepares to fight the Nazis, three very different women answer the call to mysterious country estate Bletchley Park, where the best minds in Britain train to break German military codes. Vivacious debutante Osla is the girl who has everything—beauty, wealth, and the dashing Prince Philip of Greece sending her roses—but she burns to prove herself as more than a society girl, and puts her fluent German to use as a translator of decoded enemy secrets. Imperious self-made Mab, product of east-end London poverty, works the legendary codebreaking machines as she conceals old wounds and looks for a socially advantageous husband. Both Osla and Mab are quick to see the potential in local village spinster Beth, whose shyness conceals a brilliant facility with puzzles, and soon Beth spreads her wings as one of the Park's few female cryptanalysts. But war, loss, and the impossible pressure of secrecy will tear the three apart.

1947. As the royal wedding of Princess Elizabeth and Prince Philip whips post-war Britain into a fever, three friends-turned-enemies are reunited by a mysterious encrypted letter--the key to which lies buried in the long-ago betrayal that destroyed their friendship and left one of them confined to an asylum. A mysterious traitor has emerged from the shadows of their Bletchley Park past, and now Osla, Mab, and Beth must resurrect their old alliance and crack one last code together. But each petal they remove from the rose code brings danger--and their true enemy--closer...
There are a lot of things that make life worth living. Nothing as much as a perfect read. 2021 has already proven over and over again that it is just as bad, if not worse, than its big brother, 2020. But the one thing I can say for this year, it's been a year of seriously good books. And so far this one has been our favorite. 
A favorite read is a matter of personal taste and everybody has there own reason for slotting a book in that category. For me, how Googleable a book can be, is a sure contender. I do like that word of my own invention – "googleable". It's rather self explanatory. If you type the facts of a book into your search bar, how many hits can Google deliver?
The hits with this one, was almost as enjoyable as the book itself. No, I won't share my bookmarks with you, that will count as spoiler alerts. Although I am very glad that I did all my googleable research before I fell completely in love with this book, some people do like their facts coated in the comforting pages of a book.
From the Goodreads blurb, you almost get the impression that this will follow the same trend as The Alice Network with duel timelines and the story built around a main female character, the network around her and the history its all casted in. Out of interest sake, that is also one of the qualities that will land a book on my favorite shelf – historical characters portrayed in fiction.
We are first introduced to the 18 year old debutante, Osla Benning Kendall, and within the first couple of chapters, we also meet her dashing young prince, Philip of Greece.
Seeing that me and Mr. Google are on a first name basis, I knew that I shouldn't keep high hopes for the two lovebirds and if you are able to read this post, I know that neither do you (poetic license can only get you that far). It was, however, still wonderful to get lost in all the England-Prepares-for-War hype and hopes for a swift victory. Once again, we all know that it didn't happen as swiftly as anticipated.
Enter Mab and Beth and a scene change from the glitzy night clubs of London to the drab curtains of Bletchley Park. Thankfully, nothing else was drab. A colorful tapestry of friendship, love, family, the strength and the weakness of the human spirit and loyalty towards King and Country enfolds the reader through the next couple of hundred pages.
I completely lost myself in all the history and although I hardly had a clue what exactly went on behind and between those walls, it was a great relieve to realize that many of the people who worked in Bletchley Park, also had no clue to what was happening next door. But somehow, just like a rose enfolds its petals until it's time to bloom, it all made perfect sense.
"What the codes protect: Information. Because it doesn't matter if you're fighting a war with swords, with bombers, or with sticks and stones – weapons are no good unless you know when and where to aim them." 
Yes, the Rose Code was the perfect history lesson, but it was so much more than that. It was about the people who lived and loved, wrecked their brains and their hearts and ultimately left this world a better place to be in than the one they found themselves in.
And at the very end, it was more than just the dashing young prince who ended up with a happy ending. Those who lived, did so in a happily every after way.
Okay, here's a few links you can follow to prepare you for this book:
Lots of Love,
Related Posts