Greetings you guys! We've been meaning to do our Sunday Post since yesterday, but then we got so submerged in our review book, the whole world just came to a standstill. Every now and then, I think to myself: no more review books. Just read what's on the shelf and on the age-old Kindle.  And then we realize, we truly are blessed to have such wonderful review books fall into our laps and the TBR can wait a bit longer. It's not going anywhere is it?
Our latest read, Letters to Bizzy was nothing but delightful and thought provoking. Can't wait to blabber on about it tomorrow for a full review.
Letters to Bizzy finds a man, John Tibbits, past his prime staring down the barrel of old age, having to come to grips with his mother's death and regrettable fact his dysfunctional youth has burdened him with a lifetime of unwelcome baggage. As he sorts through his mother's personal effects he discovers boxes of unopened letters written some 50 years earlier from a man, Robert Guthrie, to his daughter, Bizzy. They tell the story of a life lived on a barrier island off the coast of North Carolina, Bogue Banks. There is nothing sensational in the telling, average by most accounts. However, through the eyes of Robert Guthrie we come to see beauty in the tragic, humor in the absurd, and sensitivity from the susceptible. It is in fact an apologetic to the ordinary lives we live. Those of John Tibbits and Robert Guthrie are inexplicably intertwined; and, it is only until the end, do we learn how. For both it is a journey through their own private battles.
I am of course convinced that it's all because of me that my Mommy receives such good books for reviews. Who wouldn't want a fluffy, adorable and clever kitty reviewing their book?
The rest of our week has actually been a bit crazy, but we are looking forward to a more relaxed and peaceful week coming up.
What's new with you?
adding to the litter
My Mommy had Book Club on Tuesday night, and of the 4 books she took last month, she only read two. Wish you were here (our review is below) and Triflers need not apply. So Songbird and One Hundred Years of Lenni and Margot came back with her. Accompanied with The Christie Affair by Nina de Gramont. She is so excited to read that one, but first she must read the two carry overs. What's fair is fair. Affair or not.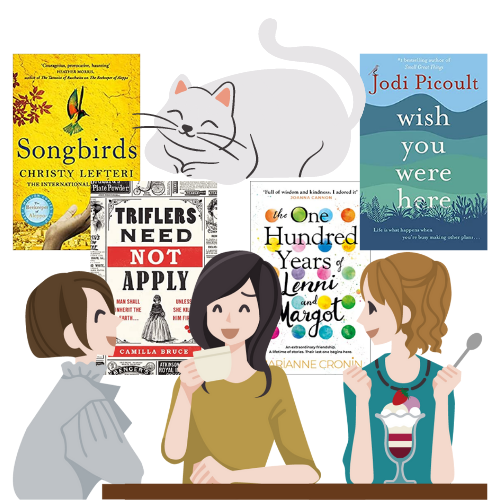 Scratching the Blog Pole
We had quite the productive week on the blog. If you've missed any of our posts (like Greg. Greg missed the one we've actually dedicated to him), here's a recap.
On the Couch
As you can see, we did a lot of reading this past week and we finished some great books.  All very diverse, but the one that has to stand out, is Magpie Murders. Gosh this was so good! ShellyRae at Book'd Out was kind enough to let me know that there is an adaptation for this book. We've only watched the first two episodes so far, but I think it's done very creatively.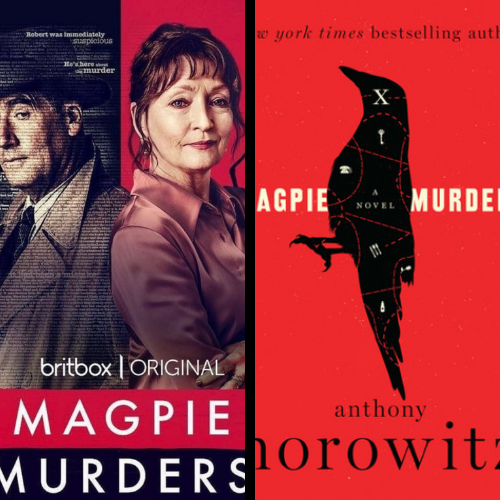 We've started listening to Anxious People by Fredrik Backman and are enjoying it so far. We're only about 20 pages into The one hundred years of Lenni and Margot, but it is delightful. We need to start with a new review book tonight and I am holding thumbs that it will be another win.
Wishing you all a wonderful week ahead and a marvelous March!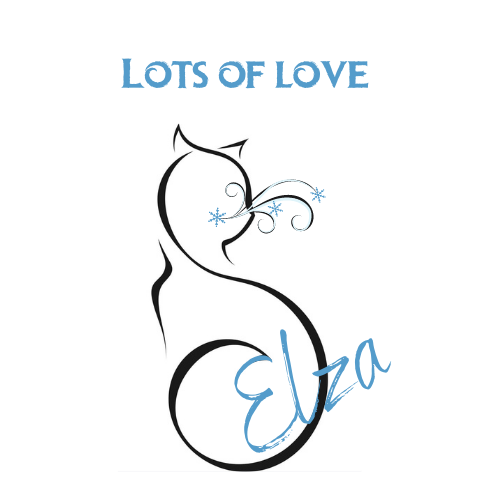 Thank you to all our wonderful hosts! Debbie @ Readerbuzz with The Sunday Salon, Kimberly @ Caffeinated Reviewer with The Sunday Post and Marlene @ Reading Reality with Stacking the Shelves.
Related Posts