The Wartime Matchmakers
by
Lauren Smith
on October 1st, 2022
Genres:
Historical Fiction
Pages:
650
Format:
ARC
Source:
The History Quill Book Club
Buy on Amazon
Goodreads
When the world went to war... they fought for love.

England, 1939: The world is on the brink of war when Elizabeth Mowbray breaks her engagement with a tea planter in India and returns home to the English countryside. Desperate to escape a stifling life under her parents' roof, she moves to London seeking adventure and excitement.

With German forces sweeping across Europe, she has little hope of finding steady, fulfilling employment as England readies itself for war. A chance encounter with Henrietta, Brigadier General Byron's daughter, sets Elizabeth on a course that will forever change her life and the lives of others.

Henrietta, a recently divorced and statuesque beauty, is not a hopeless romantic like Elizabeth, but her new friend inspires her to embrace life, even as the dark fog of war creeps across the English Channel.

The two enterprising young women come up with a brilliant idea to open London's first matchmaking agency. They face numerous challenges in establishing their business in the midst of air raid drills, food and clothing rationing, and the dangers of the Blitz. As they match Londoners, they find themselves in romances of their own. Elizabeth catches the eye of a daring, roguish RAF pilot and Henrietta discovers passion with a charming solicitor who joins Britain's first Commandos.

While the men they love are fighting in the air and in Europe, German shells shatter the peace of England. Henrietta and Elizabeth become legendary as they rescue men from the shores of Dunkirk, dig for survivors in the ruins of bombed homes, and inspire thousands of their countrymen and women not to give up the fight for life and love.

Inspired by the stunning story of the real matchmakers Mary Oliver and Heather Jenner, The Wartime Matchmakers is a humorous, poignant, and personal reminder that even in the darkest times, love triumphs.
WWII Hallmark at its best!
Let's be honest – we all like Hallmark movies and series'. Mainly due to the happily-ever-after elements and the cozy settings they provide. I never thought I would ever use the words Hallmark and WWII in the same sentence. How wonderful to be able to do that! And all thanks to Lauren Smith who decided to write this brilliant novel set during the Second World War. Whoever would have thought that WWII can be such a romantic setting and through all the doom and gloom we always read about those tragic years, it's refreshing to have a whole bunch of happily-ever-afters.
The best part of all? It's more fact than fiction.
"The two real matchmakers, Heather Jenner and Mary Oliver, become legendary for their actions during such a dark time. By bringing people together while the world tore itself apart, they were unsung heroes."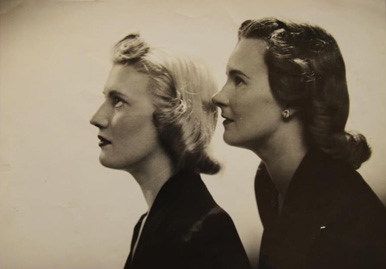 The story mainly takes place in London between 1939 – 1946 and during the prologue, one of our heroines who for the story purposes goes under the name of Elizabeth Mowbray, is caught in an air raid attack in London. Stuck in a bomb shelter with a couple of strangers, Elizabeth tries to chase the sound of the bombs away by telling her fellow occupants her story of hope, love and the start of the Marriage Bureau.
Staying as true to the facts as possible, we travel back to India with Elizabeth and learn more about how and why she returned to London, how she met Henrietta (Hetty) Byron, and living with her fashion designer aunt Isabelle. At a whopping 650 pages, some information provided in this novel, might seem tedious and totally unnecessary to a few readers, but this particular reader enjoyed every single detail that was well researched and presented by the author.
Told through the alternating perspectives of Lizzy and Hetty, it was fascinating to read how these two ladies started the historic Marriage Bureau and how they managed their enterprise during the war-torn years. Set with a background of real historical events, like Dunkirk and the London Blitz, this book provided hours of reading pleasure.
Although both ladies' dashing love interests in The Wartime Matchmakers were fictitious, I believe it was these two storylines that gave it the Hallmark stamp of approval from my side.
This was my first time reading anything by Lauren Smith and I loved this facts to fiction account of how ordinary citizens created hope and provided love during a time when it was needed most. She managed to blend facts, fiction, historical accuracies and verbatim famous speeches and quotes in such a way that the reader felt very much part of the story.
I do hope we will see more of her historical novels in future and if you really don't like WWII history, just read The Wartime Matchmakers for the romance. It's as good as any Hallmark movie!
About the Author
Lauren Smith is a USA Today Best-Selling author and an Oklahoma attorney. She knew she was destined to be a romance writer when she attempted to re-write the entire Titanic movie just to save Jack from drowning. Connecting with readers by writing emotionally moving, realistic and sexy romances no matter what time period is her passion. She's won multiple awards in several romance subgenres including: New England Reader's Choice Awards, Greater Detroit BookSeller's Best Awards, Amazon.com Breakthrough Novel Award Quarter-Finalist and a Semi-Finalist for the Mary Wollstonecraft Shelley Award. To connect with Lauren, visit her at www.laurensmithbooks.com or twitter at @LSmithAuthor.
Thank you to The History Quill Book Club / The Niche Reader for providing us with a copy of this beautiful novel. Much appreciated!
Related Posts