Greetings you guys! It's Friday and the weather outside spells 90% chance of reading time. Rainy and cold. We've had a hectic week at school and with sorting out book reviews, so for this weekend, we just want to curl up on the couch and read whatever we want. No deadline or anything!
We've been excited to read our choice for this weekend ever since the reviews first start popping out.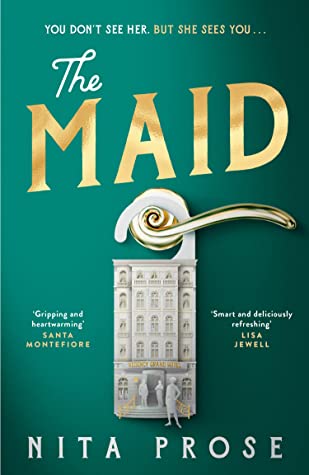 The Maid
by
Nita Prose
Published by
Harper Collins
on January 20th, 2022
Genres:
Mystery
Pages:
352
Format:
Paperback
Source:
Book Club
Goodreads
Molly Gray is not like everyone else. She struggles with social skills and misreads the intentions of others. Her gran used to interpret the world for her, codifying it into simple rules that Molly could live by.

Since Gran died a few months ago, twenty-five-year-old Molly has been navigating life's complexities all by herself. No matter—she throws herself with gusto into her work as a hotel maid. Her unique character, along with her obsessive love of cleaning and proper etiquette, make her an ideal fit for the job. She delights in donning her crisp uniform each morning, stocking her cart with miniature soaps and bottles, and returning guest rooms at the Regency Grand Hotel to a state of perfection.

But Molly's orderly life is upended the day she enters the suite of the infamous and wealthy Charles Black, only to find it in a state of disarray and Mr. Black himself dead in his bed. Before she knows what's happening, Molly's unusual demeanor has the police targeting her as their lead suspect. She quickly finds herself caught in a web of deception, one she has no idea how to untangle. Fortunately for Molly, friends she never knew she had unite with her in a search for clues to what really happened to Mr. Black—but will they be able to find the real killer before it's too late?

A Clue-like, locked-room mystery and a heartwarming journey of the spirit, The Maid explores what it means to be the same as everyone else and yet entirely different—and reveals that all mysteries can be solved through connection to the human heart
For our first stop, we will pay a visit to @ Reading is my Super Power for First Line Friday and to Gilion @ Rose City Reader for Book Beginnings.  Every Friday you can link up and share the first sentence of your current read (or the one you plan to devour over the weekend), as well as your initial thoughts and impressions.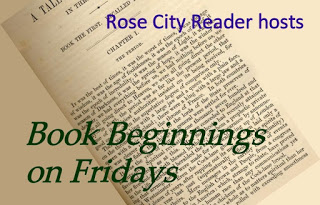 The Maid opens with a bar of soap and a prologue:
I'm your maid. I'm the one who cleans your hotel room, who enters like a phantom when you're our gallivanting for the day, no care at all about what you've left behind, the mess, or what I might see when you're gone.

I'm the one who empties your trash, tossing out the receipts you don't want anyone to discover. I'm the one who changes your sheets, who can tell if you've slept in them and if you were alone last night or not.
Okay, she's definitely going to discover something…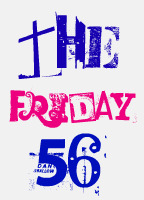 For our next stop, we will pay a visit to Freda's Voice who hosts the Friday 56. Don't show up empty handed though!
Grab a book (Yes, any book. But it might get you to your other Friday 

activities a bit quicker if you just grab the book you are currently reading)

Turn to page 56 or 56% on your e-reader

Find a sentence or two (your other Friday activities might determine this)

Post it!

Remember to post your link on Freda's Voice and to visit the other guys in the linky.
And  last but not least, don't forget to list the title of the book and the author as well.
A funny, but sad passage on page 56:
"What did they call you?"

"Rumba," I said. "Gand and I used to watch Dancing with the Stars and the Rumba is a very lively partner dance.

Giselle winced. "I don't think they meant the dance, Molly. I think the meant Roomba, as in the robotic vacuum cleaner."
Friendly Fill-ins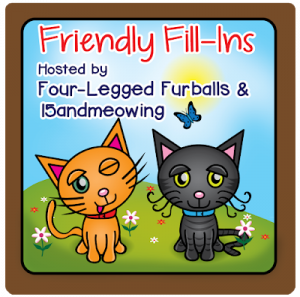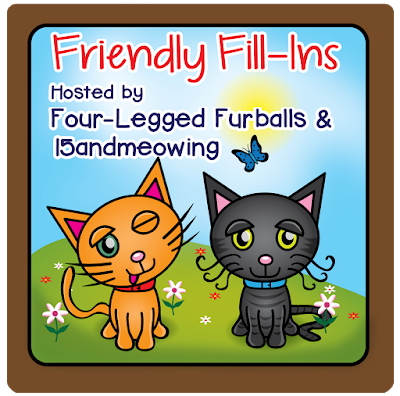 I see we have a few minutes to spare to do a quick Friendly Fill-ins. Yea for me! We are enjoying the Friendly Fill-Ins community so much. Lots and lots of furry friends. Yea for me! Friendly Fill-Ins is hosted by 15 and Meowing and Four-Legged Furballs. They come up with a couple of sentences, and then you have to fill in the blanks. I think it's a great way to get to know each other better as well. This week's questions:
1. A book or movie I recently read ( or saw) that I recommend is ____________________.
2. I prefer to shop _______________,
3. I have a lot of trust in _________.
4. I have very little trust in _________.
And my answers:
1. A book or movie mini-series my Mommy recently read and saw and we loved  and would definitely recommend is Magpie Murders by Anthony Horowitz.
2. I prefer to send my Mommy to shop for me.
3. I have a lot of trust in my comfy blanky left on the staircase railing. Of course it won't slip of with me on it at all.
4. I have very little trust in our maid, our better described as our home manager, Theresa. She is trying to remove me and my blanky from the railing. How dreadful!
Have a wonderful weekend you all and remember to add your links to our hosts and do some blog hopping!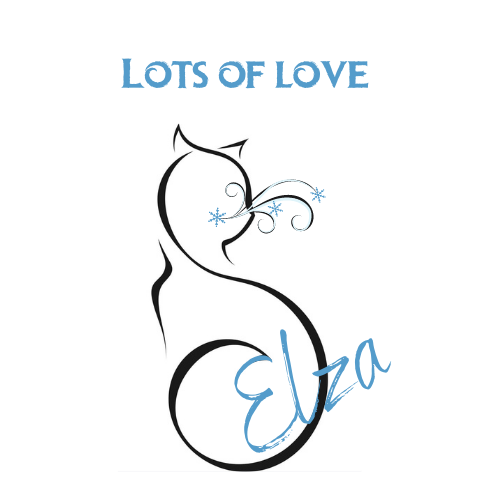 Related Posts