Greetings you guys! It's April and the first time we get to take part in Friday Link up! This year has been super busy so far, but I've decided to stop complaining about the fact that we hardly get to the blog at all, and just be thankful for every spare minute we have. Of course we'll spend it with you!
How have you all been doing? Anybody else as busy as an ant gathering for winter?
It's Easter Friday, so that means we have a long weekend and my Mommy are finally settling down with a few great books and we even set aside some time for blogging today.
It's also April and April means that we read Titanic. No, not huge piles of books (we wish!), but literally books on the Titanic. Every year we try to read one during the first two weeks of April to commemorate the historical, but still tragic event. This year, we are reading this one:
The Second Mrs. Astor
by
Shana Abe
Published by
Kensington Books
on August 21, 2021
Genres:
Historical Fiction
Pages:
317
Format:
eBook
Source:
My Bookshelf
Buy on Amazon
Goodreads
Perfect for fans of Jennifer Chiaverini and Marie Benedict, this riveting novel takes you inside the scandalous courtship and catastrophic honeymoon aboard the Titanic of the most famous couple of their time—John Jacob Astor and Madeleine Force. Told in rich detail, this novel of sweeping historical fiction will stay with readers long after turning the last page.

Madeleine Talmage Force is just seventeen when she attracts the attention of John Jacob "Jack" Astor. Madeleine is beautiful, intelligent, and solidly upper-class, but the Astors are in a league apart. Jack's mother was the Mrs. Astor, American royalty and New York's most formidable socialite. Jack is dashing and industrious—a hero of the Spanish-American war, an inventor, and a canny businessman. Despite their twenty-nine-year age difference, and the scandal of Jack's recent divorce, Madeleine falls headlong into love—and becomes the press's favorite target.

On their extended honeymoon in Egypt, the newlyweds finally find a measure of peace from photographers and journalists. Madeleine feels truly alive for the first time—and is happily pregnant. The couple plans to return home in the spring of 1912, aboard an opulent new ocean liner. When the ship hits an iceberg close to midnight on April 14th, there is no immediate panic. The swift, state-of-the-art RMS Titanic seems unsinkable. As Jack helps Madeleine into a lifeboat, he assures her that he'll see her soon in New York…

Four months later, at the Astors' Fifth Avenue mansion, a widowed Madeleine gives birth to their son. In the wake of the disaster, the press has elevated her to the status of virtuous, tragic heroine. But Madeleine's most important decision still lies ahead: whether to accept the role assigned to her, or carve out her own remarkable path…
We are about 10% in, but so far we really are enjoying it.
Let's see what my fellow weekend readers will think of this one. Our first stop is with  @ Reading is my Super Power for First Line Friday and to Gilion @ Rose City Reader for Book Beginnings.  Every Friday you can link up and share the first sentence of your current read (or the one you plan to devour over the weekend), as well as your initial thoughts and impressions.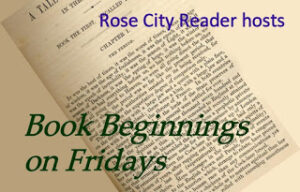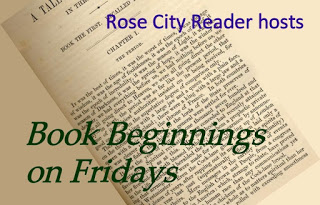 The book opens with a prologue and I do get the impression that the reader will be returned to this prologued letter/conversation, throughout the novel.
August 23, 1912

My Darling Jakey,

I gave you his name. He gave you his eyes and that swirl of fair hair. I suspect your chin is mine, however, and I suppose that's as it should be. Your father towered, remarkable and alone, over everyone we knew and certainly over my heart. There can be no true living reflection of such a man left, not even you.
Our next stop will be to Freda's Voice who hosts the Friday 56. Don't show up empty handed though!
Grab a book (Yes, any book. But it might get you to your other Friday activities a bit quicker if you just grab the book you are currently reading)

Turn to page 56 or 56% on your e-reader

Find a sentence or two (your other Friday activities might determine this)

Post it!

Remember to post your link on Freda's Voice and to visit the other guys in the linky.
And  last but not least, don't forget to list the title of the book and the author as well.
We are still a bit a way from 56%, so we have to go in blindly on the Kindle.
Jack held her arm, keeping them both steady.

Both Margaret and her daughter had produced mirrors from their handbags, and they used them to reflect the narrow sun shafts falling from slits in the ceiling into beams of movable light. Everywhere they aimed the mirrors, the walls and columns came alive with color. Thabit trailed behind them, reciting the names of the illumed figures in a quiet, reverent tone, as if he spoke incantations.

Osiris, Isis, Seti, Amun-Ra.
Luckily I did some research and I know that during that part of the  book, the Astors were visiting Egypt as part of their 7 month honeymoon. Oh and by the way – the Margaret mentioned in the passage, is non other that The Unsinkable Molly Brown!
Before we go and relax with our book, let's quickly join the Book Blogger Hop. The Book Blogger's hop's purpose is to give bloggers a chance to follow other blogs, learn about new books, befriend other bloggers, and receive new followers to your own blog. Every week, there will be a prompt featuring a book related question. It's hosted by Ramblings of a coffee addicted writer and I guess he hops around like a bunny due to all the caffeine. Hence his name.
Today's question: Do you spend your lunchtime reading?
Lunchtime? What on earth is that?? And is it eatable?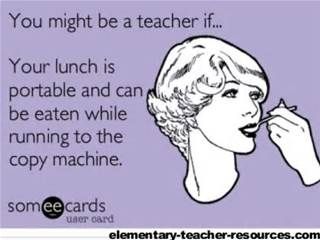 No, my Mommy don't read during lunchtime. She doesn't have lunchtime…
What are you reading this weekend?
Remember to add your link to all the linkups and to visit your fellow bloggers!
Related Posts