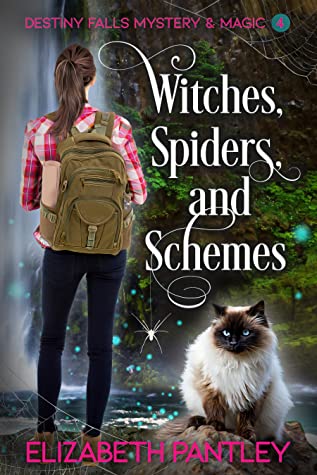 Witches, Spiders & Schemes
by
Elizabeth Pantley
Series:
Destiny Falls Mystery & Magic #4
on November 10th, 2021
Genres:
Cozy Mystery
,
Fantasy
Pages:
230
Format:
ARC
Source:
Author's Copy
Buy on Amazon
Goodreads
A magic mirror to an enchanted world... A mysterious ghost... A hilarious, perpetually annoyed witch... A brave, sassy cat... Two unexplained deaths and a mysterious community filled with secrets... Can Hayden and the people of Destiny Falls solve the mystery and return the community to its peaceful, enchanted existence?

Hayden's adventures in Destiny Falls continue in book four of the Destiny Falls Mystery & Magic series. Starting with a strange old woman at a cave and her father's mysterious ferry journey, there are secrets to be unwound.

The enchantments in Destiny Falls are showing cracks, and Hayden suspects that it is tied directly to her family, which has a history that's more complex than she realized. When two bodies are found floating in the bay it's clear that the mysteries surrounding Gladstone and the ferry are more dangerous than people realize. And then . . . those spiders.

Luckily, Hayden and her sassy sidekick, Latifa have developed a group of family and friends in this enchanted place who are all ready and willing to help solve the mystery, and release Destiny Falls to resume its normal, amazing, enchanted existence.
Content:
Age Appropriate: Young Adult +
Language: Squeaky clean, lots of sass
Violence: You did see the word spiders in the title?
Greetings you guys! Me and Mommy just returned from our latest visit to Destiny Falls. No, we didn't take the ferry, somehow we don't think it's a safe enough option for fluffy and sassy cats.
Is this your first introduction to The Destiny Mystery & Magic Series? Girlfriend, then you need to catch up quickly or you are going to be as lost as a cat toy that rolled under the bed. No need to get your whiskers in a knot, Elza Reads is here to safe the day like only a cat can do. If you want a quick recap – click on the image below to read all previous reviews on this fun, far-fetched and fabulous series.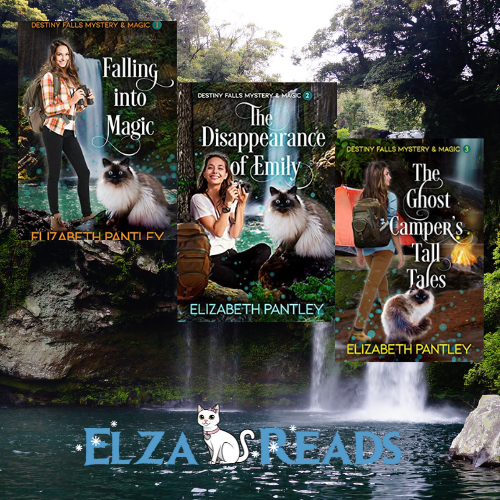 No need to tamper with greatness and following in the footsteps of the great Elizabeth Pantley, author of our favorite magical series, we will start our review the same way she started the fourth instalment. Exactly where the previous one ended off. We ended our review for The Ghost Camper's Tall Tales with:
Destiny Falls remains the perfect balance between magical realism and reality. It's still fluffy, fabulous and fun-loving, but in The Ghost Camper's Tall Tales there are definitely a few darker and more sinister elements. I think it fits perfect and paves the way for the story to develop even further. 
I should have been the cat of a fortune teller…. No, that is not a spoiler alert. Okay, perhaps just very slightly. But the darker clouds and rain that falls before sundown is definitely creeping into the magical world of Destiny Falls. We actually like this and believe that every silver lining needs to have a dark cloud. And every fairytale should have a wicked old witch and a Secret Cat Society. Fairy GrandGodmothers and bright sun shining days with rainbows and eat-as-much-as-you-can-without-gaining-an-ounce, is not sustainable in the long run. We salute you, Elizabeth! Letting the dark clouds rolling in, does bring a new sassy vibe to the series.
This series classifies as "Murder Mystery", therefore, someone had to kick the bucket and our amateur sleuth and gossip queen, Hayden and her sidekicks need to solve it. The actual murder was better than anything Agatha Christie could think of. Brilliant plot! But the focus in this instalment was much more on the history of Destiny Falls and Gladstone, the magic surrounding these enchanted places, and a computer cord.
Being the ever-romantic one in this house, we are very glad to report that Hayden and Han are finally an item.  A butterflies in the stomach item. We just hope that Ms. Pantley doesn't have something sinister up her sleeve with this couple. We already have our doubts about the authenticity of one of the Caldwell family members….
Once again, Witches, Spiders & Schemes ends on a cliffhanger, so at least we know there will be another instalment too. If I am correct with my prediction, I will make sure to let you all know!
In the meantime, pick up the latest instalment of this series, or how about just getting the whole series! The second installment is on special this week and of course you will then need to get the first one soon. And the third one…
Thank you, dearest Elizabeth for once again inviting us to Destiny Falls!
About the Author

Parenting educator Elizabeth Pantley is president of Better Beginnings, Inc., a family resource and education company. Elizabeth frequently speaks to parents at schools, hospitals, and parent groups around the world. Her presentations are received with enthusiasm, and praised as realistic, warm and helpful.

She is a regular radio show guest and frequently quoted as a parenting expert in newspapers and magazines such as Parents, Parenting, American Baby, Woman's Day, Good Housekeeping, and Redbook and on hundreds of parent-directed Web sites. She publishes a newsletter, Parent Tips, which is distributed in schools nationwide.

Elizabeth is the author of 13 popular parenting books, available in 24 languages.

Elizabeth and her husband, Robert, live in the state of Washington along with their four children and "Grama."
Related Posts