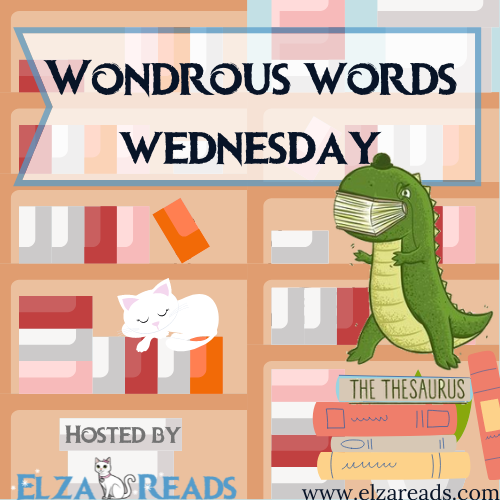 Welcome to Wondrous Words Wednesday! This meme was first created by Kathy over at Bermuda Onion Blog and we stumbled upon it through Yvonne at Fiction Books. Of course we immediately fell in love with it. What is more wondrous in this world than words?
After doing Wondrous Words Wednesday for a couple of weeks, Kathy encouraged us to take over the meme and make it our own.
No use in recreating the wheel, so we'll just continue on Kathy's legacy and tweak it here and there.
Wondrous Words Wednesday is a monthly meme where you can share new words that you've encountered during the month, or spotlight words you love.  Feel free to get creative! 
The linkup will go up every last Wednesday of the month.
No rules apply here, just share any or all the lovely or new words you've encountered over the last fortnight. 
Tips and ideas:
Don't go pull the Dictionary down from the shelf. Use words you came across in a book, a TV show, pamphlet, social media, doctor's room, classroom – the possibilities are endless

If you want to share a story around your chosen word, you are welcome

If you want to link your chosen word up with a book or books, please do so 

You are welcome to share photos or pictures that will describe your word just a bit better (who doesn't love Pictionary)

Let's stick to words that are recognized in the English Dictionary. You are welcome to use translations of your chosen word or a brief history if it derives from a different language, but your readers need to be able to find it in the English Dictionary

Please add your link to Mr Linky and pay a visit to the other word wizards
You are welcome to use my graphic or design your own!
If you want to add any tips or ideas, please contact me. Most importantly – have fun!
Previous Wondrous Word Wednesdays: