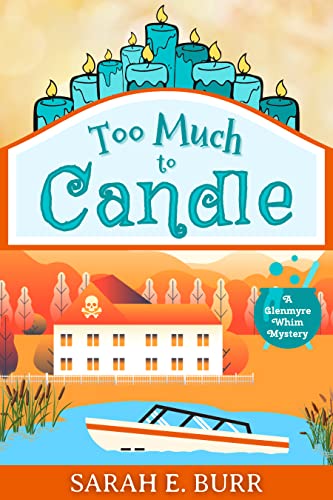 Too Much to Candle
by
Sarah E. Burr
Series:
Glenmyre Whim Mysteries #2
Published by
Independently Published
on October 13th, 2022
Genres:
Cozy Mystery
Pages:
251
Format:
ARC
Source:
Great Escapes Tours
Buy on Amazon
Goodreads
Candlemaker Hazel Wickbury sets out again to bring the truth to light.

Iggy Alewell, Hazel Wickbury's friend and candle shop assistant, is eager to purchase his own home with the advance from his first big book deal. Iggy is on the hunt for something with character, so what could be better than the old Cragmire house that's rumored to have buried treasure somewhere on its property? Hazel is thrilled her friend has found success, but things in Crucible take a nasty turn when another potential buyer for the Cragmire house goes missing. He was last seen taking a boat out on Lake Glenmyre, and when the rental is found empty, it's clear to police that foul play is involved.

What's worse is that Iggy becomes the prime suspect in the man's disappearance, and Detective Holden Whitfield's thorny, new partner is certain Iggy is guilty. To clear Iggy from suspicion and dispel the darkness penetrating their beloved town, Hazel and her Aunt Poppy team up again to find a killer before their friend gets burned.

Return to Crucible in "Too Much to Candle," Book Two in the award-winning Glenmyre Whim Mysteries.

Praise for "You Can't Candle the Truth," Book One in the Glenmyre Whim Mysteries:

"You Can't Candle the Truth, like its heroine, Hazel Wickbury, is absolutely enchanting...magic is threaded with persuasive charm into the fabric of the story." Lori Robbins, award-winning author of the On Pointe Mysteries

"a unique, charming, feel-good story that fans across the entire mystery spectrum will enjoy." J.C. Kenney, bestselling author of the Allie Cobb Mysteries

"With the setting, characters, and mystery storyline all on point, You Can't Candle the Truth is pure delight." Carol E. Ayer, author of The HSP Mysteries

2022 Silver Falchion Award Best Supernatural Finalist

2022 Next Generation Indie Book Award Best Mystery Finalist
Greetings you guys! Welcome to our stop on the Blog Tour for Too Much to Candle by Sarah E. Burr. This was our first introduction to the Glenmyre Whim Mysteries and luckily this was but the second instalment. So we are not too far behind in this fun, paranormal cozy mystery series.  Catching up with the events in You Can't Candle the Truth, were fairly easy, as the author refers back to the first book on a regular basis.
If you are looking for a Halloween read, but don't want the fear factor, this book might be just what you need. Our story takes place during Halloween season and we are once again in Crucible, a fictional town in upstate New York that comfortably falls under the protection of the Glenmyre family. Nope, they aren't the riches people in town, but they do stem from the founding fathers and have supernatural abilities that does give this book a whimsical feel and easily relates different characters due to family connections.
The plot is set in motion when Iggy puts an offer in for his dreamhouse, the classic Gragmire Estate. When a bombastic philanthropist puts in a higher offer and steamrollers Iggy in front of Hazel and company, only to disappear a few days later, the plot thickens. The fact that Mayhan (the bombastic jerk) is/was a big-shot archaeologist and rumored to be searching for the long lost Cragmire treasure, just adds another delicious twist to the tale.
 But of course my favorite part of this book, was Hazel's new feline friend. We are honored to have the lovely author, Sarah Burr, visiting us today to tell us more about the reason behind the new, but best plot twist ever.
Hello, Elza Reads, and thank you for hosting me today as I celebrate the release of Too Much to Candle, Book Two in my Glenmyre Whim Mysteries.

The Glenmyre Whim Mysteries are just one of the three series I have out in the world; I am also the author of the Trending Topic Mysteries and the Court of Mystery series. And you might be surprised/shocked/horrified to learn that none of these series have had a pet featured in them. Yep, you read that right. I've published three cozy mystery series without including a furry companion in them.

That is, until now.

Readers discover in You Can't Candle the Truth (Book One in the Glenmyre Whim Mysteries) that candlemaker Hazel Wickbury has always wanted a feline companion. However, since she makes candles out of her cottage kitchen to sell at her store, A Wick in Time, Hazel can't risk pet hair getting in her wax creations. Yet, once the apartment space above her store becomes available, Hazel decides it's time to make some big business plays. She purchases the apartment with plans to convert it into an on-site candle-making kitchen. This new space will allow her to pursue what she's always wanted: to become a pet owner.

Here's a little behind-the-scenes secret: this little storyline didn't always exist. In the first draft of You Can't Candle the Truth, there wasn't a single mention of Hazel becoming a pet owner. So, what changed?

Well, I became a pet owner.

One of the oldest pieces of writing wisdom is "write what you know." In the summer of 2020, I became a first-time dog mom to Eevee, a four-year-old Aussie shepherd/Basset Hound mix. The joy Eevee has brought to my life is something that, to this day, I cannot fully put into words. But, I also knew once I brought Eevee home that Hazel deserved this kind of happiness, too.

So, I began tinkering with ways to bring a pet into Hazel's life without totally blowing up my first draft. The major sticking point was that Hazel made candles at home, which was a BIG part of her character development. How could she craft without getting pet hair in the wax? Hazel lives in a small, open-concept cottage, and it just didn't feel right totally rebuilding her homestead, nor did I want to lock her pets away in a separate part of the house while she worked. As I brainstormed ideas, a fun subplot began to take shape. Not only did it solve my pet-less problem, but it also helped me queue up some storylines for Book Two, Too Much to Candle. Hazel could achieve her dreams of pet ownership, but it would take some time, and the proper groundwork had to be laid. Good things come to those that wait, as the saying goes.

Eevee's effect on my writing didn't stop there. Her presence in my life had a hand in a brand-new cozy mystery series being published by TouchPoint Press next year: the Book Blogger Mysteries. My main character, Arwen "Winnie" Lark, has a feline companion to keep her company right from page one.

So, I am officially a pets-in-cozies convert, all thanks to my darling little Eevee! I hope you'll venture into Hazel's world in Too Much to Candle as she discovers the joys that owning a pet can bring.
Aah, that is a lovely story! I am also a rescue kitty and I believe that people like Sarah and my Mommy goes straight to heaven for sure.
About the Author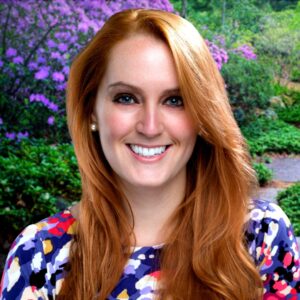 Sarah E. Burr lives near New York City. Hailing from the small town of Appleton, Maine, she has been dreaming of being Nancy Drew since she was a little girl. After not finding any mysteries in corporate America, Sarah began writing some of her own. She is the author of the Trending Topic Mysteries and the Court of Mystery series. Sarah is also the author of the award-winning Glenmyre Whim Mysteries. You Can't Candle the Truth was a 2022 NGIBA Best Mystery Finalist and a 2022 Silver Falchion Best Supernatural Mystery Finalist.
Sarah is a member of Sisters in Crime, currently serving as the social media guru for the NY-TriState Chapter. She is also the creative mind behind BookstaBundles, a content creation service for authors. Sarah is the co-host of The Bookish Hour, a livestreamed YouTube series featuring author interviews and book discussions. She writes as a member of the Writers Who Kill blogging team. When she's not spinning up stories, Sarah is singing Broadway show tunes, video gaming, and enjoying walks with her dog, Eevee.
 Author Links
 Website: www.saraheburr.com
Newsletter: https://bit.ly/saraheburrsignup
Socials: https://bit.ly/sarahsocialmediahub
Sarah's Blog: https://bit.ly/noteworthyauthorblog
The Glenmyre Whim Mysteries: https://bit.ly/glenmyrewhimmysteries
Amazon Author Page: https://bit.ly/authorsaraheburr
Facebook    Instagram    Twitter    Goodreads    BookBub    Pinterest    YouTube    LinkedIn
Rafflecopter Giveaway
A big thank you to Lori at Great Escapes Tours for inviting us to tag along on this blog tour. Much appreciated! By clicking on Lori's button below, it will take you to the tour page and you can see the other participants for this tour.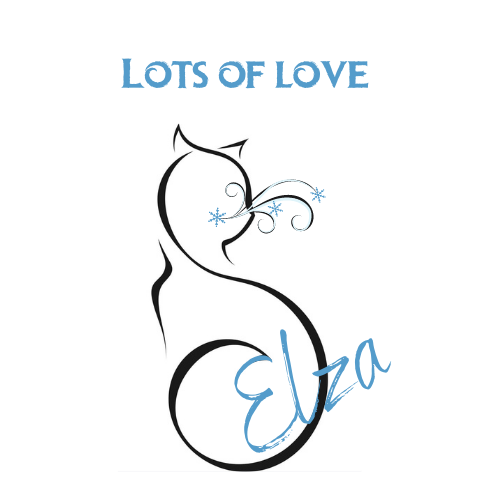 Related Posts