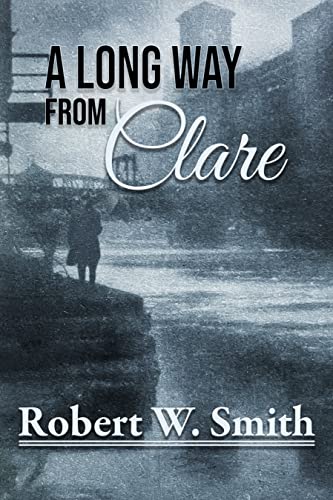 A Long Way fromClare
by
Robert W. Smith
on January 12th, 2023
Genres:
Historical Fiction
,
Mystery
Buy on Amazon
Goodreads
Conor Dolan, a young Irishman, travels to Chicago in 1903 to visit his older brother but finds only a mystery. His journey sparks a quest to peel away secrets and rediscover a dead sibling he idolized but never really knew as he strives to learn the true meaning of brotherhood.

His search reveals an Irish Republican plot to assassinate a visiting British royal. In the process, he is drawn into an alliance with two women: a mesmerizing Jewish widow and a struggling young Irishwoman. Each teaches Conor existential truths of life and love in her own way.

But the brother he finds may not be the brother he remembers. A Long Way from Clare is a story of Chicago's early twentieth century immigrants and one man's struggle with both bigotry and injustice in an unforgiving city where no good deed goes unpunished.

Will Conor find the answers he desperately craves? Or will this trip punch a one-way ticket?
Romance, Kidnapping, and Murder…
Will a young Irish lawyer unravel the secrets or die trying?
Greetings you guys! Welcome to our stop on the blog tour for A Long Way from Clare by Robert W. Smith. This post is purely for promotional purposes, but from the blurb and the expert we will share with you shortly, we are very glad that we still have a copy of this book that we can read and review at a later stage.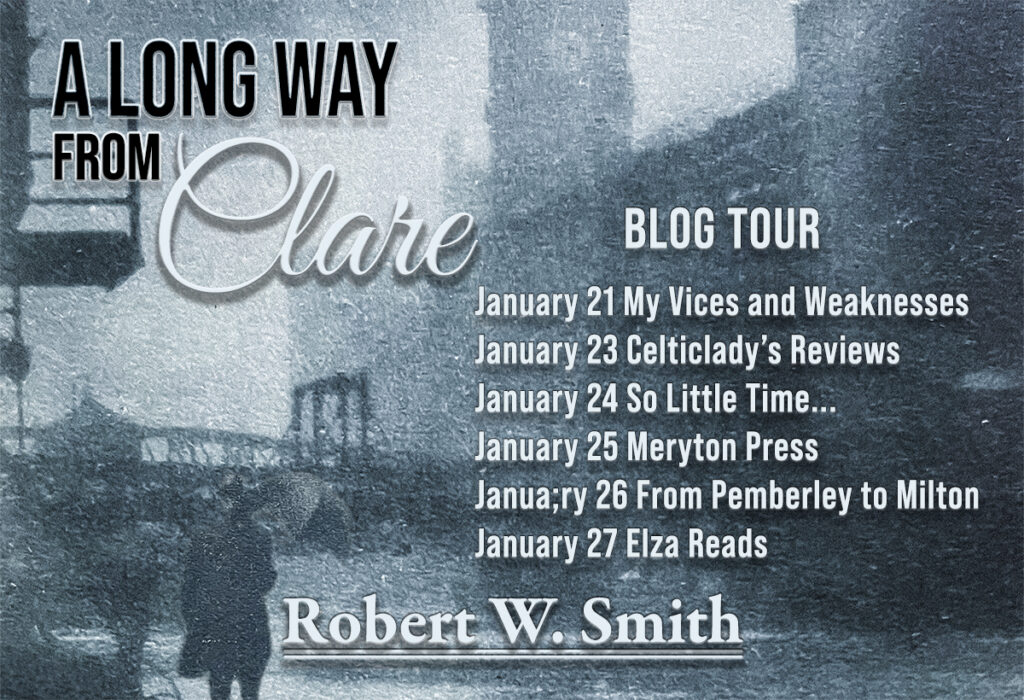 The author of this hot off the press novel, Robert W. Smith, was kind enough to pay us a visit today.
Thank you to Elza and her human, Mareli, for hosting me and to all their loyal followers for giving me this chance. This is the last stop on my blog tour and I have yet to do the "Why this book thing," so let me give it a go. My grandparents were all turn-of-the-century Irish immigrants to Chicago and our family has largely remained planted here ever since. I love the city and its people and I know enough about it to accept that it will forever remain an enigma, a mosaic of hope and opportunity; of corruption and crime and disappointment. The day I think I understand it I will leave forever.

But so much for the time and place. What about the story, Bob? Why this one? Okay, okay. My wife's grandfather was an Irishman and a Chicago policeman. In 1914 someone found him dead in his uniform. "Andy's" cause of death has been the elephant under the rug in my wife's family since I became a part of it many years ago. There was the "suicide" branch of the family, the "natural causes" bunch and a few who went to their graves believing he was murdered. Was he corrupt? Did he piss off the wrong people? Was he the one honest cop on the beat who paid the price of virtue with his life? We will never know the answer, but I knew years ago I had a good book in my head. I could use the family mystery to tell a story about the city, its immigrants and, above all, the meaning of brotherhood.

My excerpt comes from the Prologue, the only part of the story that takes place in Ireland, and sets the scene for the Dolan brothers' all too common odyssey in America over the next fifteen years. The year is 1886. Little Conor and his older Brother, Kevin have just completed building a new "cottage" for their Ma. Only a few weeks earlier the boys were cutting turf in the bog when Crown constables cruelly evicted the family of three from their home. Kevin and Ma have tried diligently to conceal from Conor the grave consequences facing the Dolans. Ma's new "home" is in the bog and made exclusively of mud and grass. Ma and fourteen-year-old Kevin have secretly decided that Kevin must somehow make his way to America with little Conor if the two are to survive. Seven-year-old Conor is no eejit and is not sure he's buying into the story that Ma will live happily ever after in her new "cottage" by the sea…
And here's the expert as promised by Robert:
Within a week, the lads laid the final turf brick in Ma's new cottage—and none too soon. The last of the early summer rains could come at any moment. It was the most backbreaking task in all of Conor's seven years, and he wanted so much to be proud of the achievement. As Pa used to say, "The harvest never lies." Sweat pouring from his little body, he stood back a good ways to judge the fruits of their labor. The mud walls appeared crooked; the one-room cottage had no windows—not even a proper door. Beyond that, the grass roof leaked and seemed alive with tiny creatures.
"Sure 'tis a good house then, Kevin?" Conor was perfectly willing to be dissuaded from his initial opinion that it resembled a hastily assembled pig shed.
"Aye. Ma will love it. Nice and cozy. And look there—isn't that Galway Bay in the distance past the cliffs? What more beauty could a widow ask for in her old age?"
"I s'pose 'tis grand," Conor conceded, "but how will Ma see the water with no windows? And where will I be sleepin' in this fine house? And yourself?" The question dogged him like a thorn in that bloody dress Ma made him wear whenever he left the cottage.
Kevin put his arm around the child and patted his shoulder gently. "Sure let's take a walk down to the cliffs and chat a bit."
Conor no longer liked the Cliffs of Moher because the sight breathed life to bad memories. "Sure you know how I feel about them cliffs, Kevin."
Kevin nodded. "Aye, I know well enough, but I t'ink it's the best place to be havin' this conversation."
His brother seemed to always know best, so Conor nodded in agreement. "That's the way then. We'll be off to the cliffs."
***
The locals from Lisdoonvarna, Lahinch, and such cherished the cliffs as the "grandest sight in all of Ireland." Visitors would flock there in fair weather and spread their blankets to see the wild sea and the rocky beaches below as gulls played in the wind currents of the deep drop.
The brothers sat in the long, green grass that afternoon—only steps from the edge—with the sun in their faces. "Isn't it beautiful?" Kevin asked. "Do you know what's out there?"
Conor shrugged. "Sure it's water. Isn't it?"
"Oh yes, 'tis that. But beyond the water?"
"America, I s'pose."
"Sure that's right—where yer own uncle found fortune and happiness a ways back. Would ye like to go there?"
Conor chuckled, erasing Kevin's comment in mid-air with a big hand swipe. "Ah, don't be daft. Ye're havin' me on. Sure Ma would never leave Ireland, and you know it."
"Ye're a clever boy. Ma will never leave home. But she has a fine new house now, and she t'inks it best if we go ourselves—just the two of us—and make a go of it. It'll be a great craic, Little Brother, a grand voyage on a beautiful ship clear across to New York and on to Illinois."
"And what in the be-jaezaz is El-in-oys?"
"Easy, boyo. Pa would roll in the grave if 'e heard you curse. Sure 'tis like a small village outside of New York, I'd say. A grand place accordin' t' your uncle, and didn't Abraham Lincoln himself build a cottage there."
"Sure is he the gombeen from the pub? The one Pa went on about with the short arms? Pa said he fled t' America one step ahead of the hounds."
"Different fella altogether, but we'll see what Ma says tonight at Mrs. Hennessey's."
"Will I wear dresses in El-in-oys, Kevin?"
Kevin scoffed. "Ah, Jaezuz, no, Conor. All that nonsense will stay here in Ireland with the gobshites who peddle it. Ye're growing up too quickly, but ye may as well know this minute: I put no weight in all that wee fairy rubbish the old women and the priest gab about. Our Pa never bought into it himself, but Ma is another story."
"Are there no fairies in America then, Kevin? Will they not kidnap me if I don't wear a dress?"
"Ye'll sooner be kidnapped by that fookin' priest. Sure Pa never blasphemed against the Church because a fella is better safe than sorry, but he had plenty to say about the bloody fairies. Sure there's no fairies any fookin' place, so there's no fairies will kidnap ye in America if ye dress like the fine boy ye are. I give ye me solemn word on that, and that's the way of it now. And if ye decide to grow up a fookin' Protestant like the rich folks in America, fair play to ye, Little Brother."
Kevin seemed to reflect quietly a minute there in the grass. Then, looking onto the vastness of Galway Bay and beyond, he patted Conor's head and added softly with a single tear in his eye, "But there's devils. There's devils, indeed, and right here in County Clare."
Thank you so much for visiting us today, Robert and for the lovely excerpt. We wish you well with your book and we are eager to start reading it!
Keep watching this space for our full review on A Long Way from Clare. 
About the Author
Bob was raised in Chicago, enlisting in the Air Force at age eighteen during the Vietnam War. Following a year of language training at Syracuse University, he served four years as a Russian Linguist in Security Service Command, a branch of the NSA. He attended DePaul University and The John Marshall Law School in Chicago on the G.I. Bill while working as a Chicago Transit Authority Police Officer. Thirty-odd years as a criminal defense lawyer in Chicago followed. His first book was Immoral Authority (Echelon Press, 2002) followed by Catch a Falling Lawyer (New Leaf Books, 2005) and The Sakhalin Collection (New Leaf Books, 2007, hardcover). In February of 2022, Between the Lines Publishing released Bob's newest novel, Running with Cannibals, a historical/military thriller based on actual events of the Philippine-American War.  
Lots of Love,
Related Posts