Happy New Year! What better way to kick the new year off than with Six Degrees of Separation. 
This monthly fun meme is hosted by Books are my Favorite and Best: On the first Saturday of every month, a book is chosen as a starting point and linked to six other books to form a chain. Books can be linked in obvious ways, for example: same authors, same era or genre, or books with similar themes or settings. Or you might choose to link them in more personal ways: books you read in the same holiday, books given to you by a particular friend or books that remind you of a particular time in your life. The choices are endless here! 
We are definitely making progress here as our starting point this year and month, is not only a book we've actually heard of before, it's also a book that is actually on our TBR shelf and by an author we've read before.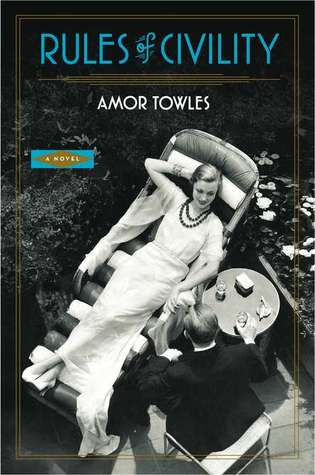 Rules of Civility
by
Amor Towles
Published by
Viking Adult
on 2011
Genres:
Historical Fiction
Pages:
335
Goodreads
This sophisticated and entertaining first novel presents the story of a young woman whose life is on the brink of transformation. On the last night of 1937, twenty-five-year-old Katey Kontent is in a second-rate Greenwich Village jazz bar when Tinker Grey, a handsome banker, happens to sit down at the neighboring table. This chance encounter and its startling consequences propel Katey on a year-long journey into the upper echelons of New York society—where she will have little to rely upon other than a bracing wit and her own brand of cool nerve. With its sparkling depiction of New York's social strata, its intricate imagery and themes, and its immensely appealing characters, Rules of Civility won the hearts of readers and critics alike.
My Mommy is a real little Miss Goody Two Shoes. A 43 year old one who loves rules and sticking to them. I think this year my only new year's resolution is to get her to break some rules and stop worrying about the consequences. What better way to start than with some magic.
1st Degree – Wizard's First Rule by Terry Goodkind
In the aftermath of the brutal murder of his father, a mysterious woman, Kahlan Amnell, appears in Richard Cypher's forest sanctuary seeking help . . . and more.

His world, his very beliefs, are shattered when ancient debts come due with thundering violence. In a dark age it takes courage to live, and more than mere courage to challenge those who hold dominion, Richard and Kahlan must take up that challenge or become the next victims. Beyond awaits a bewitching land where even the best of their hearts could betray them. Yet, Richard fears nothing so much as what secrets his sword might reveal about his own soul. Falling in love would destroy them—for reasons Richard can't imagine and Kahlan dare not say.

In their darkest hour, hunted relentlessly, tormented by treachery and loss, Kahlan calls upon Richard to reach beyond his sword—to invoke within himself something more noble. Neither knows that the rules of battle have just changed . . . or that their time has run out.

This is the beginning. One book. One Rule. Witness the birth of a legend.
Let's add some love to 2022.
2nd Degree – The forty Rules of Love by Elif Shafak
In this lyrical, exuberant follow-up to her 2007 novel, The Bastard of Istanbul, acclaimed Turkish author Elif Shafak unfolds two tantalizing parallel narratives—one contemporary and the other set in the thirteenth century, when Rumi encountered his spiritual mentor, the whirling dervish known as Shams of Tabriz—that together incarnate the poet's timeless message of love.

Ella Rubenstein is forty years old and unhappily married when she takes a job as a reader for a literary agent. Her first assignment is to read and report on Sweet Blasphemy, a novel written by a man named Aziz Zahara. Ella is mesmerized by his tale of Shams's search for Rumi and the dervish's role in transforming the successful but unhappy cleric into a committed mystic, passionate poet, and advocate of love. She is also taken with Shams's lessons, or rules, that offer insight into an ancient philosophy based on the unity of all people and religions, and the presence of love in each and every one of us. As she reads on, she realizes that Rumi's story mir­rors her own and that Zahara—like Shams—has come to set her free.
My Mommy really wants to read more non-fiction in 2022. She got two copies of Ann Rule's books for her birthday and I think we will start with this one:
3rd Degree – The Stranger Beside Me by Ann Rule
Utterly unique in its astonishing intimacy, as jarringly frightening as when it first appeared, Ann Rule's The Stranger Beside Me defies our expectation that we would surely know if a monster lived among us, worked alongside of us, appeared as one of us. With a slow chill that intensifies with each heart-pounding page, Rule describes her dawning awareness that Ted Bundy, her sensitive coworker on a crisis hotline, was one of the most prolific serial killers in America. He would confess to killing at least thirty-six young women from coast to coast, and was eventually executed for three of those cases. Drawing from their correspondence that endured until shortly before Bundy's death, and striking a seamless balance between her deeply personal perspective and her role as a crime reporter on the hunt for a savage serial killer — the brilliant and charismatic Bundy, the man she thought she knew — Rule changed the course of true-crime literature with this unforgettable chronicle
If you want to become a rule breaker, start by breaking the basic ones.
4th Degree – House Rules by Jodi Picoult
When your son can't look you in the eye…does that mean he's guilty?

Jacob Hunt is a teen with Asperger's syndrome. He's hopeless at reading social cues or expressing himself well to others, though he is brilliant in many ways. But he has a special focus on one subject – forensic analysis. A police scanner in his room clues him in to crime scenes, and he's always showing up and telling the cops what to do. And he's usually right.

But when Jacob's small hometown is rocked by a terrible murder, law enforcement comes to him. Jacob's behaviors are hallmark Asperger's, but they look a lot like guilt to the local police. Suddenly the Hunt family, who only want to fit in, are directly in the spotlight. For Jacob's mother, Emma, it's a brutal reminder of the intolerance and misunderstanding that always threaten her family. For his brother, Theo, it's another indication why nothing is normal because of Jacob.

And over this small family, the soul-searing question looms: Did Jacob commit murder?
If I don't persuade my Mommy to start breaking a rule or two here and here, she is going to end up being:
5th Degree – The Little Old Lady who Broke all the Rules by Catharina Ingelman-Sundberg
79-year-old Martha Anderson dreams of escaping her care home and robbing a bank. She has no intention of spending the rest of her days in an armchair and is determined to fund her way to a much more exciting life-style. Along with her four oldest friends – otherwise known as the League of Pensioners – Martha decides to rebel against all of the rules imposed upon them. Together, they cause an uproar with their antics: protesting against early bedtimes and plastic meals. As the elderly friends become more daring, their activities escalate and they come up with a cunning plan to break out of the care home and land themselves in a far more attractive Stockholm establishment. With the aid of their Zimmer frames, they resolve to stand up for old aged pensioners everywhere – Robin Hood style. And that's when the adventure really takes off . .
Okay, not to give her a complete heart attack on the first day of the new year, I will round this chain of nicely and bring the title of our post in again. This is definitely what she needs to do this year.
6th Degree – The Break by Marian Keyes
'Myself and Hugh . . . We're taking a break.'
'A city-with-fancy-food sort of break?'

If only.

Amy's husband Hugh says he isn't leaving her.

He still loves her, he's just taking a break – from their marriage, their children and, most of all, from their life together. Six months to lose himself in south-east Asia. And there is nothing Amy can say or do about it.

Yes, it's a mid-life crisis, but let's be clear: a break isn't a break up – yet . . .

However, for Amy it's enough to send her – along with her extended family of gossips, misfits and troublemakers – teetering over the edge.

For a lot can happen in six-months. When Hugh returns if he returns, will he be the same man she married? And will Amy be the same woman?

Because if Hugh is on a break from their marriage, then isn't she?

The Break isn't a story about falling in love but about staying in love. It is Marian Keyes at her funniest, wisest and brilliant best.
Do you have any New Year resolutions? How good are you at breaking the rules? Share your tips and advice! Oh and your Six Degrees chain, please.
Happy New Year you guys!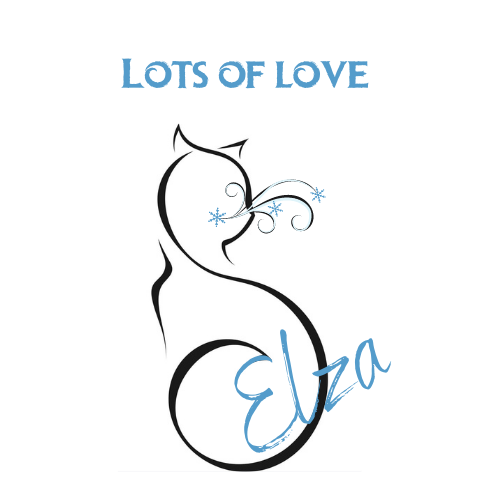 Related Posts