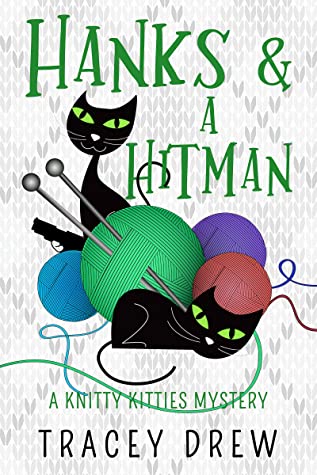 Hanks & a Hitman
by
Tracey Drew
Series:
Knitty Kitty Mystery #3
on April 19th, 2021
Genres:
Cozy Mystery
Pages:
276
Format:
ARC
Source:
Author's Copy
Buy on Amazon
Goodreads
Wanted: Cat mum to manage a yarn store, corral two curious cats, all the while being tangled up in murderous mayhem and mystery.

A smart woman would dump her cheating ex, move from the city, and give herself a chance for a well-deserved do-over. A smarter woman—smarter than me, anyway—wouldn't jump out of that same frying pan and return to Cape Discovery, a seaside village where her family is the nuttiest of all the nut-ball residents.

I'm a high school counsellor turned new owner of Unraveled, my granddad's yarn store in town. More exciting than a delivery of rainbow colored wool is the news of movie location scouts in the area, though not everyone believes all publicity is good publicity. Game on between landowners to secure such a lucrative deal.
I can't help being caught up in movie fever, until I stumble onto one of those landowners, face down in a kitty litter tray. Deader than dead thanks to an unknown assailant. With dating disasters aplenty both online and in-real-life and a hitman on the loose, things couldn't get much more murderously crazy in Cape Discovery. If only that were true…

Tessa Wakefield has her hands full juggling a cozy craft store, her crazy family, and two men who'd rather poke out their eyes than describe themselves as cute. Which they totally are. Cute, charismatic, and occasionally on her mind when she's not stumbling over dead bodies and using her newfound sleuthing skills to track down murderers. Lucky she's an excellent multi-tasker because digging beneath Cape Discovery's surface can unearth secrets that kill.
Greetings Humans! Yes, this review will come from my adorable and witty kitten perspective once again. My Mommy is just here to press the buttons, but this time, she doesn't get my tail in as many knots. What a lovely, hilariously funny series this is. Yes, yes, we do read
The Knitty Kitty
series as a knitting pattern – knit one, skip one. We've read the first one, skipped the second one and just finished the third one. It still makes a lovely pattern though. 
Tessa Wakefield still runs their family business "Unravel", a yarn shop, in Cape Discovery where eavesdropping is considered a competitive sport. Tessa still plays Mommy to Pearl and Kit while taking care of  Grandpa Harry too. Pearl and Kit are two jet-black kitty siblings. Kit is a chubby, food-focused boy and Pearl is the haughty queen of the Known Universe and prone to kleptomania. Tessa still runs the Serial Knitters and the Crafting for Calmness and is the other knitting club called Happy Hookers? Why can't I remember? I've told my Mommy a gazillion times before that she needs to take better notes. Anyway, back to Tessa. I don't know if it's still fair to call Tessa an amateur sleuth. She sniffs out clues and murders almost as well as she sniffs out chocolate. This has been her third murder that she stumbled on and I believe that firmly places her in the same league as Jessica Fletcher.* 
*Fun Trivia for the Knitting clubs! You can actually knit Jessica Fletcher's Fish Cardigan. I've linked the original post on Exploring Jessica Fletcher's Closet here. Don't know if the pattern is still available though. But I'm sure one of the Happy Hookers will be able to come up with a stunning design for their very own murder solving serial knitter.
Once again, Tessa finds herself in the right place at the wrong time, or the wrong place at the right time and once again she needs the broodingly handsome Detective Mana to help her unravel the yarn. Or in this case, search for a knitting needle in a stack of kitty litter. 
This series truly  are quite similar to landing in a basket filled with fluffy, soft balls of yarn. Yes, you are definitely going to get yourself tangled up, but getting out is just as much fun as getting in. And what's the harm when you can do that giggling at the quirky and fun writing style of Tracey Drew? 
"Who needed boot camp to elevate your heart rate into the fat-burning zone when you could have a killer chase you through the woods?"
I'm terribly glad that my Mommy won this ARC from the very talented
Nancy
  Tracey Drew and we are looking forward to the rest of the series. The first three books are available at Amazon and if you haven't started with this series yet, put down the knitting needles and get reading!
Tracey Drew lives Down Under with her husband—who's given up complaining about her yarn addiction–and two madcap tabby cats called Kevin and Alfie. The feline brothers constantly battle with her while she's trying to write her books by demanding lap-time, but they also provide constant inspiration for her fun & quirky cozy mysteries.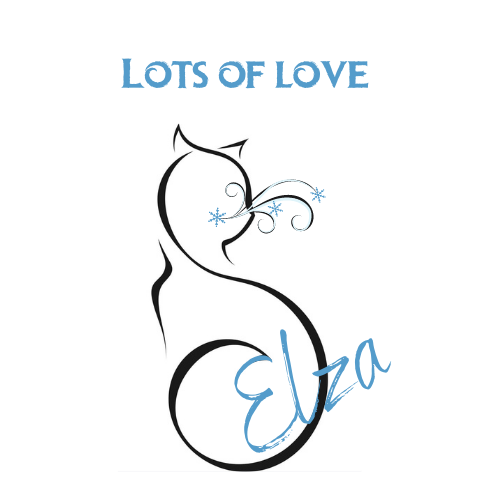 Related Posts