Little Women: Mermaid Edition
by
Megan Lois Whitehill
on August 24, 2022
Genres:
Fantasy
Source:
Lola's Blog Tours
Buy on Amazon
Goodreads
A timeless classic heads under the sea…

A retelling of Louisa May Alcott's classic, Little Women: Mermaid Edition takes the story of Jo, Meg, Beth and Amy, and spins it into a fantastical story of merfolk under the sea. Follow the young mergirls as they grow up in a world of talking walruses, seahorse rides, and the mysterious merboy next door.

Will the four mermaid sisters find everything they aspire to in the Deep Ocean? Or will poverty and shabby shell corsets keep them from their dreams?

True to the beloved classic, the Mermaid Edition tackles complex themes of growing up, social pressure, falling in love for the first time, and embracing sisterly love.

Complete with original illustrations, this retelling is perfect for longtime lovers of Little Women and new readers alike. It's a thoughtful gift idea for mermaid enthusiasts and Louisa May Alcott fans ages 11 and up.
I am utterly in love with my UBB Plug-in that pulls all the book info through so nicely. But for this book, I am going to add the cover again and blow it up for you.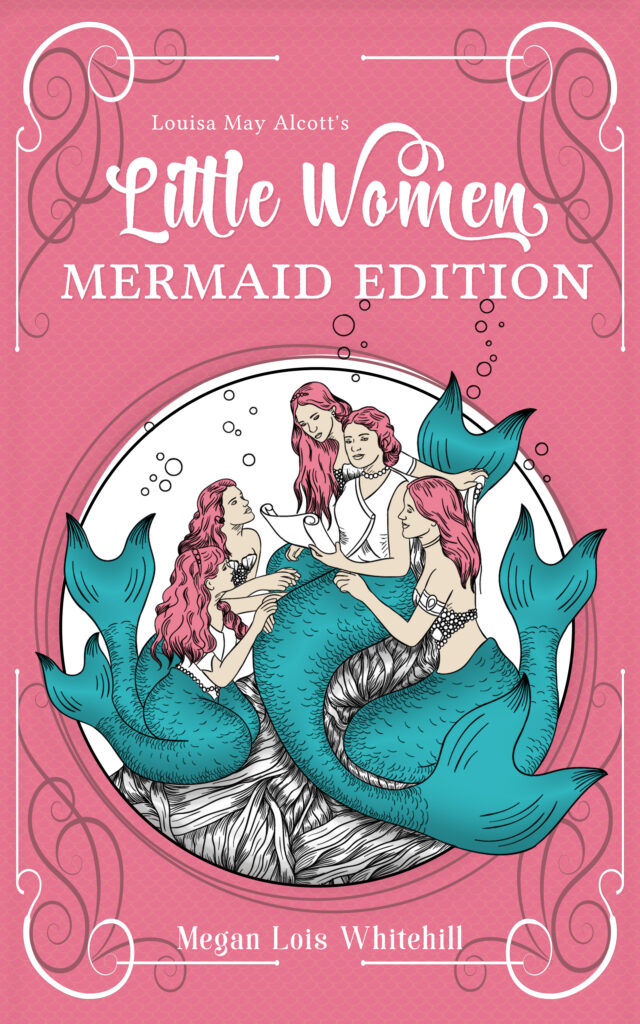 And there they all are. Jo, Meg, Amy, Beth and Marmee Marsh in the Deep Ocean. If any of those names seem familiar to you, you are quite right and no, I did not make a spelling mistake. This is just another dimension that the March sisters find themselves in. And who says we don't all have a mermaid version?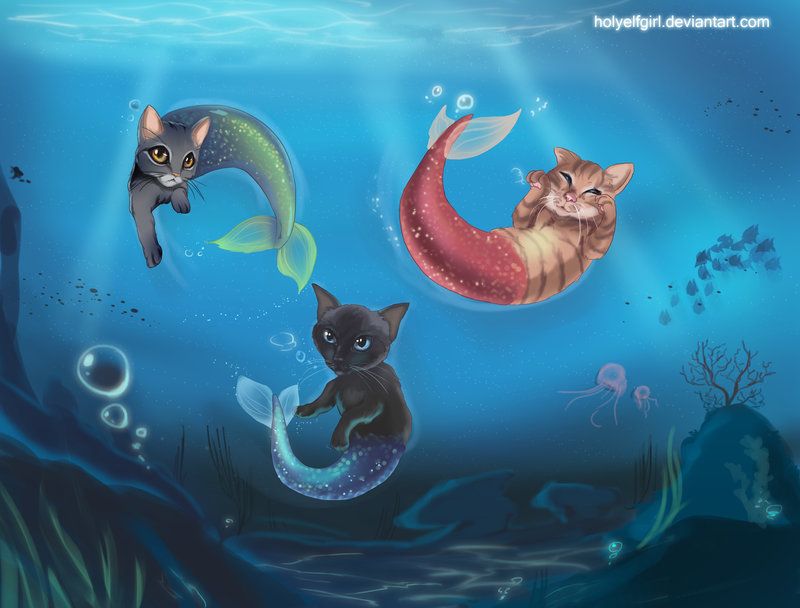 They are all still more the same than you would expect. Jo, who now sports a lovely braid of lavender hair, is an avid scroll-worm. Meg, the eldest of the 4 sisters, are as pretty as ever with her violet eyes and soft salmon-pink hair. Beth is a russet-haired, blue-tailed mergirl of thirteen. And Amy, the youngest, with her crystal-white eyes (that sounds creepy, but under the sea, it is gorgeous) and yellow hair, is still the most important person in her own eyes.
Oh I love mermaids and mercats and think this book is such a brilliant edition to the Little Women collection. My Mommy is a primary school librarian and she says that the original classic is still very popular with the middle grade girls, but can you imagine how they will freak out when they see this version? The whole story remains the same, the lessons are still in tact and the characters are still highly relatable to any girl who wish to associate with these classic girls. The only thing added, is a mermaid tail. And that is always an added bonus.
Just like you humans have treasured this beloved classic tail tale, I'm sure the Merfolks will treasure this version for many years to come. I just loved how the author flipped everything to the sea and mermaid-style. I think she did a wonderful job and paid respectable homage to the classic novel. I would advice you to read the author's note at the end of the story as well for a more in-depth understanding.
Mermaids and Mercats are caring creatures and just to show how much we care about you, I will share and excerpt from the first chapter with you today:
"Christmas won't be Christmas without any presents," grumbled Jo. She nestled
down into her seaweed cushion on the floor.
"It's so dreadful to be poor!" sighed Meg, looking down at her shabby shell
corset.
"I don't think it's fair for some mergirls to have plenty of pretty things. Not while
other mergirls have nothing at all," added little Amy, with an injured sniff.
"We've got Father and Mother, and each other." Beth gave thanks from her
alcove in the wall.
The four young faces on which the deep sun crystals shone brightened at the
cheerful words. They darkened again as Jo moaned, "We haven't got Father, and will
not have him for a long time." She didn't say "maybe never," but each silently added it,
thinking of Father far away, where the fighting was.
Nobody spoke for a minute. Then Meg said, "You know the reason why Mother
proposed not having Christmas presents? It was because it is going to be a hard Cold
Season for everyone. She thinks we ought not to spend sand dollars for pleasure, when
our merpeople are suffering so in the army at the Abysmal Trench. We can't do much,
but we can make our little sacrifices, and ought to do it gladly. I am afraid I am not glad
at all." Meg hugged her tail, as she sorrowed over all the pretty things she wanted.
"But I don't think the little we should spend would do any good. We've each got a
sand dollar, and the army wouldn't be much helped by our giving that. I agree not to
expect anything from Mother or you, but I do want to buy The Flounder and the Feather
Star scroll for myself. I've wanted it so long," said Jo, who was an avid scroll-worm.
"I planned to spend mine on new music," said Beth. She gave a little sigh, which
no one heard but the sea-flowers blooming in the wall pots.
"I will get a nice bottle of squid ink. I need new colors so much," said Amy. Squid
ink was the only ink that worked properly underwater, and good quality was difficult to
come by.
"Mother didn't say anything about our sand dollars, and she won't wish us to give
up everything. Let's each buy what we want and have a little fun. I'm sure we work hard
enough to earn it," cried Jo, toying with her long braid of lavender hair.
The conversation stilled, and the four sisters nestled down, weaving away in the
glow of the deep sun crystals. The Cold Season currents made sloshing noises outside
their cave dwelling's thick walls. Slosh and crash as they might, they could not get in.
Only the warmest, most cheerful water swirled in their parlor. It was a comfortable room,
though the seaweed cushions were knotted and the coral fixtures faded. The walls were
natural cave-gray, as was the fashion among the merfolk. Merpeople were colorful
creatures who collected colorful baubles, corals and jewels and shells. They considered
their colors even lovelier in contrast to the dark walls. In the case of the Marsh
merfamily's cave, their decorations needed all the contrast they could get. Their coral
baseboard, once vibrant magenta, had long since faded to a pastel blush.
Of course you want to read it immediately now. Luckily for you, it is available on Amazon already!
About the Author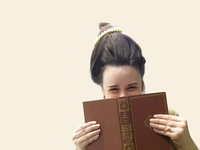 Driven by wild curiosity, Megan can't stop making up imaginary worlds. Nor can she stop traveling. She's visited over 14 countries, soaking in their histories and legends. She holds a Master's Degree in Applied Linguistics, and—quite frankly—loves words. When she isn't writing, you'll find her enjoying a sauna, over-thinking movie plots, or restoring vintage teddy bears. She lives in Pennsylvania with her loving husband and two parakeets.
Author links:
– Website
– Facebook
– Pinterest
– Newsletter
A huge thank you to Lola @ Lola's Blog Tour for sending us a copy of this book and for the opportunity to write a review. The image below will take you directly to Lola's page to see what Tours and Books she currently have available.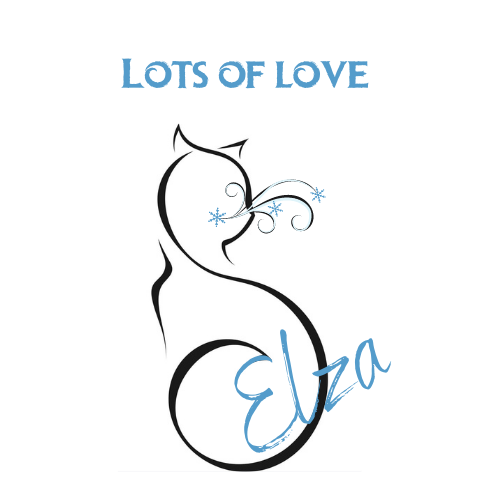 Related Posts