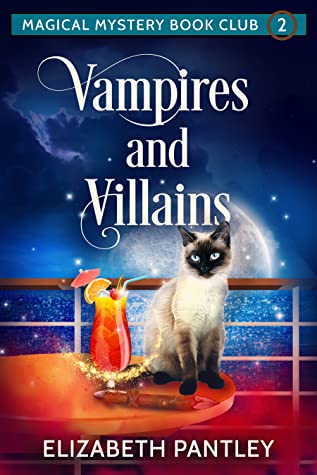 Vampires & Villains
by
Elizabeth Pantley
Series:
Magical Mystery Book Club #2
Published by
Better Beginnings Inc
on September 3rd, 2022
Genres:
Cozy Mystery
,
Fantasy
Pages:
250
Format:
ARC
Source:
Author's Copy
Buy on Amazon
Goodreads
Paige and her joyful Aunt Glo have learned that the home they inherited comes with a magical library. They put together a book club group of loveable kooks to explore the magic. They've recovered from their first book journey, and they all agree on their next book which takes place on a cruise ship bound for Hawaii. Problem is, they were so excited about the cruising idea that they didn't read the entire blurb on the back of the book. ("It was entirely too long," explains Zell.) Once on the ship, they meet a charming and likeable man who blends seamlessly into their motley group. Too bad they don't know why he's so scarce during the day but shows up to join them every evening for dinner, drinks, and a show. When a dead body shows up on board, their new friend is labeled a suspect. Can they help him out by finding the real murderer? Or is he the real murderer? The book club will need to solve the case to get off the ship, out of the book, and back to their home.
Greetings you guys! Just give us a second to find our land legs again. We've just returned from our latest adventure with Frank, Paige, Glo and the rest of the magical Book Club. Yup, you've guessed it – we went cruising the seven seas and surfing in Hawaii. Okay, I am making the surfing and the seven seas up. But it might just as well have been with all the fun we've had.
First of all, let's talk about our rating of 3.5 stars. As you know, Elizabeth Pantley is our favorite feline author in the whole wide world. With the hit Destiny Falls Mystery & Magic Series under her pen and the first in her new Magical Mystery Book Club Series being a huge hit with us, why do we now only give her latest instalment 3.5 stars?
Vampires. We don't like Vampires. Not even when Elizabeth presents them in a fun and alluring way.
Ratings are biased. No matter how hard we try to tell ourselves it's not, it is. Reading by itself is a biased act and I can't remember who the clever human was who said no two people will ever read the same book. And luckily we know that it's precisely these creatures we don't like that will place Vampires & Villains on the best sellers list.
But let's take a look at what we still liked and loved about the latest instalment of the Magical Mystery Book Club. 
The Snapdragon Inn and its magical ability to travel with the members of the Book Club. Gosh, we would love to have our house travelling with us. Yes, even on a luxurious cruise ship
The newest member of the Book Club, Maximillian Bettencourt the third, aka Million.
The quirky banter between Million and Zell.  Elizabeth sure does know how to create fun, tongue in the cheek dialogue
The development of all the previous characters. Especially Forrest. We are rooting for you, young man!
The geographical and historical lesson on Hawaii. In her clever and informative writing style, Elizabeth took us on fieldtrip to Hawaii. I've learned quite a bit and if she would quiz me, I'm sure I'll get a gold star.
Frank. The gorgeous, talking Siamese who solved the mystery all by himself. The humans were too busy enjoying the cruise and Sherlock Frank had to solve the murder mystery without any help, not that he needed it.  *If you want to know if this statement is true, you will have to read the book.
The reading material Paige brought along on the cruise. Perfect summer holiday read!
Even with only a 3.5 rating, this was still an enjoyable read and you will sit with a permanent smile plastered on your face while reading this one. This series is a cozy mystery with a double shot of humor and fun. Finding the clues, drafting a list of subjects and seeing how the Book Club goes about doing this, was way more entertaining than solving the murder mystery. Once again, those dreadful creatures involved with a murder mystery, just didn't do it for us. Although it was actually a very clever plot…
This might not have been our favorite instalment in the latest series by the magical Elizabeth Pantley, but if you take a look at some of the other reviews, you will see that we are in the minority here. And we are very happy about that! We can't wait for the third one! Yes! There will be third one and if the title is anything to go by, we are already packing our bags to travel with. A cowboy hat and boots might come in handy….
About the Author
Elizabeth Pantley is the international bestselling author of The No-Cry Sleep Solution and twelve other books for parents, published in over twenty languages.

She simultaneously writes the well-loved Destiny Falls Mystery & Magic book series and the new Magical Mystery Book Club series.

Elizabeth lives in the Pacific Northwest and is the mother of four and Nana to one. Visit her and sign up for her newsletter at www.nocrysolution.com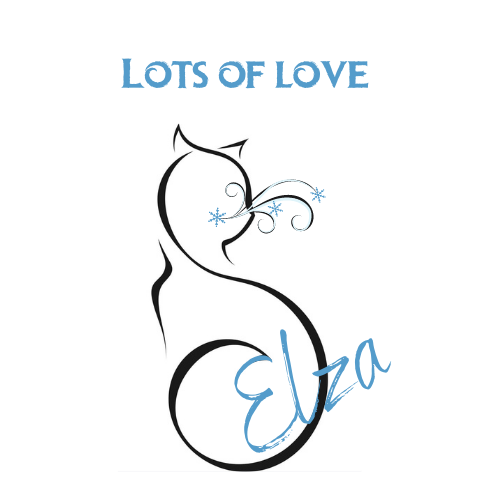 Related Posts