Greetings dear Humans! Today's Top Ten Tuesday prompt is all about Thanksgiving. That time of year where you should give thanks for everything you have in abundance, or even just a bit of. Here in South Africa, we don't celebrate Thanksgiving. This year, however, from a feline's point of view, I do believe that all of humankind should celebrate Thanksgiving. If you are safe and healthy and all your loved ones too, you should celebrate it. It doesn't matter what country you are from, or what your religion is.
It's not too difficult to find things to be thankful for. Just think of all your favorite things! Like:
1. Raindrops on roses – We should always be thankful for the rain. No matter where it falls. But it sure does look pretty on roses.
2. Whiskers on kittens – Let's just be thankful for kittens in general. How dull the world would have been without us.
3. Bright copper kettles – If you have a bright copper kettle, it means you are able to feed yourself, your family and of course all your fury friends. Not everyone is as fortunate.
4. Warm woolen mittens – If you are fortunate enough to have warm woolen mittens, you are truly blessed. My Mommy doesn't even have a pair of gloves. Maybe that's because we don't need it where we live. But if you do have an extra pair, or a nice pattern to knit a pair with – why not go and drop it at a shelter for those who are not as fortunate. While you're at it, why not drop a blanket or two at your nearest animal shelter as well.
5. Brown paper packages tied up with strings – I think for everyone who wasn't that much into online shopping before the Covid 19 outbreak, these brown paper packages are a real blessing. If they contain books, you are blessed beyond measure. Or do you also consider those packages as necessities?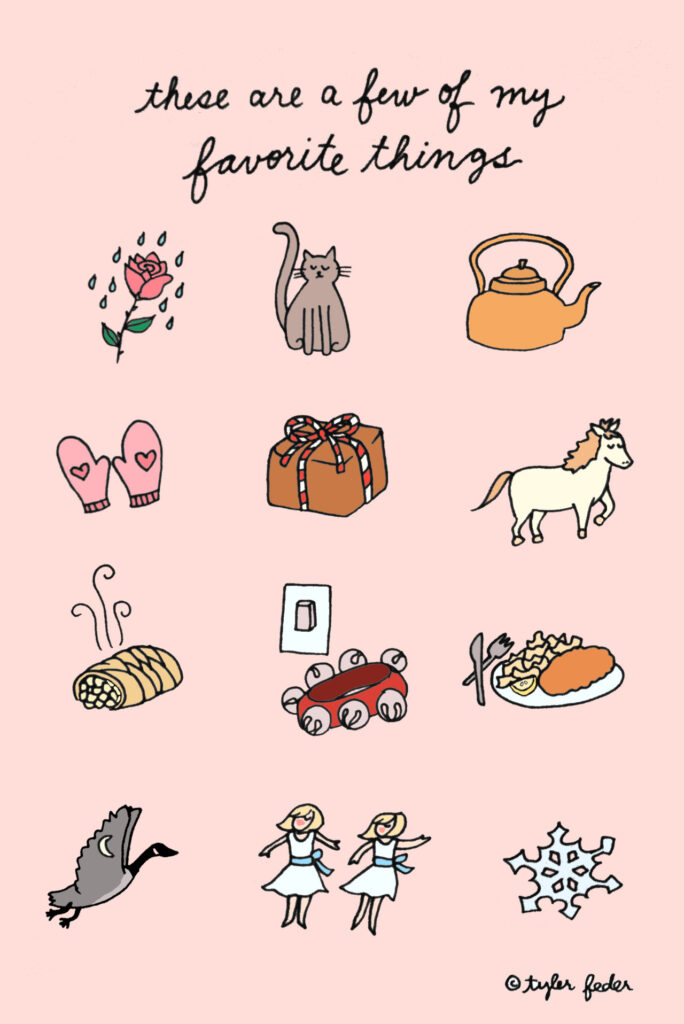 (If by now, you know what song I'm using, I am skipping a few lines here and there)
6. Doorbells and sleigh bells – If your doorbell rings, it means your country is safe enough so that you can have friends and family over for visits. I think after the recent Covid Epidemic, we will never take that for granted again. Sleigh bells, neither me or my Mommy has ever seen snow. Never mind be on a sleigh. Is it as much fun as it sounds?
7. Schnitzel with noodles – Some people are thankful for a just a bit of chicken stock and a piece of bread. Some cats need to eat no-name brand cat food, or whatever they can dig from the dustbin. If you can gather around the Thanksgiving table this weekend and feed your cat a tin of Fancy Feast, please bow your head for just a second and say Thank You.
8. Wild geese that fly with the moon on their wings – If you can wander outside into nature and appreciate all the wonders of creation, you are so fortunate. You don't need to have pretty decorations or a fake Christmas tree to stand in awe. Just go stand outside and watch the sun or the moon rise above the treetops. Now isn't that a beautiful picture? But I sure am excited for that fake tree and the pretty decorations that are being put up as soon as school closes.
9. Silver white winters – "And there won't be snow in Africa this Christmas time. The greatest gift they'll get this year is life." Oh what my Mommy will give to just have one Silver White Christmas. Yes, it's wonderful to have Christmas under the African sun. But there is just something magical about a silver white Christmas. If you get to experience that, think of those who would love a bit of that magic.
10. That melts into Spring – It's Spring time in Africa. New life is blossoming all around us and the rain has come. Spring brings hope for a better future. May you never forget the power of hope. Cling to it with all your might. Like a kitten clinging to a Christmas tree just before it topples over.
May you all have a wonderful, blessed Thanksgiving. What are you thankful for this Thanksgiving?
Lots of Love and Blessings,

Related Posts