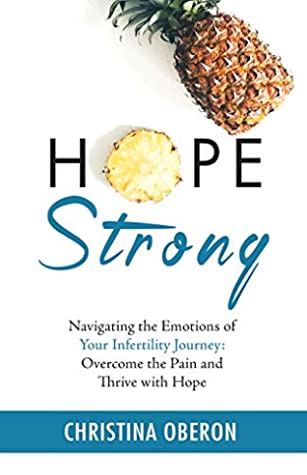 Hope Strong
by
Christina Oberon
on August 10th, 2019
Genres:
Memoir
,
Self-help
Pages:
154
Format:
eBook
Source:
Travelling Pages Tours
Buy on Amazon
Goodreads
For 10 percent of women worldwide, the road to motherhood is bumpy, painful, and heartbreaking. For some, it can cause a complete collapse of emotions. This is the reality for those plagued by infertility. In this book, Christina Oberon will help you discover that infertility does not define you! She helps guide you through the rollercoaster of emotions that infertility brings, so you can find inner joy, which rests on hope.

The more confident you are in your expectation, desire, and anticipation of God's promises, the stronger you are able to carry hope through your storms. Hope brings you closer to your dreams by altering your mindset to focus on the possible, rather than the impossible, and rests firmly in that belief. The words on these pages will open your heart and mind to view your infertility journey in a new light, one that offers strong hope instead of deep despair.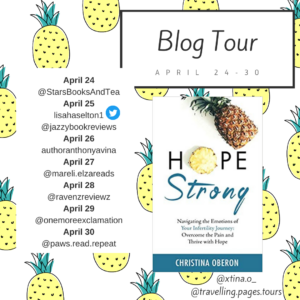 Welcome to our stop during the blog tour for Hope Strong & Embaby Elio written by Christina Oberon. This tour runs in conjunction with infertility awareness week.
Infertility is one of those subjects that everyone is aware of, but no one really talks about. Somehow, in this enlightened age and time that we live in, it still remains a taboo subject. As Christina says in her book blurb, for 10% of women worldwide, the road to motherhood is everything but smooth sailing. It's not a choice that any women who longs to be a Mother, will ever choose for herself. But sometimes life hands you a deck of cards and you need to decide if you are going to play or not. That choice does remain yours and yours alone.
Searching for statistics on Google, is like searching for the proverbial needle in a haystack. But if I interpret the statics correctly, around 9% of the 10% women who struggle with infertility, does seek help and opt for fertility treatments. Believe you me, this is no easy journey and making the choice to embark on this road and sticking it through, is a humongous undertaking. I know, I've been travelling for 9 years this May.
So what does make us do this in the first place? The longing for a baby in your arms and the pitter-patter of little feet in the corridor? Afterall, procreation is the strongest instinct of any living species that wish to evolve and flourish.  Yes, I believe instinct does play a very huge part in this, but for humans, it goes beyond that. It's having faith in that what we can't see yet and to hope in a God that never, never forsakes his children and Who holds every tear in His hand with the power to answer a Mother's prayers.
As Christians, we believe in the power of Faith, Hope and Love. For a woman on an infertility journey, nothing is stronger than Hope. That is what I've enjoyed most about Christina's book, her unyielding faith in hope and and how it carried her through her own 4 year struggle with infertility.
Every day you wake up with hope and you're blessed to feel this emotion. Hope is your best friend, walking with you on this infertility journey. Hope is often the hardest emotion to hold onto, especially when you need it the most. If human beings didn't have a sense of hope about anything at all, then we wouldn't be a motivated race. The hope that you hold during the infertility process is the most important thing that will get you to the end.
Thank you for sharing your story with us, Christina. As you've rightly said in your book – sometimes you feel as if you are the only person on the planet who is on this journey.  Your book is a beautiful companion, guideline and beacon of hope on this path.
Christina also wrote the most adorable little book, Embaby Elio for ages from ages 2 – 5. But I will recommend this lovely little book with such beautiful graphics, to every Mommy and Daddy who are undergoing IVF. This sweet tale gives "life" to our little embryos and as the saying goes – "Where there's life, there's hope."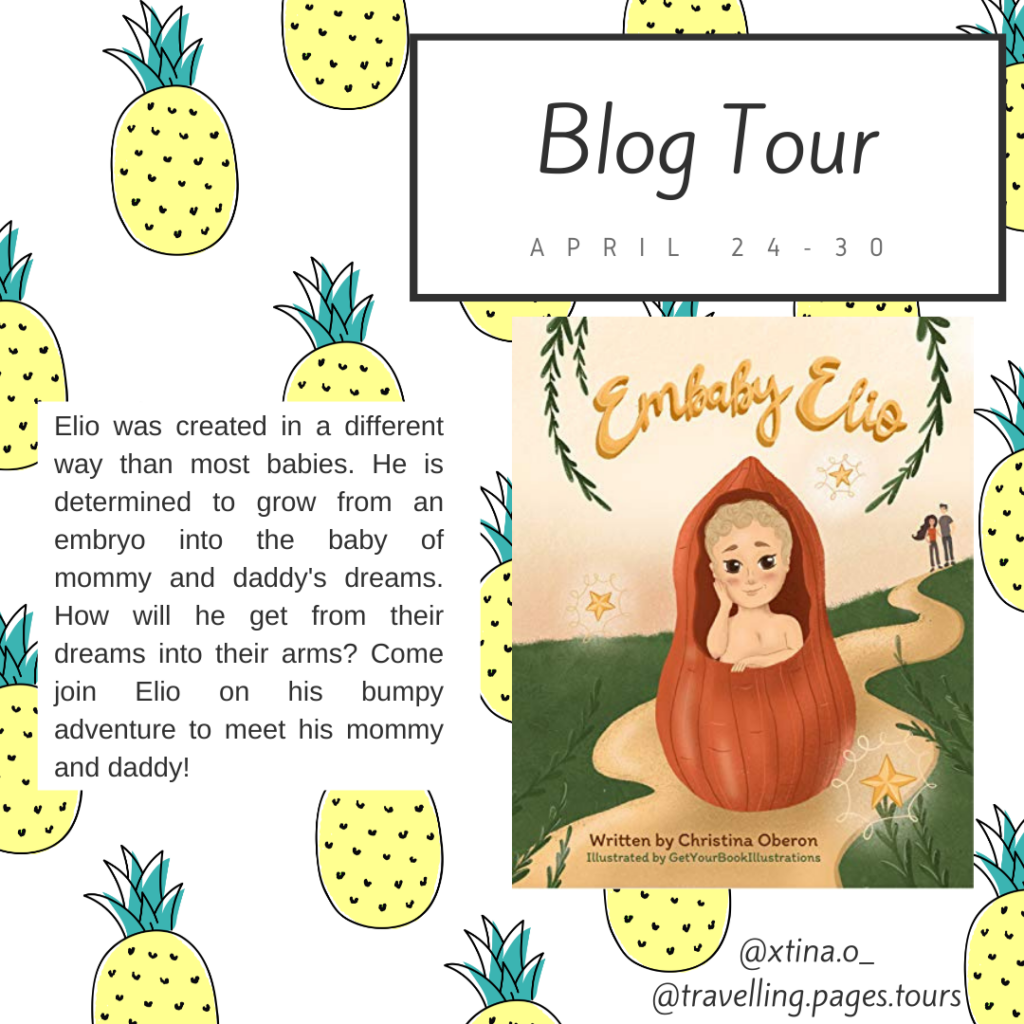 Thank you to Jenn at Travelling Pages Tours for inviting me on this tour and for providing us with a copy of both these inspiring reads.
Related Posts