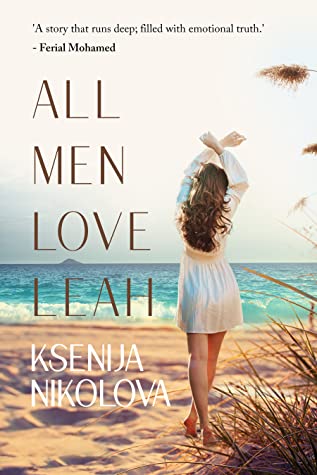 All Men Love Leah
by
Ksenija Nikolova
Published by
Kingsley Publishers
on August 24th, 2021
Genres:
Contemporary
,
Thriller
Pages:
250
Format:
ARC
Source:
Lola's Blog Tours
Buy on Amazon
Goodreads
All Enzo wants is a reason to believe it's all worthwhile. Stuck in a world that doesn't fulfil
him, he meanders through his days feeling empty, lost, and left out of the real world that is
moving by without him. He is cynical but gifted, and when he meets the beautiful and
enigmatic Leah she turns his universe upside down.
Leah and Enzo are exact opposites, but she is drawn to his darkness just as he is drawn to her
light. She is a woman who lives by her own expression and challenges his dismal character
down to its most frightening corners, awakening in him something he didn't know he had the
capacity to experience.
But everything is not what it seems. There is a secret that threatens the happiness that Leah
represents in Enzo's life. She is the one who embraces his flaws and uncovers his bravery by
teaching him to love, and for the first time in his life he feels like a real man, but in the end,
will Enzo survive Leah's heartbreaking truth?
Greetings you guys! Welcome to our stop on the Book Blitz of All Men Love Leah by Ksenija Nikolova. We are very excited to be part of the blog tour for this gorgeous Macedonian Author's first book to be published in English.
This Book Blitz is organized by our favorite Tour Organizer, Lola @ Lola's Blog Tours. The Blitz runs from 26 – 30 November 2021 and you can find the tour schedule here
I have no idea if my Mommy actually signed up to review this book as well, if she didn't, I think I'm going to get it for her for Christmas! If you want to be as clever as I am, you can find your copy for the perfect Christmas Gift here: Buy All Men Love Leah as the best Christmas Present
About the Author:
Ksenija Nikolova is a Macedonian fiction author and she has been writing since she was little.
Her books abound with emotions, where characters' internal lives and battles are deeply
described. She uses her voice in her books, to raise mental health awareness and to diminish
discrimination and narrow thinking.
She is the author of six books, and "All men love Leah" is her first book translated and
published in English language. She says she wrote this book in her darkest moments, but also
it was this book that brought such light to her life.
Thank you Lola for inviting us on this Book Blitz! Take a look at our Instagram Page as well and visit the other Tour Participants to find out more about this compelling romantic thriller.
Related Posts