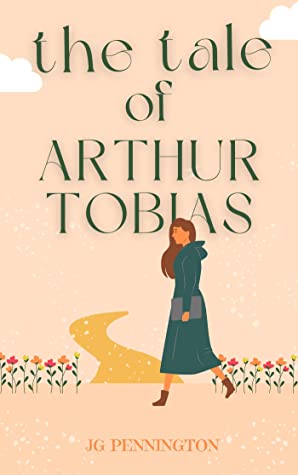 The Tale of Arthur Tobias
by
JG Pennington
on June 20th, 2022
Genres:
Historical Fiction
Pages:
270
Format:
ARC
Source:
Reedsy Discovery
Buy on Amazon
Goodreads
Since graduating from Hamilton, Maxine Hauser exists to pack up the past lives of some of New York's Jewish elite. It's business as usual until she is hired to box up the former home of Francis Tobiah.

While packing away his earthly possessions, Maxine discovers a similarity in her client and best-selling author, Arthur Tobias. Maxine picks up Arthur's best selling work, Sarah, and is transported back to walking in the shoes of a young, single, mother navigating a new country during World War II.

Through reading Sarah, Maxine makes it her mission to not let Francis' identity or his mother's story die with him.
The Tale of Arthur Tobias is about a young Jewish woman, Maxine Hauser who runs a successful business packing up the lives of New York's Jewish Elite when they pass away and the family, or Estate Executors, do not know what to do with their possessions and memorabilia.
Just from that sentence and the synopsis of this book, the reader already expects a historical novel and a life story worth sharing.
When Maxine is asked by a Francis Bernard Tobiah's lawyer to pack up his house and donate everything as she sees fit, Maxine quickly draws a connection between her latest client and a best selling Jewish author, Arthur Tobias. Arthur Tobias's greatest work, is a novel called Sarah, based on the true life events of his mother's immigration from Hungary to New York in the late 1930's.
Following the story within a story trope, the book aims to tell the story of Maxine as she tries to pay homage to the author, Arthur Tobias and his mother, Sarah's legacy.
What this book is not, is The Tale of Arthur Tobias. I so wish to have known more about Arthur and even though he was the author of Sarah, Sarah's tale is told through her voice and not Arthur's.
This book reads more like a memoir written by Maxine on her day to day comings and goings during the period since she first received the call asking her to pack up Francis Tobiah's house. With numerous different storylines revolving around her own life, new friendships and her family dynamics, the story of Arthur Tobias, took a bit of a backseat.
I did enjoy the historical background, especially the parts of Sarah's family's struggle to leave Hungary when the Second World War hit Europe. The ending of this tale does leave the possibility of a second novel involving Maxine and her future clients who all have a story to tell.
Thank you to Reedsy Discovery for providing us with a copy of this novel and for giving us the opportunity to review.
Related Posts