Greetings you guys! It's our last Friday before school starts again on Monday. I can't believe our holidays are over… It feels as if we haven't done anything but migrate from Blogger to WordPress. I guess most migration journeys does take some time and we are ever so happy in your new destination. Some unpacking and sorting still needs to be done, but we will get there. But not today. Today we will curl up with great book and just relax a bit.
*Yea right. As soon as my Mommy press "publish", she is going to find something else that she just quickly wants to tweak. Mark my words. 
We are busy reading the most wonderful review book that we received from The History Quill Book Club. Think Cabaret, 'Allo 'Allo, Moulin Rouge ….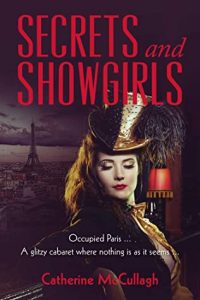 Secrets & Showgirls
by
Catherine McCullagh
Published by
Big Sky Publishing
on 03 February 2021
Genres:
Historical Fiction
Pages:
360
Format:
ARC
Source:
The History Quill Book Club
Buy on Amazon
Goodreads
Le Prix d'Amour, a vibrant Paris cabaret, is caught in the crossfire of the occupation. Everyone is being watched, and some of Le Prix's colourful performers are hiding dangerous secrets. Monsieur Maurice manages Le Prix d'Amour, a successful Parisian cabaret, which boasts glitzy performers and sassy showgirls. But with the German occupation in June 1940, Maurice treads a fine line between his German patrons, the French police and the Gestapo as he hides the dark secrets of his performers. Two of his lively showgirls, Lily and Poppy, soon join Maurice in the hunt for an informer who threatens to betray them. With the Allied landings, the tension builds and Maurice is pushed to his limits as his performers finally take the fight to the invader in their own flamboyant way.
Secrets and Showgirls portrays an occupied Paris in which exotic cabarets existed uneasily under the heel of the invader. It follows the antics of Maurice, Lily and a glittering array of characters, but never loses sight of the battle to survive that characterised the life of the everyday Parisian.
Yes, it really is as good as it sounds. Let's share some snippets from this fabulous book by linking up with a few beloved Weekend Book Friends.
For our first stop, we will pay a visit to Gilion over at Rose City Reader to share our Book Beginnings.  Every Friday you can link up and share the first sentence of your current read (or the one you plan to devour over the weekend), as well as your initial thoughts and impressions. Hashtags are the one thing I do know on social media, so simply #bookbeginnings so we can find each other. Secrets and Showgirls open with the following lines:
She was tall, lamp-post thin and slightly giraffe-like as she gazed up at the lifeless neon sign. 'Le Prix d'Amour' she read aloud to no-one in particular, her freckled nose wrinkling its incomprehension, 'the price of love'. She stopped and stared, dropping her bulging tapestried carpet bag and tatty, overstuffed suitcase on the pavement at the front of the building as she studied the sign. 'So what is the price of love?' she asked, as if expecting the premises to explain itself.
Just to clarify, this is not a love story. Or not only a love story. It's more about friendship, believing in a common course and hiding each others secrets and flaws.
We are only at about 41%, so the next snippet, we will have to choose randomly. Our next visit will be to Freda over at Freda's Voice who hosts the Friday 56. Don't show up empty handed though!
Grab a book (Yes, any book. But it might get you to your other Friday 

activities a bit quicker if you just grab the book you are currently reading)

Turn to page 56 or 56% on your e-reader

Find a sentence or two (your other Friday activities might determine this)

Post it!

Remember to post your link on Freda's Voice and to visit the other guys in the linky.
And  last but not least, don't forget to list the title of the book and the author as well.
Half an hour later they were still the best part of three kilometers form Le Prix. They began to walk in the shadows, ducking into alleyways and skirting doors and entrances in case they needed somewhere to hide quickly. Crossing the street was the most dangerous proposition. It was a dark, moonless night, but that was less than reassuring as the girls had no idea who might be lurking in the various doorways and entrances as they passed. They moved quickly and nimbly, grateful now for the athleticism that was a prerequisite of their profession.
There are so many brilliant elements we enjoy about this book. My Mommy is sometimes laughing out loud at the showgirls' crazy antics even in Occupied France, but the seriousness of the Occupation also do not go unnoticed. We can't wait to finish reading this one so that we can tell you all about it.
Just before we go and enjoy our latest read, let's quickly hop over to Billy for the Book Blogger Hop.
The Book Blogger's hop's purpose is to give bloggers a chance to follow other blogs, learn about new books, befriend other bloggers, and receive new followers to your own blog. Every week, there will be a prompt featuring a book related question. It's hosted by
Ramblings of a Coffee Addicted Writer
 and I guess he hops around like a bunny due to all the caffeine. Hence his name.
Today's question: 
What Spooky creature and/or setting do you never get tired of reading?
Question submitted by Nicci @
Sunny Buzzy Books)
Oh that's an easy answer. A gothic old house. If it's set on a cliff, even better!
Our last stop for today is all about me. I have to sit up with all this editing and and tweaking and not get enough time to read, so my Mommy can really dedicate one small part of her post to me.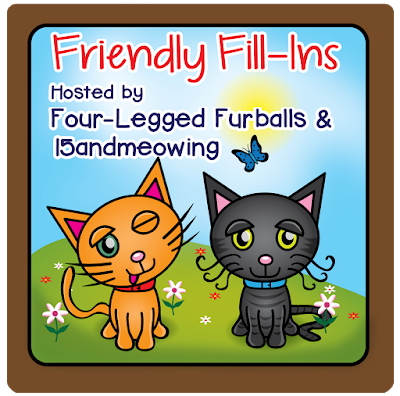 I love doing the Friendly Fill-Ins. It's a lovely way to link up with fellow blogger and a few feline friends. Friendly Fill-Ins is hosted by 15 and Meowing and Four-Legged Furballs. They come up with a couple of sentences, and then you have to fill in the blanks. This week's questions will of course be answered by yours truly. My answers are the bold and italic type.
1. I wish I could train Daddy to feed me when Mommy isn't here. (what is so difficult about feeding a hungry white kitty? It's not as if I don't let him know that there's a problem. I curl around his legs, I meow, I purr, I jump on the counter. Really?)
2. I am planning to get all our previous book reviews up on the new blog for my own sanity. (My Mommy's nagging is worse than a street cat trying to make a new friend at 03:00 in the morning. Let's just get this done)
3. I know it's time to nip the Bravecto when Mommy finds a tick on Stinkie. (Spring and all its accompanying creatures are here)
4. I felt brave when I convinced my Mommy to migrate. (Let's just say I have no regrets)
What are your weekend plans? What's waiting on your reading shelf? Is it a book with a gothic house on a cliff? Oh do share it with us!
Have a wonderful weekend!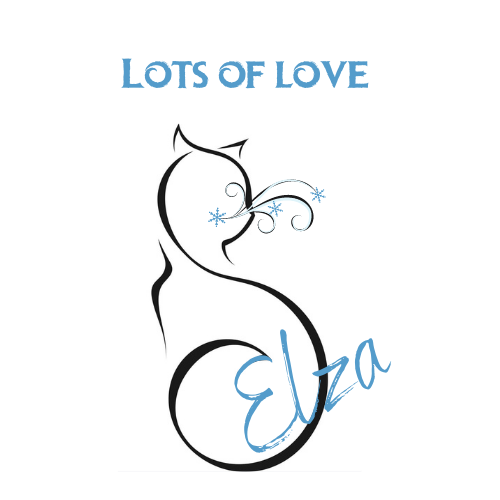 Related Posts