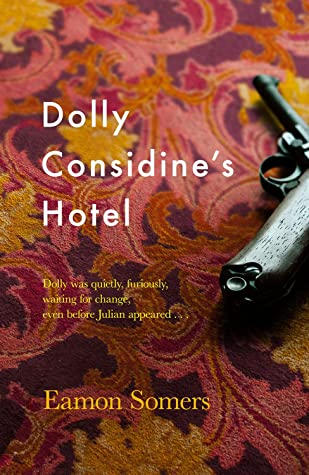 Dolly Considine's Hotel
by
Eamon Somers
on July 8th 2021
Genres:
Historical Fiction
Pages:
320
Format:
ARC
Source:
Travelling Pages Tours
Buy on Amazon
Goodreads
Dolly Considine runs a late-night drinking establishment catering to the needs of thirsty politicians and theatricals in Dublin's legendary drinking area, the Catacombs.

Julian Ryder (aka Paddy Butler) is an eighteen-year-old aspiring writer in need of shelter from his bullying older brother.
As the new live-in lounge assistant at Dolly Considine's Hotel, Julian soon embroils himself in the shebeen's gossip – and the guests' bedsheets – and turns Dolly's entourage into fodder for his literary ambitions. Reality quickly becomes difficult to separate from fantasy…
Set against the run-up to the Pro-life Constitutional Amendment of September 1983 and moving fluidly between the 1950s of Dolly's youth and Julian's Summer of Unrequited Love, the hotel becomes a stage for farce and tragedy.

Between Julian's fictions, Dolly's Secrets, and narrow party politics – and featuring a papier-mâché figure of Mother Ireland giving birth and clashing sword-wielding dancers – this rich cocktail threatens to blow them, and even Ireland itself, wide apart.
Greetings! Welcome to our stop on the blog tour for Dolly Considine's Hotel by Eamon Somers. This tour is hosted by Travelling Pages Tours and here's the whole tour schedule:
This was a rather unusual book and the historical setting is not one that we are very familiar with. As we love to read historical fiction, it's actually quite surprising that we know so little about Irish Politics and the history that normally springs from and results in politics.
Julian Ryder (aka Paddy Butler) and Dolly McClean (née Considine) have little in common – Julian is an eighteen-year-old aspiring writer fleeing a life unlived and Dolly is knee-deep in running a hotel populated by family secrets and Irish republicans. On rescuing Dolly's barmaid-cum-cleaner from a supposed IRA thug, Julian fulfils his wish for adventure as barman at Dolly's Dublin hotspot. It doesn't take long for him to embroil himself in the gossip of the bar and the guests' bedsheets. Dolly and her entourage quickly become fodder for his literary ambitions and soon it is almost impossible to extricate reality from fantasy in this fast-paced world of Irish politics and plot-making. Goodreads
Dolly Considine's story enfolds in two time-lines, one the 1950's and the other 1980's. When dealing with two timelines, it is sometimes easy to get confused, but the author's tell-a-tale writing style ensured the story developed at an easy to follow pace. With a vast set of characters to color in the dual time lines, this was no easy feat. Dealing with controversial issues like the Abortion Law Reform, this book is not always an easy read. The relatable characters and sometimes satirical comic relief, does however make this debut novel a recommended read and one of those books that will probably be better understood after a reread.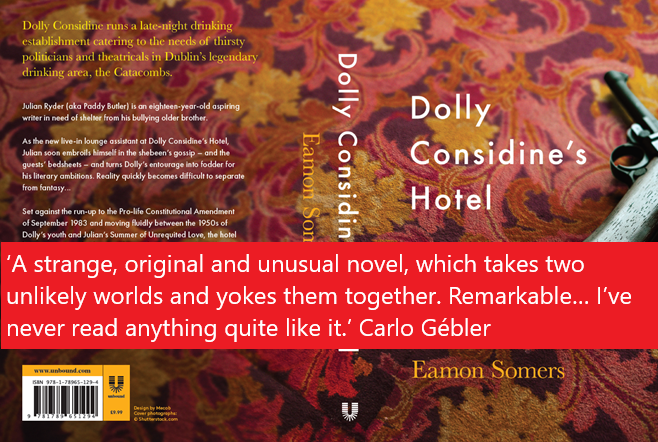 About the Author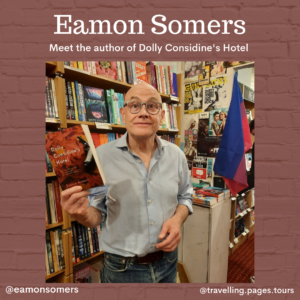 Eamon Somers grew up above the small corner shop run by his parents in Dublin's inner city. After brief careers as a shop assistant, trainee motorcycle mechanic, courier, office worker, lounge boy, community facilitator, double glazing installer he moved to London. He worked for two years in Haringey Council's Lesbian and Gay Unit, drawing on his several years' experience of community development work with the National Gay Federation in Dublin. Redundancy from Haringey caused him to stumble into the social housing development career he enjoyed for the following thirty-two years.
From his early writing classes in the People's College in 1970s Dublin, his studies at Birkbeck College London, summer schools at the Irish Writers' Centre, to more recent zooming sessions with poet Diana Goetsch (via Paragraph NY), Eamon's lifelong commitment to learning the art of creative writing, is obvious His short stories have been published in various magazines including Tees Valley Writer, Automatic Pilot, Chroma, The Journal of Truth and Consequences (which nominated his Fear of Landing for a Pushcart Prize), also in Quare Fellas, a collection of LGBT+ fiction published in Ireland. He is currently working on revisions to his novel A Very Foolish Dream, – Highly Commended in the 2019 Novel Fair sponsored by the Irish Writers' Centre in Dublin. Dolly Considine's Hotel is Eamon's debut novel.
Eamon is the happy father of three children. He and his Civil Partner Tomás are proud to be called Papa and Papi by their two lovely grandchildren. They increasingly divide their time between London, Dublin, and other parts of Ireland.
Author Links:
www.eamonsomers.com
Twitter.com/mustbeeamon
Instagram.com/eamonsomers
Facebook.com/mustbeeamon
https://www.goodreads.com/author/show/6879418.Eamon_Somers
Video of author reading 2 short extracts from the book: https://www.youtube.com/watch?v=wpJAlPeH5Cs
FREE short story sign up for Eamon Somers newsletter: https://www.eamonsomers.com/contact
Giveaway
For a chance to win a $10 Amazon Gift Card, you can enter the Dolly Considine's Hotel giveaway here:
A big thank you to Jen @ Travelling Pages Tours for inviting us on this blog tour!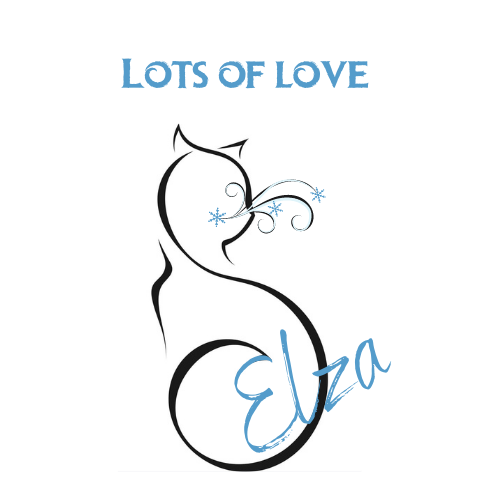 Related Posts