Greetings you guys! It's January and all the humans that I know are full of new years resolutions and good intentions for 2022. My Mommy is no different. Not that she has any new resolutions, she just wants to make good on all her previous good intentions. Like sticking to our monthly Library Card.
We might be paving our way to hell with all these good intentions, but perhaps by really putting some effort in, we might just end up on the straight and narrow. She has a brand new diary that she plans on using this year. Mostly to keep track of reading and blogging and my feeding schedule. Okay, maybe the last part is not quite necessary. She never forgets to feed me.
Let's see what are pavers are for this month:
Book Club
We had Book Club beginning of December and we will only have Book Club again in February. Mommy finished all her English books and now she's left with only the Afrikaans books.
The good thing about the Afrikaans books, is that she reads them quite quickly. I guess it is normally easier if it's your mother tongue. I need to find a book with meows and purrs.
Update: I've read all three of them. Still owe you one review.
state of the ARC
Oh what a state it's in…. In our Monday Bloopers post, my Mommy talked about some of the books she didn't review last year. We will do our utmost best to do better this year.
We are done with Love and Retribution. It was a lovely read and our review should be up within the next week or so. We've started with Music shall untune the sky last night and at this stage, it's still a bit deurmekaar (this is where you can use our lovely new translate button). We feel terrible that we haven't started with In another life yet and the same about A Suffragette in Time. Both of these are books that we really look forward to. Hopefully still this month. The Dangers of an Ordinary Night is our biggest embarrassment. It's a Netgalley read and I don't need to tell you that our ratings are just terrible at the moment. But we will pick it up this year. Watch this space.
Update: We loved Love & Retribution and you can find our review here. Music Shall Untune the Sky didn't work for us at all and unfortunately ended up a DNF. We've read and enjoyed The Dangers of an Ordinary Night and still need to review it. Gosh, we are a bit behind on reviews. Will get to it soon.
We haven't read the other two books, but they will be carry overs.
Audio Books
Update: We are done with A Court of Thorns and Roses and we are in the minority with our rating and review. If you are interested to find out why, you can read our review here. 
Seeing that it's Friday, we might as well do our Weekend Book Friends post and say hi to all our friends here on the blogosphere.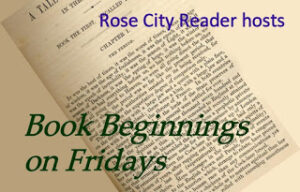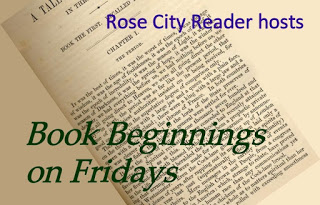 For our first stop, we will pay a visit to Gilion over at Rose City Reader to share our Book Beginnings. We've also decided to join Carrie over @ Reading is my Super Power for First Line Friday.  Every Friday you can link up and share the first sentence of your current read (or the one you plan to devour over the weekend), as well as your initial thoughts and impressions.
So what are we going to read this weekend? We love our latest Afrikaans read, Marilyn, but know that it's not going to be very interesting to you guys. Let's take a look at our Kindle read that is still a bit deurmekaar (messy and no idea what's going on) to see if we can figure out what's going on there.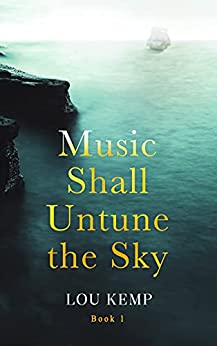 Music Shall Untune the Sky
by
Lou Kemp
Genres:
Steampunk
Pages:
354
Format:
ARC
Goodreads
In 1866, the three protagonists set off from Prague on the train the Elizabeth to retrieve Professor Xiau Kang's wife in Singapore. Along the way, Celwyn's magic becomes the central focus. Everything is based upon the question, "what if?"
The trip is fraught with unexplained occurrences, murders, magic, and more adventure. Along the way, the author Jules Verne crashes his hot air balloon next to their train in order to join their entourage. Once they arrive in Singapore they are attacked, and eventually end up on the Nautilus with Captain Nemo. It seems that Professor Kang, automat and book lover, is also one of the few experts in the world on the basics of building a flying machine, something very much desired by Nemo.
Months later, after their return to Prague, Celwyn is wounded again and dies just Kang rendezvous with the Nautilus and Captain Nemo.
Music Shall Untune the Sky starts with a prologue and from the prologue I think we gather that we should actually have read the prequal.
Without touching it, Jonas Celwyn pulled the knife out of Annabelle's hand, away from Zander's neck, and turned it on her, plunging the blade into her stomach as the crowd around them erupted in screams. As Patrick rushed to her side, a thin stream of blue mist escaped Annabelle's lips and disappeared into the throng.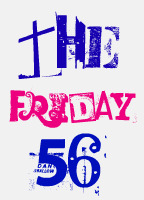 For our next stop, we will pay a visit to Freda's Voice who hosts the Friday 56. Don't show up empty handed though!
Grab a book (Yes, any book. But it might get you to your other Friday 

activities a bit quicker if you just grab the book you are currently reading)

Turn to page 56 or 56% on your e-reader

Find a sentence or two (your other Friday activities might determine this)

Post it!

Remember to post your link on Freda's Voice and to visit the other guys in the linky.
And  last but not least, don't forget to list the title of the book and the author as well.
If I look at what's happening at 56%, it might just get really interesting and we will keep on reading for sure.
This close, Celwyn got a good look into the man's eyes. Curious, he entered Nemo's mind, again finding the maelstrom of bloody images and violence. However, this time he felt the man's deep empathy and sadness. The ugliness of the world had seemingly left its mark on him. On a hunch, Celwyn asked without speaking, "was it Fogg's idea to shoot at us; and kidnap Elizabeth?"
This is definitely a strange read and not something that we are very used to, but it's a new year and time to try new things.
What are you reading this weekend?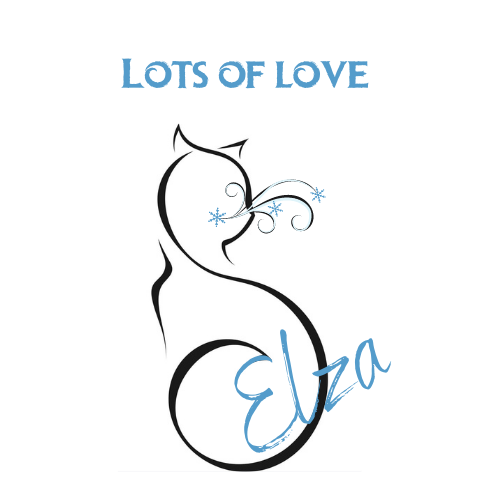 Related Posts