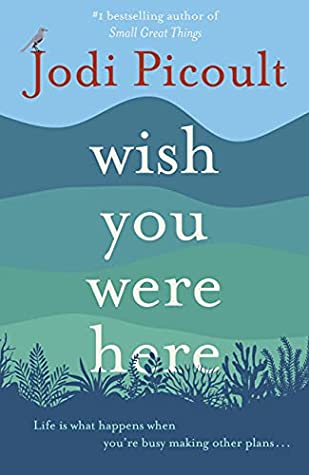 Wish you were here
by
Jodi Picoult
Published by
Ballantine Books
on November 30th, 2021
Genres:
Fiction
Pages:
336
Format:
Paperback
Source:
Book Club
Buy on Amazon
Goodreads
A deeply moving novel about the resilience of the human spirit in a moment of crisis.

Diana O'Toole is perfectly on track. She will be married by thirty, done having kids by thirty-five, and move out to the New York City suburbs, all while climbing the professional ladder in the cutthroat art auction world. She's not engaged just yet, but she knows her boyfriend, Finn, a surgical resident, is about to propose on their romantic getaway to the Galápagos—days before her thirtieth birthday. Right on time.

But then a virus that felt worlds away has appeared in the city, and on the eve of their departure, Finn breaks the news: It's all hands on deck at the hospital. He has to stay behind. You should still go, he assures her, since it would be a shame for all of their nonrefundable trip to go to waste. And so, reluctantly, she goes.

Almost immediately, Diana's dream vacation goes awry. The whole island is now under quarantine, and she is stranded until the borders reopen. Completely isolated, she must venture beyond her comfort zone. Slowly, she carves out a connection with a local family when a teenager with a secret opens up to Diana, despite her father's suspicion of outsiders.

Diana finds herself examining her relationships, her choices, and herself—and wondering if when she goes home, she too will have evolved into someone completely different.
We all know this quote by John Lennon. Beginning of 2020, we all had plans. Very much the same as Diana and Finn, me and my husband where also making plans to go on holiday. Luckily for us, it was a local  holiday destination. The only thing we had to worry about, was crossing provincial borders when life simply didn't happen anymore, but we still had so many plans.
You can't plan your life, Finn, because then you have a plan. Not a life.
I don't think even John Lennon could have imagined how intensely the world came to a standstill in 2020. Neither do I believe he could have imagined the devastation left in the wake of the Covid 19 Epidemic.  And no, I'm not talking about the countless deaths due to this dreadful disease, although it can and will never be ignored. I am talking about people being isolated from their loved ones, their families (this is sometimes different from loved ones), their work environments, churches, sports fields and social groups. How fortunate we are to live in an era of Zoom, Skype, Video Calling and other social media platforms that can bring a familiar face to the palm of your hand. But during the passed 2 years, we all know that nothing can replace human contact.
Not a single person alive today, has not been affected in some or other way by Covid 19. Some lost loved ones. Some lost their previous good health. Some lost their jobs. Some lost their sense of security and control and some lost their way completely.
It's been a long time since I've read a book with a main character that I felt could easily be a friend with. I loved Diana's character and as an overthinker myself, I could relate with her on so many levels. Diana is an art specialist at Sotheby's and as Jodi Picoult's books go, there is always more than just a story between the pages of her books. In Wish you were here, art, and especially Diana's vast knowledge on this field, throws perspective on the current realities.
Art goes both ways. Sometimes you have to have the perspective of distance. And sometimes you cannot tell what you are looking at until it's right under your nose.
Diana had her whole holiday with longtime boyfriend, Finn, to the Galapagos in Ecuador planned out. She was convinced that he is going to pop the big question in one of the most beautiful places on earth.

Finn is a surgical resident and when Covid hit New York, all medical help was reigned in and vacation was the last thing on many of these essential saviors' minds. Finn urges Diana to still go as they don't want to lose all the money already spend on this long-planned trip. Rather be stuck in paradise than in the epicenter of hell.
Diana arrives in Galapagos just as they are also going into lockdown. Her luggage is gone, she doesn't have accommodation and she can't speak Spanish. Worst of all, her Kindle wasn't fully loaded. With limited internet connection, she is completed isolated and only receives an email from Finn every now and then. The news she receives through these emails, leaves her in disbelief and shock as to the severity of this worldwide epidemic. Diana befriends a local family and through them she discovers how different life can be. To have nothing but time and mainly your own thoughts, does bring a new perspective.
Here, I can't lose myself in errands and work assignments; I can't disappear in a crowd. I am forced to walk instead of run, and as a result, I've seen things I would sped past before – the fuss of a crab trading up for a new shell, the miracle of sunrise, the garish burst of a cactus flower.

Busy is just a euphemism for being so focused on what you don't have that you never notice what you do.
I guess I don't need to tell you that there's a major twist in the tale. It's Jodi Picoult – the master of twists. No spoilers, but I thought it was brilliant. It made me question my own sense of reality.
Wish you were here is one of those books I will recommend to anyone who are alive today to tell the of the past 2 years. Be prepared to experience the isolation we all felt in some or other way. The being cheated from every day life for days, weeks, months and to experience the harsh realities of the frontline warriors who didn't even know what they were fighting to begin with.
We salute you and I salute Jodi Picoult for once again bringing us a story that helps us to define our reality in wonderfully written words when our own words failed to make sense.
Related Posts